There is, in the inestimable Ultimate Bar Book, a cocktail called The Parisian (p. 200).  It's equal parts gin, dry vermouth, and créme de cassis.  In other words, it's a martini with sweetness.
It was OK, but I thought it could be better, and so we now have…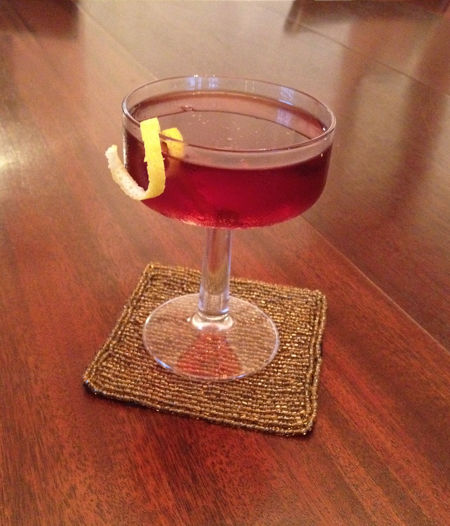 THE FRANCO-AMERICAN
1 oz gin
1 oz Cocchi Americano
1 oz créme de cassis
1 dash lemon bitters
Stir, don't shake.  (The rule is that if the admixture has citrus juice in it, shake.  Otherwise, stir.)
Cocchi Americano is a vermouth itself, one of those endless parades of aperitifs that will clutter your bar if you start down that path.  It's very tasty in and of itself.
Not bad at all.  You could lessen the sweetness by cutting the cassis to 3/4 oz, and/or by adding lemon juice.  (But still stirred, not shaken, Mr. Bond.)
It pairs particularly well with a salty goat cheese, which is what we were knoshing on when I mixed this up.