Take a deep breath.
I just finished the SOUTH — OUTER wall.  That's all the "short walls" done.
Which means…
But never mind that now.  Here's a photo of it in semi-action: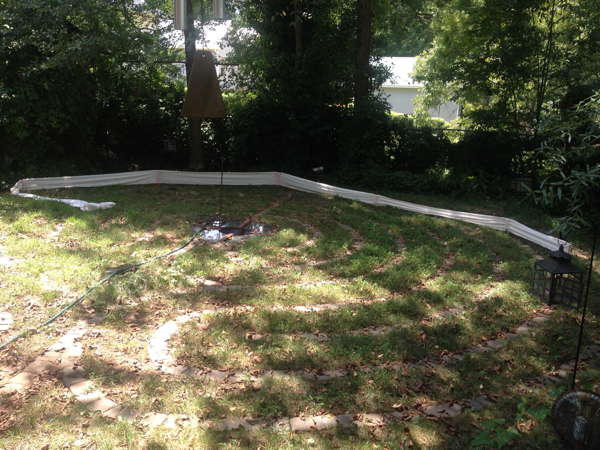 My poor labyrinth needs rain, reseeding, and cooler weather.  In the meantime, notice the majestic way the wall marches along, especially in the furthest panels there where the stakes are the actual stakes, i..e, tall enough.
Side view: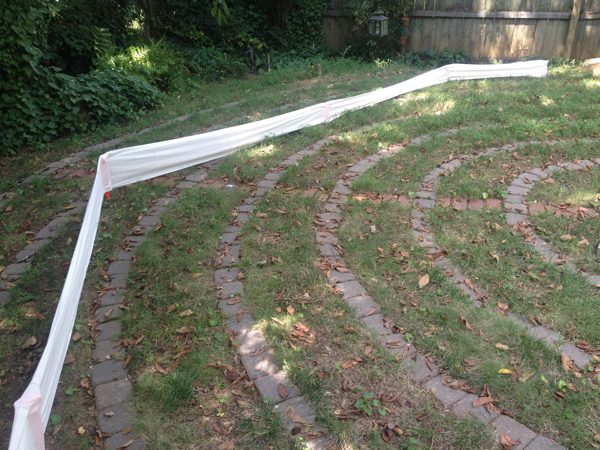 Again, the panels on the left are being help up by the actual size tent stakes; further along the wall  is being held up by shorter stakes.
I calculated yesterday that for every bolt of muslin that I split in two, I have sewn the length an entire football field in handkerchief/rolled hems.  So far, that's three football fields, with three more to go.  That's just to prep the panels so I can then pleat in the pockets for the stakes.
Likewise, I have used over 20 football fields of thread so far; that will probably end up being closer to 50 than not.
Onward!