It occurs to me that I have not kept everyone up to date on the goings-on of the 3 Old Men, the ritual troupe to which I belong.
First, I have to say that this year has not gone according to my plan, which was to attend beaucoups regional Burns and gather experiential data, then present my findings at The Labyrinth Society's Annual Gathering in October.  I had planned to get to Euphoria, Apogaea, Transformus, Burning Man itself, and Alchemy again.  Hey, I'm retired.
Tickets can be hard to come by, but for some reason I am an ace at snagging them.  (Yesterday, for example, I snagged four more tickets to Alchemy even though I put in my credit card's CVC number after I hit submit.)  I got tickets for Euphoria, Apogaea, and Burning Man, and the only reason I didn't get tickets to Transformus is that it was my birthday and I didn't hear my phone reminding me to stop partying and go sit in front of the computer.
However.  I was cast in Born Yesterday at the Springer Opera House and had to miss Euphoria.  (3 Old Men went without me.) Apogaea was cancelled after the organization couldn't work out the permit situation.  Finances prevent me from heading to the Playa in August.  And of course, the whole project is moot since my seminar proposal for the TLS Gathering was not accepted.  Do they not know who I am??
So Alchemy it is, and I'm not unhappy about that at all.

As successful as the labyrinth was at Alchemy and Euphoria, there was one thing about it that bothered me and did from the very beginning: it wasn't pretty.
If you will recall, its design was influenced by a couple of Burning Man considerations, since the original plan was to schlep it out to Black Rock Desert and back.  It had to be portable and Leave No Trace, and it had to be visible in the dark so that the hippies wouldn't trip over it and kill themselves.
Hence, the tent stakes and rope construction:

In terms of meditative space, this is not optimal.  The colors are awful: fluorescent orange and yellow are not conducive to inner peace.  Visually, it's confusing; it looks more like a spider web than anything, and people wandering by were often confused about what it was.  It was hard to get people interested in it unless they walked up and asked.
So one morning as I was waking up, a scathingly brilliant idea formed itself in my mind: sew little "walls" of muslin to fit over the stakes.  Ditch the rope entirely, and cover the orange stakes with fabric.  Genius!!
With my usual fervor for scathingly brilliant ideas, I set to work and mocked up the idea: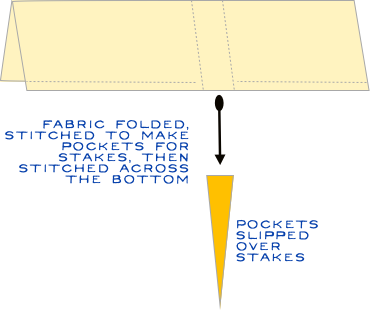 Simplicity itself.  Naturally, I've complicated it a bit since then: the stake pockets will have a kind of flat-fell seam on either side for additional sturdiness, and the stitching will stop short two inches from the top.  That's so we can insert light wire into the tops at some point soon, which will be awesome.
Here's the artist's conception: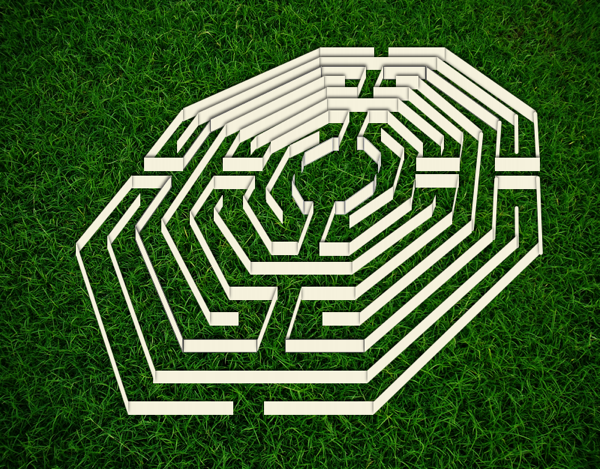 I mocked up several versions that included colors/shades.  Each one was striking in its own way, but it didn't take long for the group to state their preference for the plain white muslin—which was a relief to those of me who will have to construct it.
We then presented the concept for funding from Alchemy.  (Full disclosure: I served as the web content person for the fundraiser team.  That's actually what gave me the idea to submit our project.)
Here's how the Alchemy fundraiser works: artists present their ideas for funding, are vetted for budget, scope, etc., and then everyone shows up at some venue with their trifold boards to tout their projects.  Hippies pay admission to the event and purchase "schwag" (cups, t-shirts, etc.), and all their dollars count as votes to be assigned as they see fit.
The event itself was actually exhilarating.  I knew all 49 projects, having created the online fundraiser webpages for each of them, but being there and feeling the energy, the dedication, the expertise of all my fellow hippies was stunning.
Of course, it looked like some demented middle school science fair: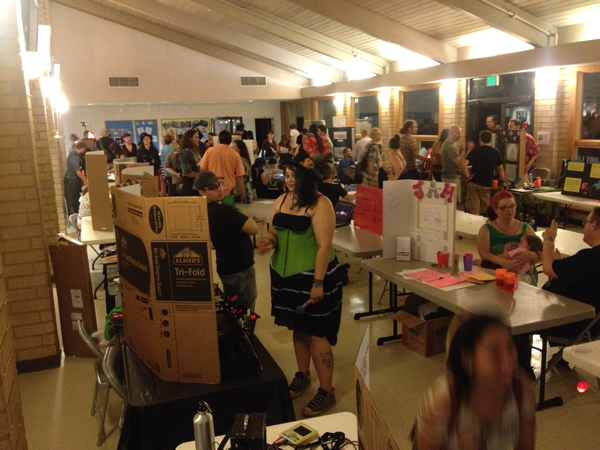 There were food projects, light projects, sculptures, fire projects.  (I'm working on getting all the funded projects up on the Alchemy website—I'll let you know when it's up.)
Here's our little backboard, with our official 3 Old Men photographer, Roger: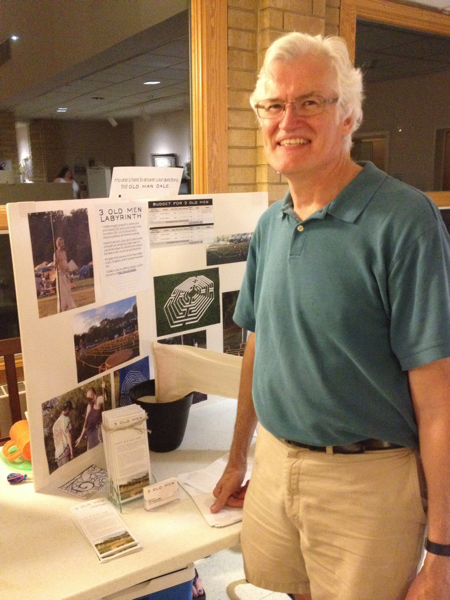 We spent the evening explaining the project to passersby.  You can see, right behind Roger, the mock-up I did of the fabric wall; that helped explain what we were funding.
The really great thing about the event was the number of people—nearly all of them—who knew who we were.  They'd seen us at Alchemy and Euphoria and thought we were cool.  The best was a story that I heard from three separate people, all of whom had camped across from us at Euphoria: they (Camp Business Casual) were chilling in camp one evening when Craig and Michael began the ritual.  They said they began to watch the ritual, and the conversation went along the lines of "Hey, look at those guys—they're doing something—they're doing something—that's not just hippies [screwing] around, that looks important!"
It warmed the cockles of my heart.  It would have warmed them further if they had felt impelled to rise from their camp chairs and go across the road to participate, but that's another problem for another day.  (I was also told by one young lady that she was fascinated but found the Old Men scary.)
Enough people cast votes for us that we're fully funded for this visual upgrade to the labyrinth, so yea hippies!  There's paperwork to fill out, and then I get a check and can get started on washing, ironing, cutting, and stitching those walls.  All straight seams, but mercy—it's thousands of yards of stitching between now and September.
Step One: go out to Craig's tomorrow and set up the labyrinth so I can measure the walls.  Stay tuned.