You may recall that one of my Lichtenbergian goals this year was to institute a system of "waste books," i.e., notebooks that would serve as repositories of random stuff that could later be transferred to wherever they needed to go, e.g., blogpost, letter, other notebook.
You may also recall that I subscribed to the Field Notes "Colors" notebooks, which has been really cool since every quarter I get a new set of notebooks, each a new geek-o-rific design. It's actually a creative impetus each time, since one tends to think, "Ah, a set of notebooks with a cherry (wood!) veneer cover! I shall use those to journal my Burner experiences!" And so forth.
I've had a great year with my Field Notes: planning 3 Old Men for Burning Man/Alchemy; morning pages; waste books; keeping my re-orchestration of Christmas Carol on track; text and notes for John Tibbetts' song; prepping for SUN TRUE FIRE, which was sidetracked by Seven Dreams of Falling, which has its own notebook. I planned my son's wedding ceremony in the Arts notebook, and started a labyrinth design project in the Sciences notebook. It's been fun.
However, I am distressed at the most recent offering, their 25th release. Each release has a name—Shelterwood, Arts & Sciences, Unexposed—and they've named this one Ambition. It's stunning, beautiful, and absolutely daunting.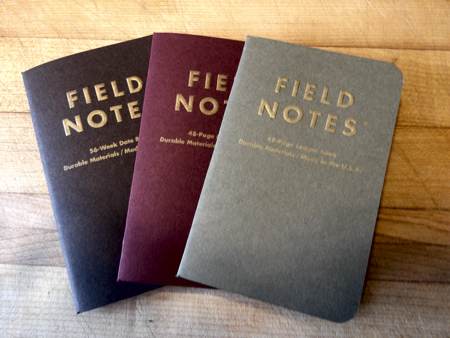 Love the colors. Love the gilded edges you guys! Love the gold staples.
But then you open them.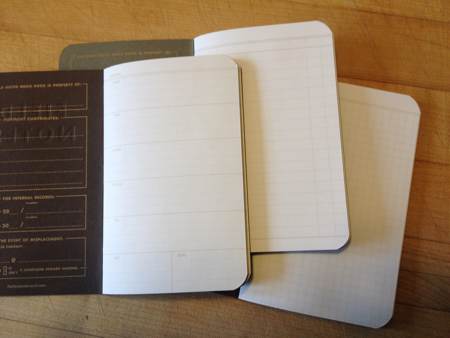 AMBITION. You see what they're about. From left to right, we have a 56-week date book, a ledger book, and a memo book.
This is serious stuff. Planning. Budgeting. Making something happen. Something big. Something important. Something consequential. They didn't gild those edges for your paltry, quotidian concerns.
What am I supposed to do with these?? They mock me. They're going into the archival wooden box where I will not have to look at them. I will be able to sleep at night. All will be well.