This year, for the first time ever in the history of ever, we switched to artificial trees.  That's right, trees, plural, as in more than one Christmas tree.  We take our Decoratoring™ pretty darn seriously around here, Skippy.
The short reason is that our new daughter-in-law is highly allergic to conifers, which must have made growing up in the Pacific Northwest a pain.  For the record, my lovely first wife is of the opinion that I too must have some similar allergy, since I tend to become all sniffly during the holiday season.
So we bought a couple of trees, which I did not assemble because — ironically — I was not feeling well, and so my noble son did it for me.
Therefore, when I went to Decoratorate™ the tree in the living room, it took me a while to realize that apparently these trees were designed by Microsoft, because who else would neglect to include a way to mount and plug in a tree topper???
I called the 24/7 toll-free number, where a nonplussed underling gave me a "ticket number" and tossed the puzzler up the chain.
Liz called back the next day and confirmed that, indeed, there was no built-in way to put your family's traditional tree topper on these artificial trees.  One must run another extension cord to the top, she said, and then confirmed that, no, that didn't solve the problem since there was no stem on which to perch the tree topper.
Viz: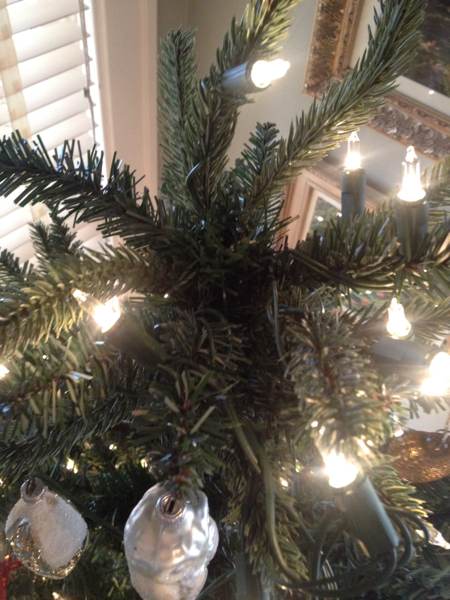 Fortunately for civilization as we know it, the top is open-ended, and so I set about resolving the issue.  (I had already accomplished all of this by the time Liz called back, so it was depressing but gratifying to know that a) I had assessed the situation correctly; and b) there was no official solution, other than to encourage me cheerfully to blog about my solution.)
Tree toppers for artificial trees designed by Microsoft
Find a piece of doweling that fits into your tree top.  Mine was 1/2-inch wood.
Measure how much of the dowel needs to stick up into your tree topper and mark it.
Measure down another 6″ and cut your dowel.
Cut a 3″ piece of smaller doweling.  Mine was 1/8-inch aluminum.  I suppose you could use wood, but why risk it snapping?
Drill a hole to accommodate your small dowel through your larger dowel, at the mark you made for the topper.
Insert the smaller dowel and hot glue that sucker.
Paint it whatever color works.  Mine is flat black.1
Stick it in the top of the tree.
Surmount it with your topper.
Viz: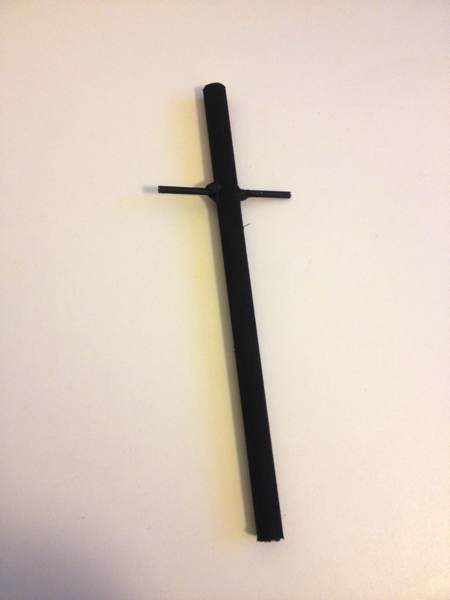 Closeup: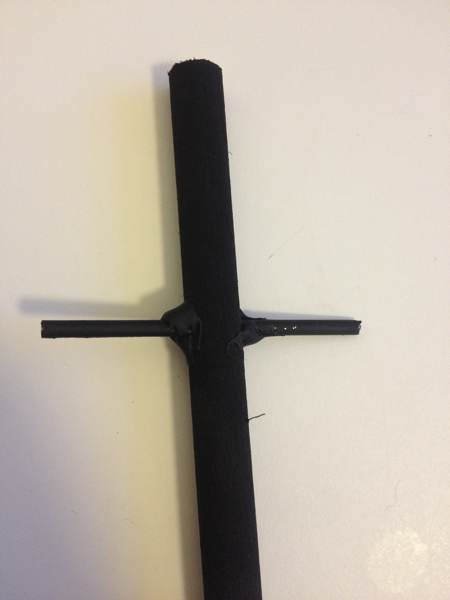 In situ: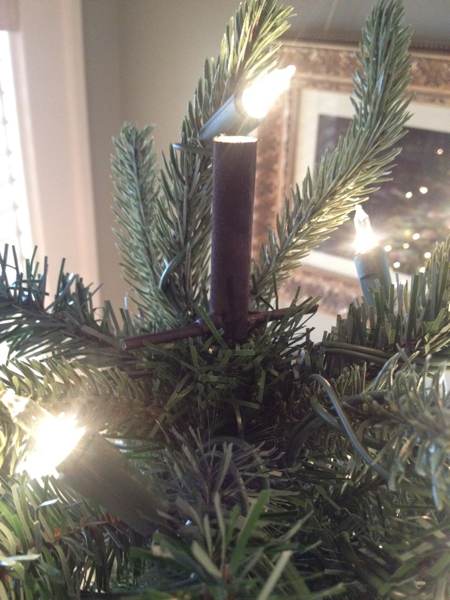 Et finis: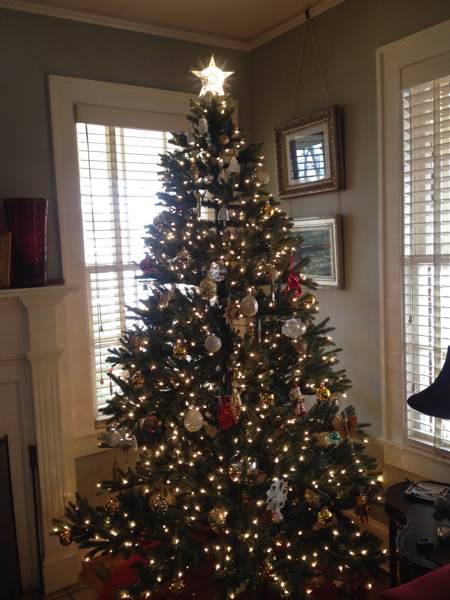 Pro tip: Check the lights on the topper before you install it.
I could probably market this thing, right?  Maybe with an extension cord built in?
—————
1 Flat black is the color I painted the ORANGE SOCCER CONES THAT THE COUNTY PLACED IN THE HISTORIC COURTROOM FOR MY SON'S WEDDING SO WE DIDN'T TRIP OVER DATA PORTS IN THE FLOOR.