Here are today's aesthetic materials: copper tacks.  I found them online.  First I ordered the ones on the left, but when they came they were so tiny that I feared they might not be sturdy enough to hold the lizard onto the staff.  I then ordered the ones on the right, only to find once I had the lizard designed that they were too big.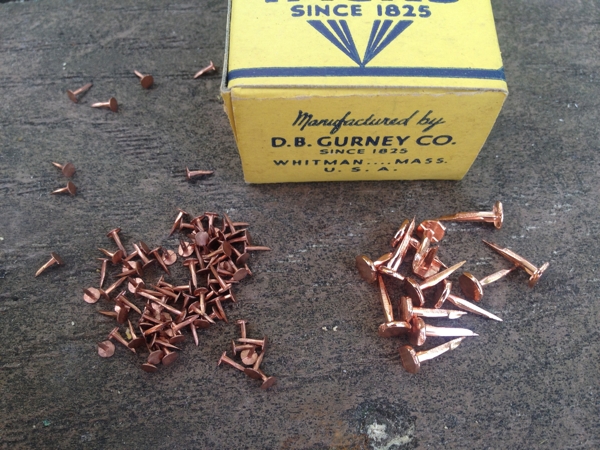 Let's pause for a moment and consider MOOP.
MOOP stands for Matter Out Of Place, and it's a huge no-no in Burner Land.  Out at Black Rock City, the federal Bureau of Land Management (BLM) allows the festival to leave behind one square foot of debris per acre; more than that, and the annual permit is not renewed.  As you can imagine, BMOrg is very serious about the Leave No Trace principle.
The 3 Old Men experience was designed from the very beginning to be as MOOPless as possible.  Originally, you may recall, it was just me, Craig, and David traipsing across the Playa in loincloths and staves.  No MOOP at all to speak of.
When the labyrinth was added, MOOP was one of my overriding concerns: it all comes out of a crate, gets set up, and all goes back into the crate.  No fiddly bits, no moving parts, no feathers, no sequins.  No MOOP.
So here I am about to use these tiny little copper tacks to affix my lizard, and all I can think of is that these little buggers are just MOOP waiting to happen, if they don't hold.  And while out at the Playa it might be perfectly easy to sift the dust to find them, somehow I'm thinking that the farmland of Alchemy might be more of a challenge. Spoiler alert: they seem to be working just fine.
The little tacks are pure copper; the larger ones are copper-plated steel or zinc.  This means the little ones are a lot softer than the big ones, and a little experimentation showed that it would be more efficient to pre-punch holes in the lizard, especially at the folded-under edges: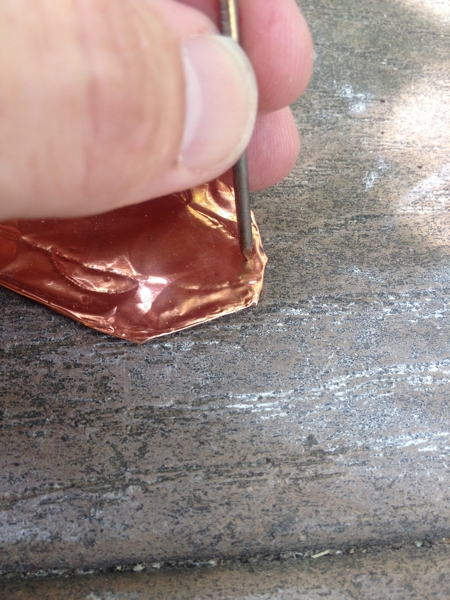 And here we are, all punched and ready to go.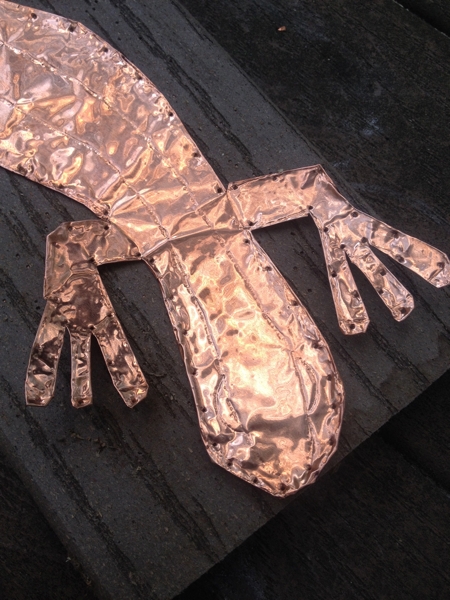 I had the presence of mind, two or three sessions ago, to mark the correct position of the lizard with little dots of magic marker, and they still showed through the blue stain quite well.  (The cerise surface is a yoga mat, which is sitting on a towel.  This cushioned the staff against scratches as I tapped tacks in.)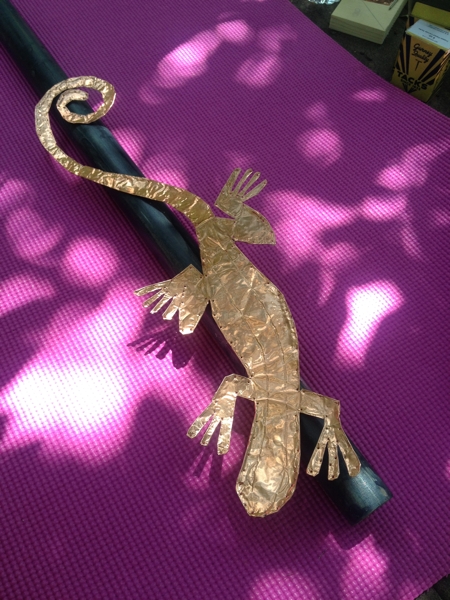 The first tack:
And done.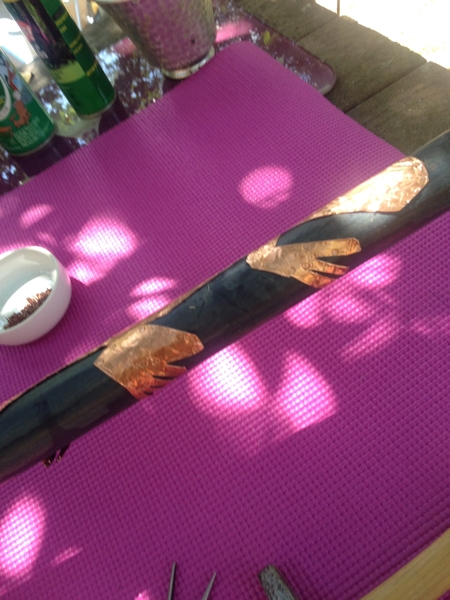 In the process, about an eighth of the tacks bent or otherwise failed and had to be discarded.  Since there are about 1,000 tacks in the box, I was profligate in my rejection.
Here's what it looks like.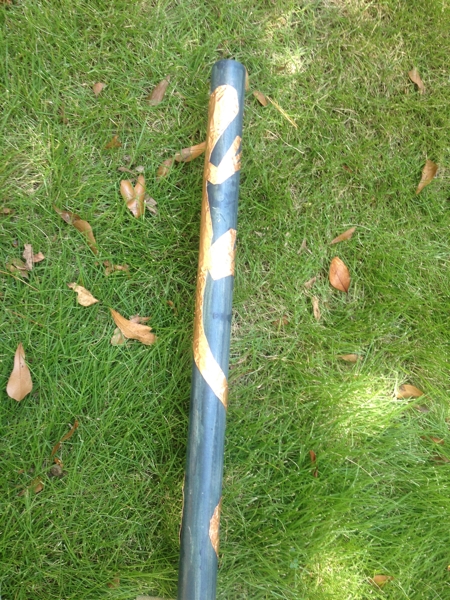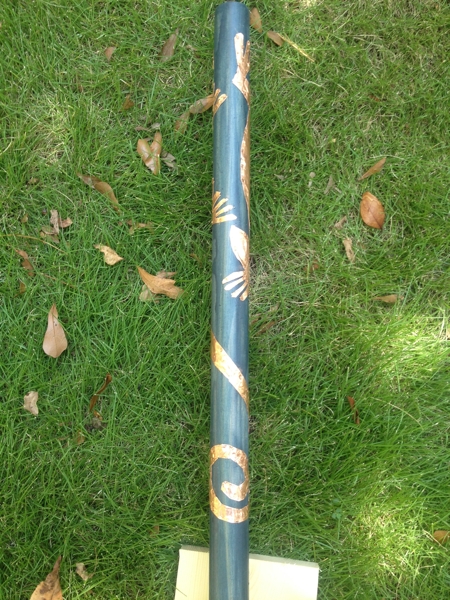 And in its natural habitat, i.e., raised aloft: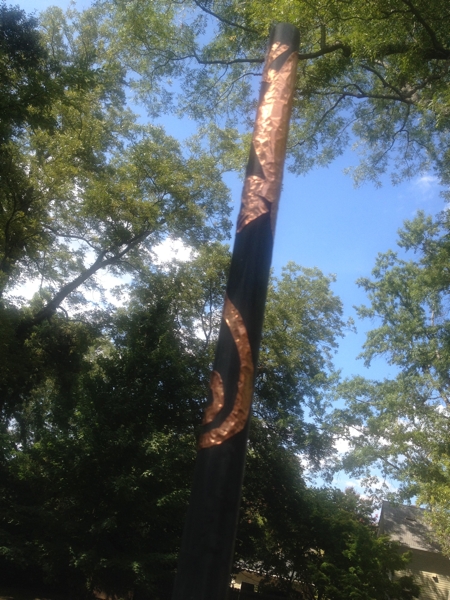 I will now let it sit there and annoy me for a month or so.  I really think I need to make the eyes and the stripe more more somehow.  Remember that the ritual will often take place at night, and so more definition of those details might be important.  I don't know.
Also, I keep thinking that I can/should use some of the remaining tacks to create more decoration on the staff: lines, swirls, waves, etc.  Something along these lines, perhaps.  But all those tacks… the specter of MOOP haunts me…