Nice weekend—we traveled to Abingdon, VA, to visit my in-laws and to go to the Highlands Festival, a not-bad little arts festival celebrating its 66th year.  No great purchases, but I did get a handful of handmade-by-hand hooks on which to hang my shaman drums in the basement.  Currently they hang on bronze-colored 3M thingies, which are OK, but the whole vibe of that corner is "artisan crafted."
I also picked up a small silver-plated vase which we might use to contain our body paint for 3 Old Men: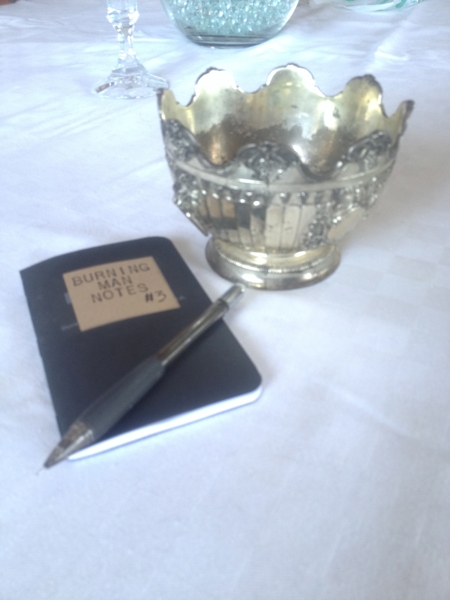 It's probably too ornate for our purposes.  I'm open to further ideas—I had originally thought of an inexpensive ceramic bowl, but more and more I think we need to break-proof the whole process.  We saw a lot of hammered aluminum vessels from the 50s and 60s over the weekend that began to appeal to me.  Perhaps my fellow Old Men will have suggestions.
It occurs to me too that we need an acolyte to hold said vessel.  Hm.
So this morning I got back to work on "My mother, bored and pampered," and I am not happy.  (So what else is new?)
The first part is fine.  It's all appropriately honky-t0nk and sleazy.  But when Ariadne launches into her big moment and gets all opera-y, the accompaniment went to hell. What sounded really interesting and gorgeous in the piano score just sounds horrific with strings, too muddy and inarticulate.
So I'm not posting that part.  Here's the part that makes sense:
Dream One, 4b. "My mother, bored and pampered" | piano score [pdf] | orchestral mp3