We returned the car this morning to Budget, including gassing it up and confessing that we had no idea when, where, or how the front left fog light had gotten busted.  (We noticed it in Santa Fe.)
Eerie coincidence of the day: while driving to gas up the car, we crossed Claiborne St.  As in Delores Claiborne, our semi-failed opera back in San Francisco.
Then we hopped the streetcar back down to the River Walk, which is mostly just a big outlet mall and is under renovation/construction.  So we just walked up and down the river for a while. I was checking where we were vis-á-vis Jackson Square on the phone when I saw that we were standing directly in front of the Museum of  the American Cocktail: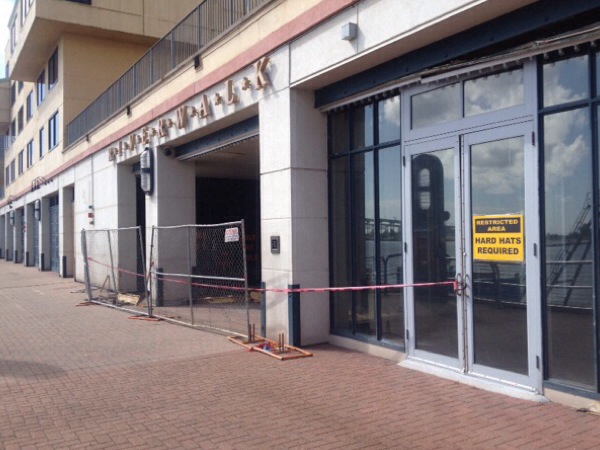 NOOOOOOOOO! THE VACATION IS RUINED!!!!1!!
The website says nebulously that they've packed everything up for the move to their new location elsewhere in NOLA "next spring," but there's no date.  The only clue is a sidebar invitation to celebrate World Cocktail Week, May 6-13, 2013, so maybe they mean the spring of 2014, which means I don't have to be grumpy about not knowing about the place until it was too late to track it down.
Also, Alert Readers will have noticed the most important thing here: both World Cocktail Week and World Labyrinth Day fall within the orbit of My Birthday.  Just sayin'.
Then we hopped the streetcar again went downstream towards Jackson Square.  We got off and began walking, stopping at only a few spots on the way.
There was this: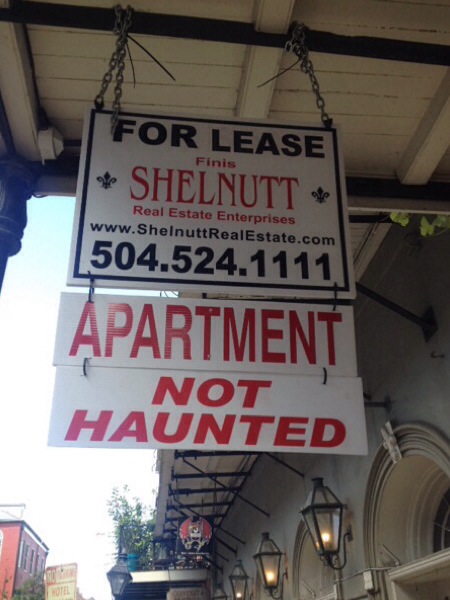 Well alrighty then.  It's good to know that before renting.
Jackson Square is where the street art folk display their wares.
All of it was schlock, just plain out tourist art, mostly "voodoo" related, and almost all NOLA postcard material in varying low-grade styles.  You see the same thing outside the Metropolitan Museum in NYC.  One website referred to all of this as a plein air artist community. I suppose.
Here is the Cathedral of St. Louis sitting on the far side of the square: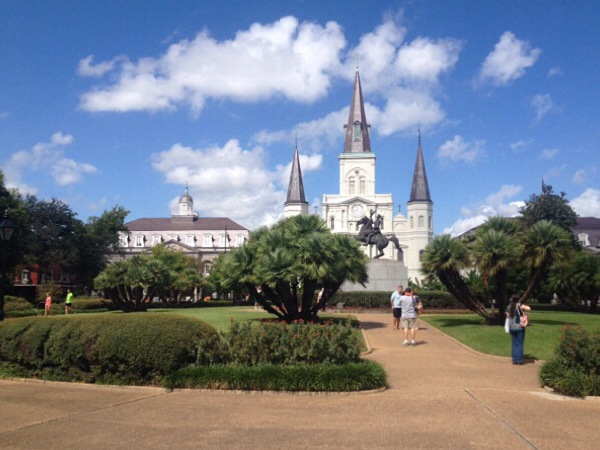 If you walk around the square to the cathedral, you will find the psychics.  I had proposed to my lovely first wife that we get ourselves a tarot card reading just for kicks, and so when we came across these people with their small tables and lawn chairs, I took us to the first one we saw.
This is Michelle: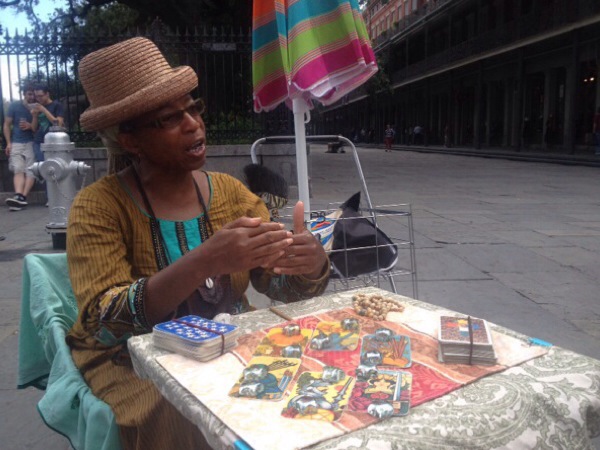 I don't know if you've had a tarot reading from a gifted reader.  Of course everything about it comes from you—there's no "magick" about them—but the synchronicity can be gobsmacking.  I used to have a friend on America Online way back in the day who did readings in one of the chat rooms, and she was amazing.  I have a tarot app on my iPad, and occasionally I'll pull it up to trigger some thoughts about issues that bother me.
Since you're pulling cards at random, it's pretty clear that your brain will make sense of whatever turns up, but it's astonishing how apt most of the cards turn out to be.
Michelle's method was to give you definitions of the six "realms" your reading would address, and at each one you would take the deck (the blue one in the above photo) and select a card from it and give it to her.  She built this stack of six cards, weighted against the wind, and then she spread them out, again weighing them down with little glass stars.
She went through each card and its meaning within its assigned realm.  I don't know which deck she was using—there are many—but each card had interesting details.  She pointed out some, and asked if you had questions about any details which jumped out at you.
She was very good at connecting the cards to each other, and, again, the synchronicity for each of our readings was pretty amazing.  (Both fit neatly into where we are in our lives/careers at the moment.)  Great fun, and a lot to think about in each case.  It just now occurs to me that my lovely first wife drew The Moon for her first card, while I drew The Sun for my last.
The only thing that didn't make sense to me about my reading was her insistence that I was destined for, absolutely must decide to enter politics.  For the greater good of all.
Can you imagine me running for office?  I chose to decide that my manipulative, problem-solving abilities are meant to be used to assist the faculty at West Georgia to realize their potential in online instruction.  That's got to be it, right?
Michelle was skeptical.
Nice long session with Michelle, who was articulate, educated—she was reading a book on language and its structures when we walked up, and she constantly alluded to literary and Biblical topics—and soothing.  We liked her a lot.  Look for her if you're in NOLA.
After our encounter with the cosmos, we walked into the cathedral.  This is the altar: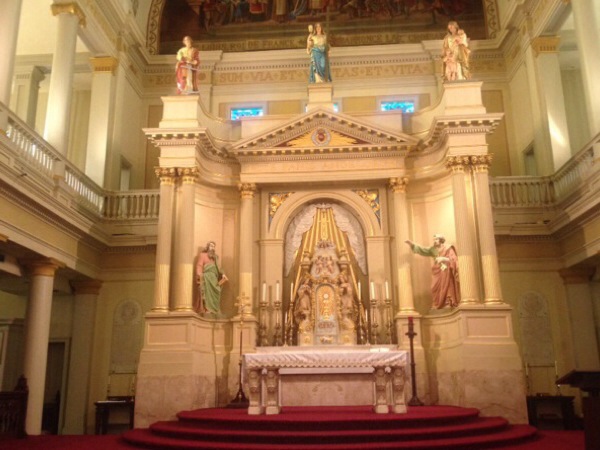 And here is the barrel vault: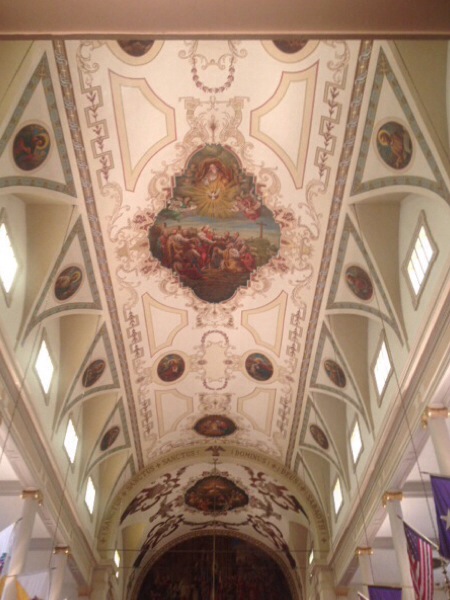 Kind of austere, I thought, for such an exuberant society.
Repaired for lunch there on the square.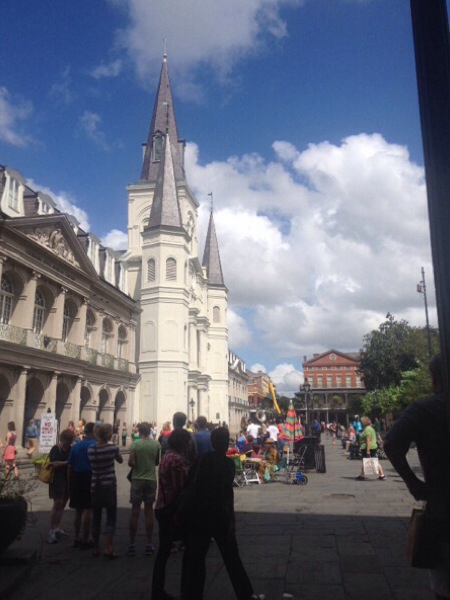 It is raining off and on as Tropical Storm Karen bears down on us.  My decision to end our trip here and take the train back to Atlanta has been smarter than I thought.  I knew that I didn't want to drive another two days after this, especially if we did Bourbon St. again tonight (we're about to do Bourbon St. again tonight), and I especially didn't want to do it in a tropical storm.  So yay, Amtrak!
After lunch, we wandered Royal St., popping into one gallery or the other depending on what appealed to us.
I bought art: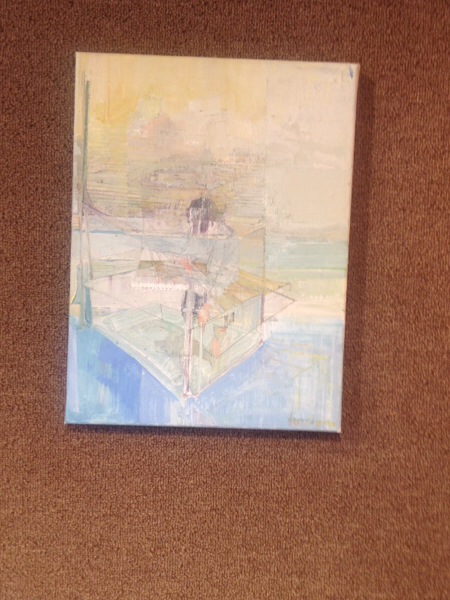 The artist is named Darrell George; the work (oil on canvas) is Ingenuity Pathway.  It's about 14 x 20.
Not a very good photo, but that was my reference photo as we walked on down Royal St.  Once we got to the end and I realized nothing had appealed to me as much as that piece, we went back and got it.  We had a nice visit with the young man staffing the place, and then the owner came in and we just relaxed in the chairs and had a fun chat with everyone.  It's being shipped for us.
On down Royal St., we came across punk zydeco: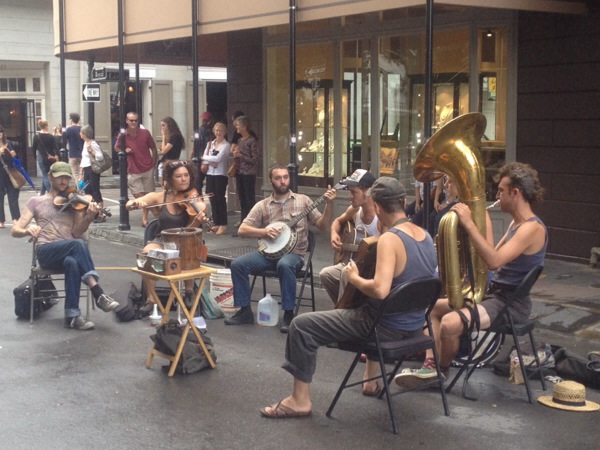 You can't really see all the tattoos and the piercings, but they're there.
Again I can't embed video, but here's a link: http://dalelyles.com/crosscountry/dalelyles.com/crosscountry/cc12_nola14.mov
One more comment about art/nonart.  In one of the tonier galleries on the street, the window was taken up with a large work, painting, using enamels of some kind.  Very abstract, very drippy and pool-ly.  And not at all art.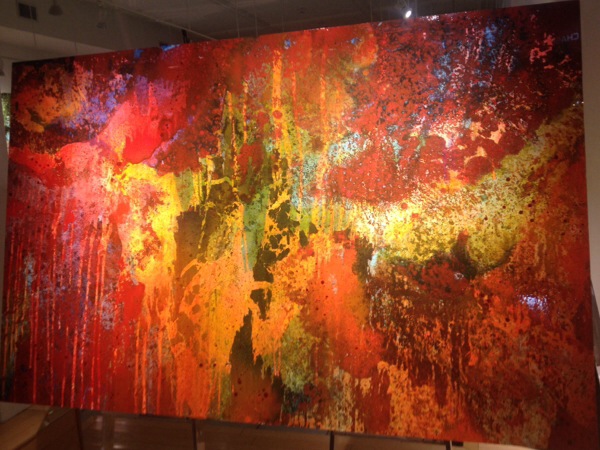 Detail of upper left corner: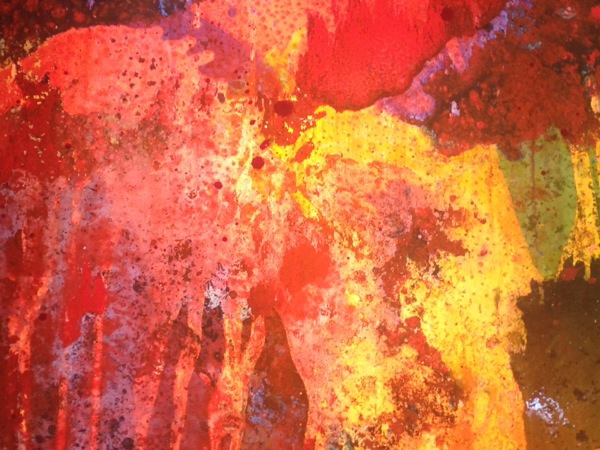 I had to stop and look at it and puzzle out why I thought it was offensive a) that someone should produce this thing; and b) that someone should put a huge price tag on it and put it in their gallery.  I finally decided this: Jackson Pollock used his media to create pieces of complexity and depth;  this guy was content to let the medium do the work.  I know that's not clear, if you saw this crap up close and live, you'd understand.
We walked back to the hotel, pausing to snap a couple of iconic photos: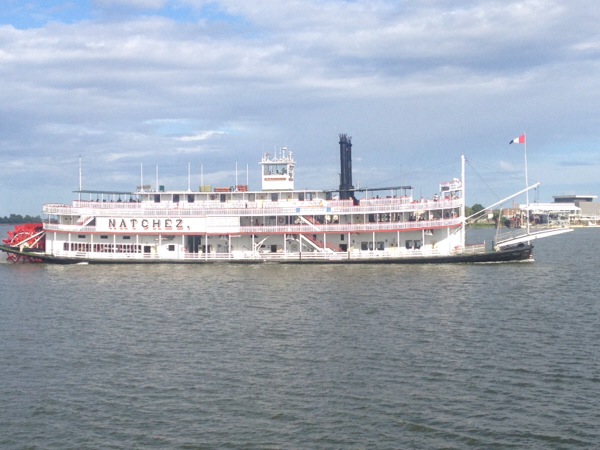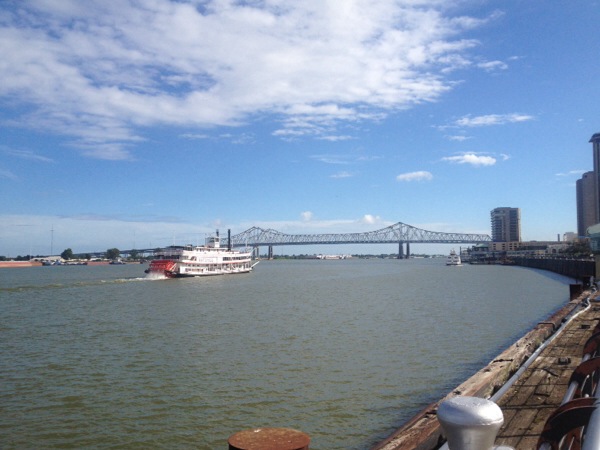 So yay, Mississippi.
A piece of public art about Katrina, right next to our hotel: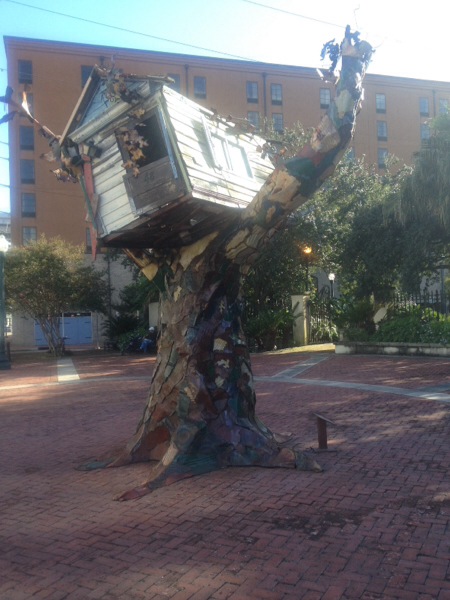 Made from salvaged materials.
Now we're back at the hotel to recharge our phones and our bodies.  Here it is October, and it's still sweltering.  We've been dressing in layers almost the entire trip, but honey let me tell you, here in NOLA I'm only wearing one layer, so when it's time to take that off, it's time to head to the room.
—————
Yes, we went back to Bourbon St.
The first thing we saw when we go there was yet another parade: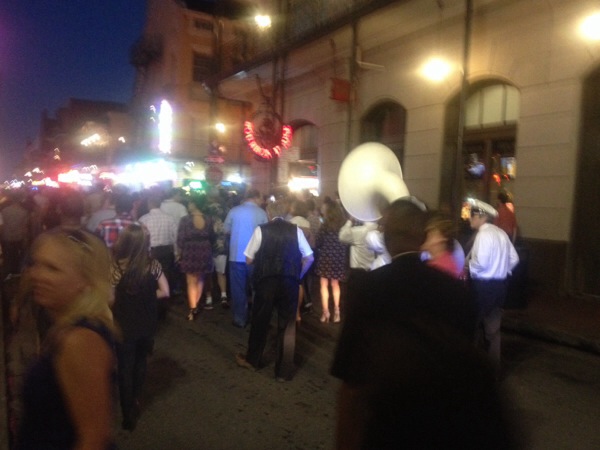 We picked up a couple of beads without having to work for them.
Here we are before going in to Jean Lafitte's Old Absinthe House: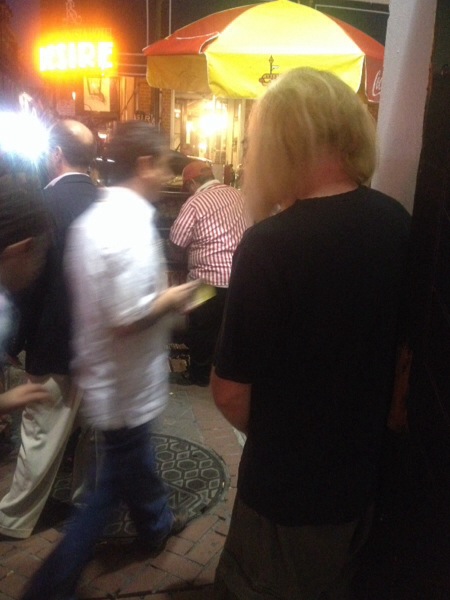 We had stopped at the Old Absinthe House last night, but the service was terrible (only two bartenders when they could have used one for each side of the rectangular bar), and when I selected La Fée for my hit, I was told only then that they were out of it.  We moved on.
But if we were going to partake fully in the debauchery of NOLA, I needed the absinthe, so we returned.  This time I was more aggressive in being served and settled for an absinthe that I saw on the bar and which of course I already possess, Grande Absente.
Here it is: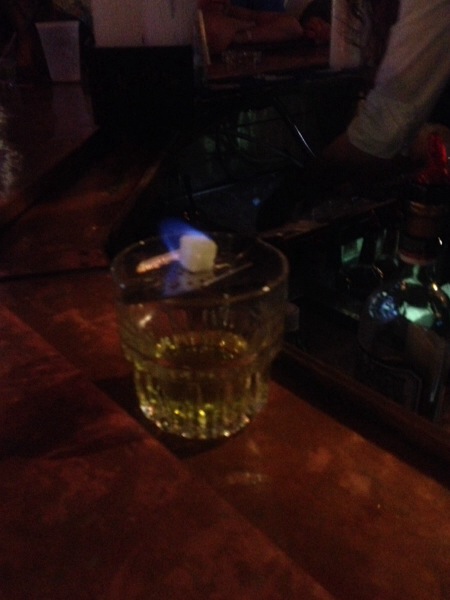 Absinthe, besides having a ridiculously high alcohol content, is all about the ritual.  There's the slotted absinthe spoon, upon which you place a sugar cube.  Pour the absinthe over the sugar cube and light it.  When the sugar cube goes out, pour cold water over it to dissolve it.  The absinthe turns cloudy, or to aficionados, louche [LOOSH], which in French means literally "cross-eyed."  Possibly because of its association with the wickedness of absinthe, it has taken on an extra meaning, "disreputable or sordid in a rakish or appealing way."  I like this.  I shall aspire to this.
We walked down the street, stopping at one or two bars along the way.  Having eaten lunch fairly late in the day, we were in no hurry to dine.
Street performers were rife: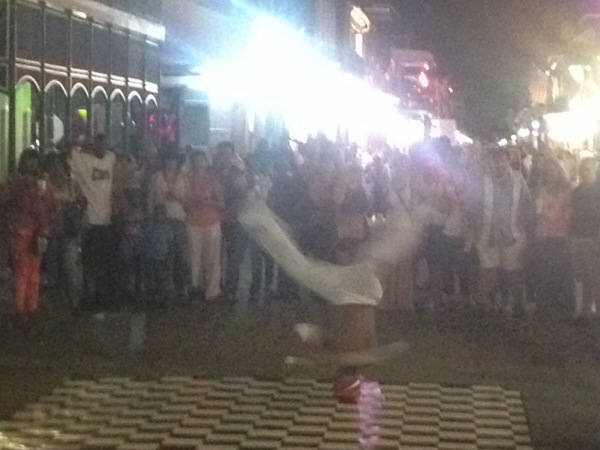 This was a team of four break dancers who were not only fun dancers but who also had a hysterical and polished schtik to go with it.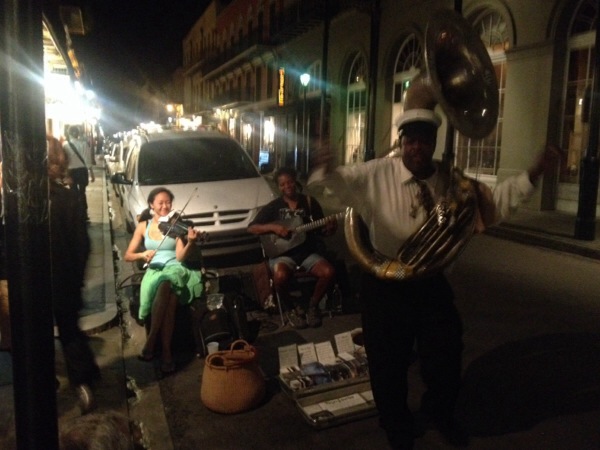 The violinist and guitarist are playing Pachelbel's Canon.  The tuba player is scatting to it because of course why not?  When he finished to general applause, the girls launched into a jazz version of the piece.  Awesome.
At some point, one of our party took a photo of an extraordinarily healthy young man dancing on a bar—we did not actually enter the establishment; this was from the street—whose broad chest and firm, tan buttocks might have been the cause of the ladies stuffing cash into his precariously worn nether-garment.
It's because of things like this that we enjoyed New Orleans far more than we thought we would.  Having been dismayed by the life-draining energies present in Vegas, we were prepared to be on guard for the same energies in this, America's other Gomorrah.
But quite frankly, New Orleans is life-affirming.  Yes, Bourbon St. is over the top, but on the whole it exudes fun and naughtiness, more corset and tutu than tasseled pasties, if you see what I mean.  The food is better, the drinks are fine if you avoid the frozen slushy ones (avoid the frozen slushy ones), the music permeates the night, and the fact that the culture has developed over centuries means that it's all on a human scale.  In Vegas, you meander down a four-lane divided highway with neon lights.  In New Orleans, you are the street, along with all the other revelers.
New Orleans invites you to partake of the pleasures of the senses.  Vegas just wants your money.
We also detoured onto Royal for a while, and several stores were still open.  One was Goorin Brothers Hats.  We went in.  I do not need another hat.  I have every hat I need. So did I buy the excellent suede fedora that is truly Indiana Jones's father's hat?  Yes.  Yes I did.
We were on Royal St. mostly because we were looking in vain for a restaurant that one of our party remembered bookmarking on our walk from the Jackson Square to Bourbon St., a nameless restaurant on a street that did not exist.  After we finally gave up on that as a bad deal, we found the Orleans Grapevine Wine Bar & Bistro.  It was an excellent meal, and far better than the slice of pizza I had set out expecting or the po boys for which we had been fruitlessly searching.
After that, we walked back down Bourbon to Canal and caught a cab back to the hotel, ready to be asleep by midnight so that we could arise at 5:00 a.m. to catch our train.