Not a lot to talk about today, but a little more exciting than I had expected.
First, the obligatory road shot: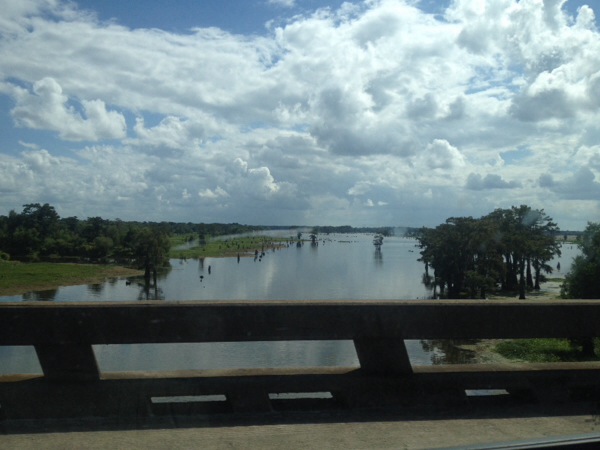 This is I-10, which most of the way seems to be a bridge. A long, long bridge.
It did prompt me to think of the extremes through which we've traveled.  We've gone from 7,000 feet above sea level to below sea level.  Yes, my ears had the same problem they do after a flight, staying unreasonably clogged for a day or so.
We've gone from absolute desert to the bayous, and it was one of those eerie coincidences of my life that as we started traveling under rainclouds (the first we've seen in two weeks), the iPhone decided to play "Cloudburst" from Ferde Grofé's Grand Canyon Suite.
We've gone from desolate isolation to the generic urban landscape, with its Walmarts and Rooms 2 Go and Hooters.  That's when you know the trip is almost over.
The plan for the trip was to ship our purchases home periodically, which we've done once, but like laundromats post offices are sometimes inconvenient.  At this point, we've accumulated so much stuff that it was cheaper to go to the nearest Walmart ("Siri, where is the nearest Walmart?"  I love my phone.) and buy a suitcase and just check it at the Amtrak station on Saturday.  (Two free bags each, plus two carry-ons.  What's not to like?)
Anyway, the drive was uneventful, and we arrived in New Orleans during early rush hour.  We checked in and were waiting for the elevator when another of those eerie coincidences showed up.  And this one was really eerie: I was casting my eye casually over the conference board, meeting rooms, all that, and there was the National Conference of Governor's Schools.
For those who do not know, Georgia is the only state that doesn't call its summer gifted thing a Governor's School.  (Why they're called Governor's Schools at all would be an interesting topic.)  And here they were, meeting in my hotel. Not only that but I'm a member in good standing.
Well.
After we got to the room and settled a bit, I popped down to the meeting rooms.  No one was at the registration table—it's not a huge group, after all—so I snuck a peek at the agenda.  Some cool stuff going on.  Then the registration lady showed up, having gone to warm up a bit in the business center.  (New Orleans refrigerates their indoor spaces worse than Valdosta State.)
I introduced myself and was welcomed warmly.  For the next hour or so I met GSers from other states, chatted with them about their programs a bit, told my tale of woe, raised eyebrows across the nation.  It ripped the bandaid off a bit, but it was fun.  I met someone who remembered Lonnie Love, GHP's director when I started there in 1984 and who asked me one fateful day, "Would you like to run this program?"
What I learned was that Georgia serves more students than any of the states I talked to, even New York.  I think maybe Virginia may equal us, but that's with 20 campus/programs, most of them one-week, non-residential camps.  What a crown jewel GHP is!
After consulting with the concierge about which bits to do tonight and which tomorrow, i.e., in daylight, we hopped in a cab for Bourbon St.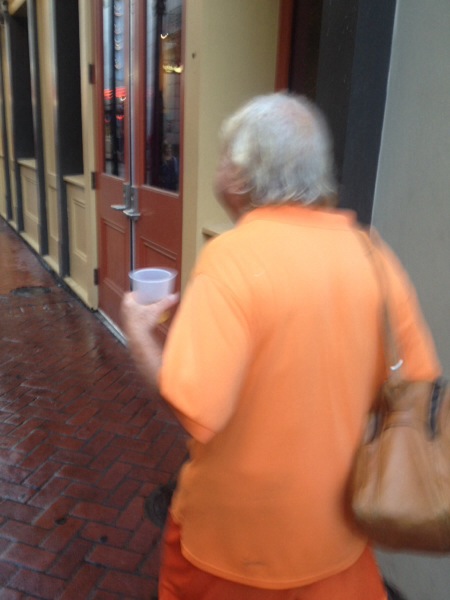 For those of you still in the pool.  Sorry about the quality of the photo.  She was a bit wobbly at that point.  Bourbon St. and all that.
We dined at Bourbon House, where the Sazerac was good and the food was excellent.  We mused, though, that it was just a good restaurant.  For bon vivants such as we, it was no more than we have come to expect from a high quality place, and we have more than we can afford in Atlanta.  Actually, we have enough to do in Newnan.  The pinnacle will always be Bacchanalia in Atlanta, and of course we're not going to search out costly—if perfect—temples like that on a regular basis.  It kind of surprised us to discover how blasé we were about world-famous establishments, and with reason.
Afterwards we walked all the way down Bourbon St. and halfway back before getting a cab back to the hotel.  As we started out, the sounds of live bands playing boomed out of each bar we passed.  Although my lovely first wife had sniffed at the place when we first got there, I commented that I thought this actually was her kind of place.  She shivered with delight and admitted the truth of that.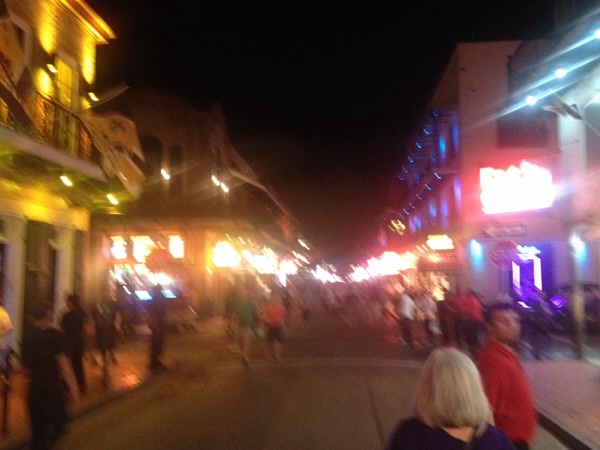 So we may be back someday.