Up by 5:00, showered, revamped clothing plans—since my quick-dry travel clothes do not dry overnight if you've actually soaked them—in the cab by 5:30, at the Amtrak station by 5:45.
On one of his old blogs, Mike Funt has a great rant about train vs. plane.  I will now steal shamelessly from him.
Two bags checked for free.  Two carry-ons.
No security line.  No taking off of shoes and unpacking of CPACs. (In fact, I checked my overnight bag.) No photo ID.
Wide seats, only two on a side.  Footrests, because your legs can't reach the seat in front of you.  Legrests that you can pull up from your seat, which of course reclines.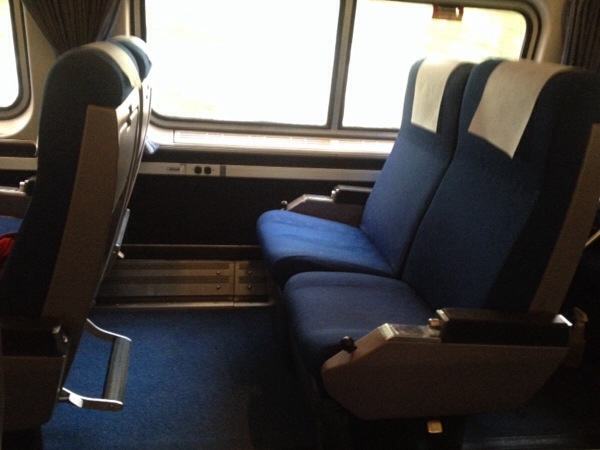 Large restrooms.
Dining cars.
The fact that it will take eleven and a half hours to get to Atlanta instead of seven driving or an hour or so flying is largely irrelevant.  Let's keep our eye on the main idea here: I  don't have to drive the final leg of this CROSS COUNTRY DRIVING EXTRAVAGANZA.
So we're seated, rolling, cleared Lake Ponchartrain…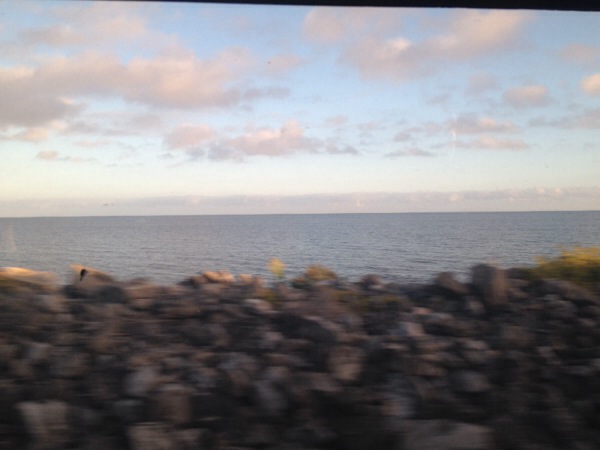 …and have stopped at our first stop.  Next up: breakfast!
—————
I mentioned the dining car, did I not?  That is separate from the lounge car, which serves snacks and that kind of thing.
The dining car, on the other hand:
Yes, tablecloths, cloth napkins, full menu, full service.  I like the carnations, don't you?
—————
After lunch, we asked if we could see the sleeping cars and one of our hosts showed us to the front of the train to look at a couple of empty ones.  The 'A' and 'B' sleepers are fairly tiny but will sleep two, plus they come with their own toilet.  The 'H' sleepers are a bit more like the Orient Express, though still spartan, and come with a shower.  Quelle luxe!
We've left Birmingham behind—next stop Atlanta.
I have to say that if we have enough time in our travel plans, the train is definitely to be preferred.
—————
We've crossed the border into Georgia. ("Do you heff your peppers ready, hm?") Having traveled through the absolute wastelands stark landscapes of northern Arizona and New Mexico, I find myself wondering what the residents of those places would make of ours?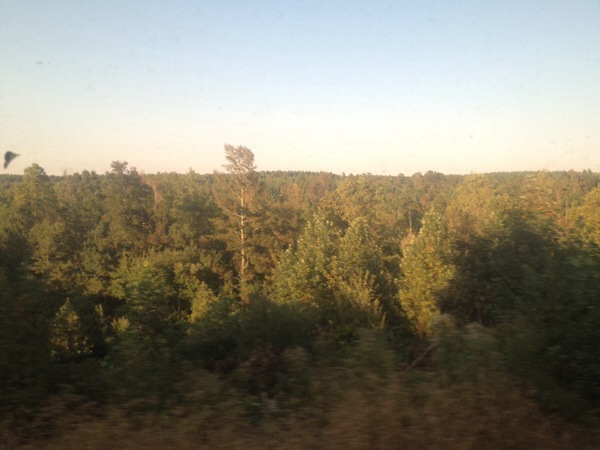 All that green!  Even on the hills and mountains!  And sometimes lakes, big ones!
And everywhere, little towns—with houses!   With grass and flowers.  All of them connected by many intersecting roads.  With grocery stores!
And 3G/4G networks almost the entire way, even on the train.  It's insane!
—————
And yay, Atlanta!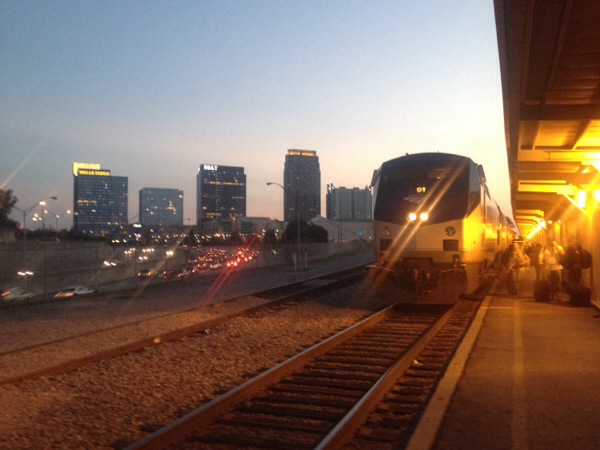 And as you can see, we made it safe and sound.  O you doubters!