We went to Abingdon, VA, this weekend, mostly to visit Ginny's parents, but also to hit the Virginia Highlands Festival. Think Powers' Crossroads scaled down and staged in downtown Newnan. It was the usual mixed bag, ranging from interesting to pedestrian, art to crafts. The Barter Theatre, of course, is also a mainstay of the Festival, but Annie is not quite my idea of art, is it? (Did I ever report on their production of Lying in State? We went up to see it a couple of years ago. David, the playwright, now deceased, had rewritten it a bit after we premiered it in 1996; the cast was competent, but frankly not as razor-sharp as ours.)
Abingdon also has the William King Regional Arts Center, housed in the city's old high school building, a fairly magnificent Arlington-style mansion atop a hill on the west side of town. It's a very nice facility, one you would think they would think twice before abandoning. But apparently they're concerned about cost of upkeep and the lack of foot traffic, so they're looking a building a new facility over on Barter Green. My advice? Take the millions and buy up all the auto shops and low-rent housing that clog the entrance to the hill and re-landscape it.
Anyway, a couple of interesting things at William King. One exhibit was called "Cabinet of Curiosities," and really was just an excuse for a hodge-podge of local antiques, including a desk from my in-laws' house. There was something about "can you spot the fibs?" in the exhibit labels, but that was not interesting.
This was, though: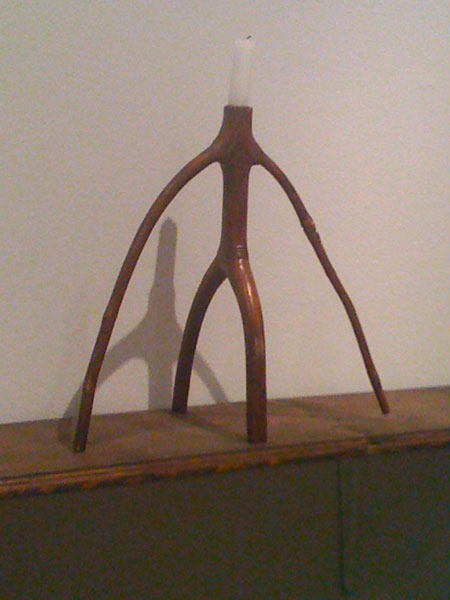 Just a candlestick fashioned from a tree branch, but isn't it spooky? I'd love to have something similar out in the labyrinth. It resembles the aliens from War of the Worlds, I think.
The other was in one of the galleries upstairs, a young artist whose exhibit featured self-portraits on unstretched canvases. This is a sample: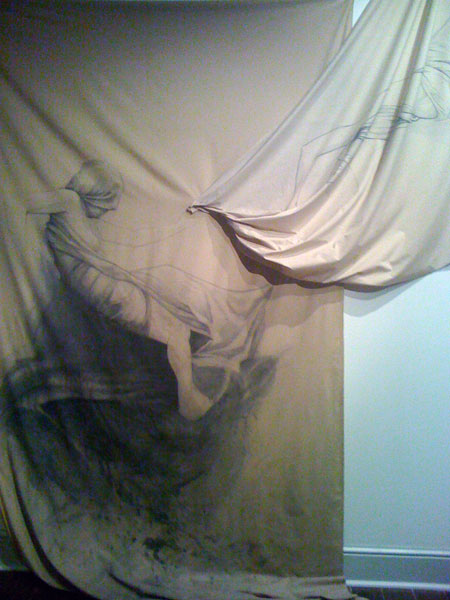 Megan van Deusen's work examined the veils behind which we conceal ourselves, both metaphorical and literal. The draperies are sketched in with figures draped themselves, and in the example above, the figure holds/generates another drapery with a draped figure emerging from it. Very nice indeed.
So my last days of summer were spent consuming the creative work of others, not creating my own. Oh well.