I decided to take this theatre class up at the Alliance Theatre called "Devising from Object," taught by puppeteer Michael Haverty. The blurb was very vague, but it sounded very process oriented and performance art bound, and since my email from the Dramatists Guild also gave me a code for a 50% discount, I signed up.
Last night (Monday) was the first night. A last-minute e-mail from Michael told us:
We will be devising a short performance beginning with the theme of CRAVING or DESIRE. We will begin working with objects which both you and I will provide. On Monday please bring TWO objects to the workshop which symbolize, inspire, or are inspired by craving or desire in you. The objects can be of any sort: a piece of clothing, a book, a toy, a letter, a picture, a piece of furniture, trash, or food. You may take the theme as broadly as you like – desire for fame, pleasure, long life, supremacy, world peace, vacation – craving for food, drugs, love, connection, success, disaster – the possibilities are endless. The objects should hold a certain sort of power for you.

We will be working in a style based upon Tableau Vivant or 'Living Pictures' – an artform of the 18th and early 19th century involving the staging of popular paintings by live performers. We will modernize this form using movement, text, sound, and dynamic visual mise-en-scene. I thought you all might be interested in reading a little bit about Tableau Vivant and the artforms it inspired, including photography, silent film, and magic lantern shows. The wikipedia entry is a good start: http://en.wikipedia.org/wiki/Tableau_vivant
Okay, I thought, this could be interesting. Or it could be hideously lame. Who cares? I'm taking the plunge.
So what to take? I did a lot of thinking, and one thing I finally decided was that I was going to go under the radar with this experience. No one was going to know anything about me in terms of my extensive theatre experience, my ambitions or accomplishments in art or music or education, none of that.
I took a paving stone from the back yard, symbolizing the construction of the labyrinth and my desire for centering and self-knowledge.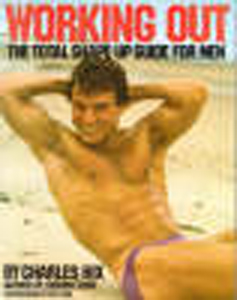 And I took this book. I've owned it for probably 25 years. It had disappeared into the detritus that is our home, but recently my lovely first wife unearthed it and left it lying out in prominent places. It is full of toothsome young lads, demonstrating with their smooth long shanks , broad balanced chests, and offensively flat and rippled stomachs how to master the simple moves required to make one's body look just like theirs.
Whatever.
I took it as a symbol of my desire to look like those toothsome boys, even though I never have and never will. As I said last night, since I cannot hope for youth and beauty, I will shoot for simple good health. And a flat stomach.
Anyway, there are an even dozen of us in the class, and everyone brought objects that were sometimes whimsical, sometimes serious, but nearly always evocative of deep desires that resonated with everyone in the room. A couple of themes emerged, one of which was that of escapism: most of us had the urge to be somewhere else, to be someone else, to be Other.
We began with one of the objects, an apple, and began playing with it. Michael put the apple on a black rehearsal box in the center of the stage. We added Rebecca pressed up against the black box wall, in fear/desire/something. We added a rope from the apple over to Holly, who knelt menacingly at the opposite corner. We had me crossing in super slomo from stage L to stage R with a hatchet upraised in my outstretched arms. We had Beau popping out from stage L with an envelope, whispering in Rebecca's ear.
You can see how weird this is going to be. So far, so good.
Tonight I am taking construction paper cutouts of apples: red, yellow, green. White, purple, orange, blue, black. I've printed out multiple images of the expulsion of Adam and Eve. I'm taking cutouts of leaves (for modesty, of course). I'm taking the altar bell I bought last weekend in Greensboro.
More later.