Here are my favorite pieces from this year's art exhibit, in no particular order, other than walking around the gallery.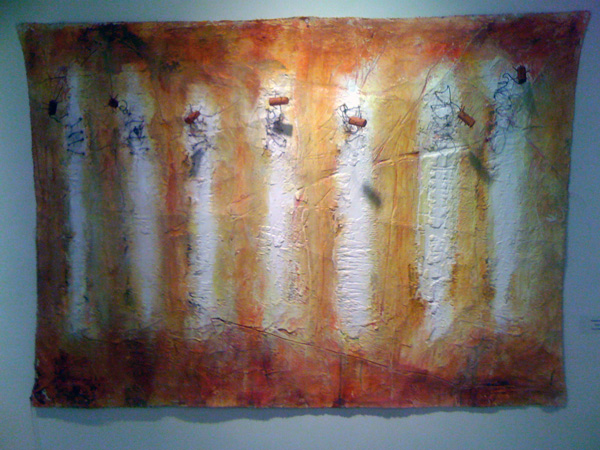 Bottles, mixed media, by Samantha Bond. You can see the label on the right side of the photo, which should give you a sense of scale. I would love to own this piece. At the top of the white slashes, wire is looped through the canvas, with corks dancing on the end of it. It gives off an odd combination of menace and satisfaction.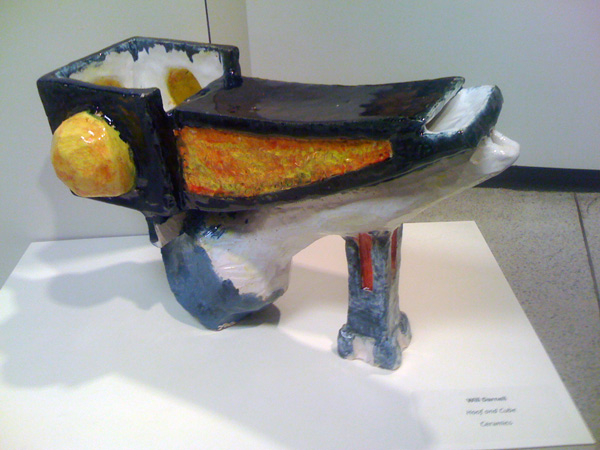 Hoof and cube, ceramics, by Will Darnell. This was the artist's solution to the "problem" of making a teapot. I should have gotten a shot from the other end, so that you could see that the base is actually a hoof and not any other organic form that I'm sure Marc is going to call me out on. I love the kludgy assemblage of forms, and I think the paint job is gutsy. The whole thing dares you to think it's inept when you can't stop yourself from watching it.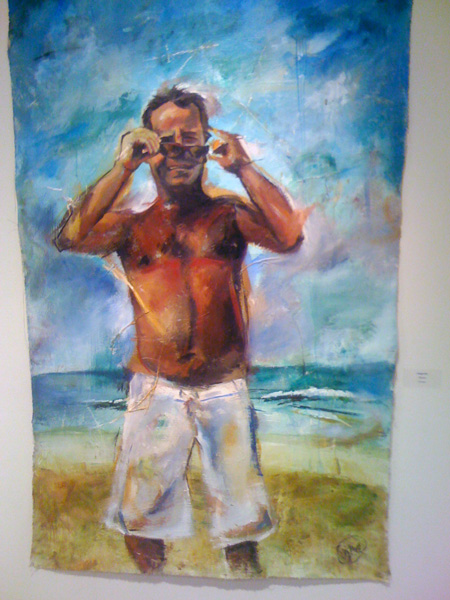 Old man, oil, by Maggie Ellis. Certainly I would question her title, given the subject's still-youthful aspect, but since this work sailed directly into ELP territory, I found it both fascinating and instructive. Look for renderings like this from me in the next year or so. (Mike, Eli, you still owe me photos.)
What has 50 teeth and holds a beast inside, a zipper!, ceramics, by Christy Eun-A Kim. Ignoring the cheeky title, I liked the bravura of this piece. It's just chaotic. Here it is from the other side.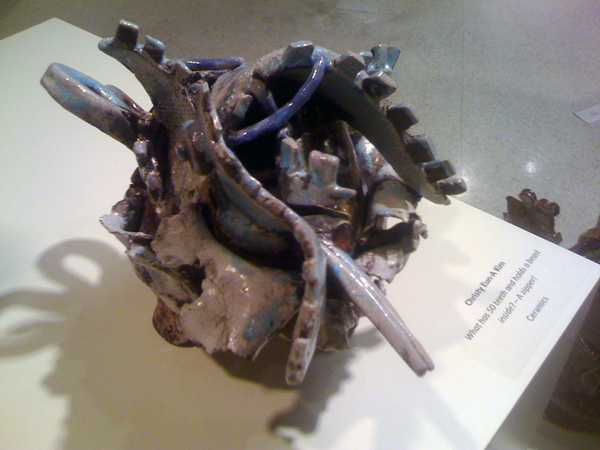 What a glorious mess! One suspects the artist simply got bored one morning and decided to pile it all on and see what happened. A lesson to us all.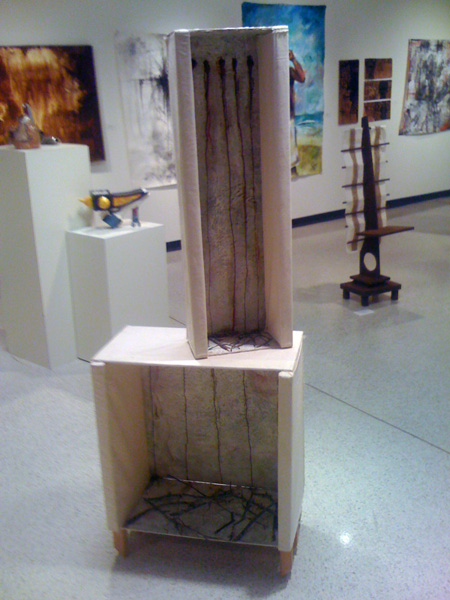 Untitled, mixed media, by Aubrey Warnick. A tidily assembled piece, I thought. The interior, of which I need a better detail shot, is encaustic; nails protrude from the surface, and stains run down from them to a collection of twigs jumbled at the bottom.
[update] Here's a detail: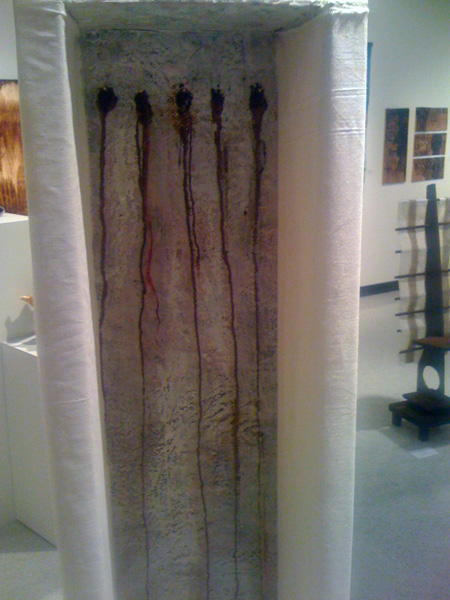 Lost in translation, acrylic, by Courtney Curtsinger. For some reason, the kids painted faces on everything this summer. They'd have a guest artist who showed them strategies for abstraction, and I'd see a nice painting developing, and then the next day there'd be a face on it. It puzzled their instructors no end, as it did me, but ironically of course such figurative work is my goal for my own work. This was one of the better ones.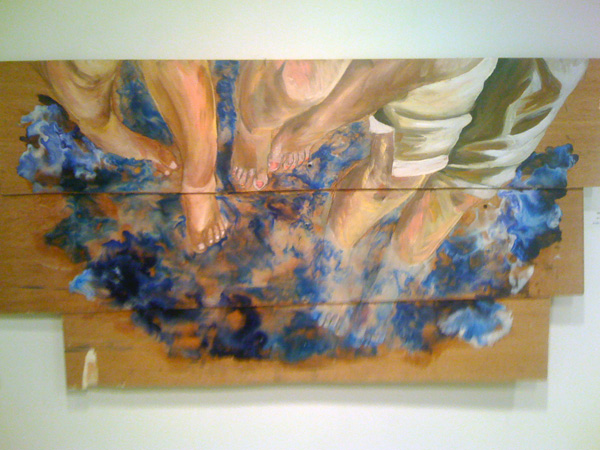 At the spring, acrylic and encaustic, by Newnan's own Katie Turner. Several works showed up this year on bare board. I thought Katie's use of the encaustic to capture the water and its contrast to the crispness of the legs was quite clever. Again, better focus would show it off better.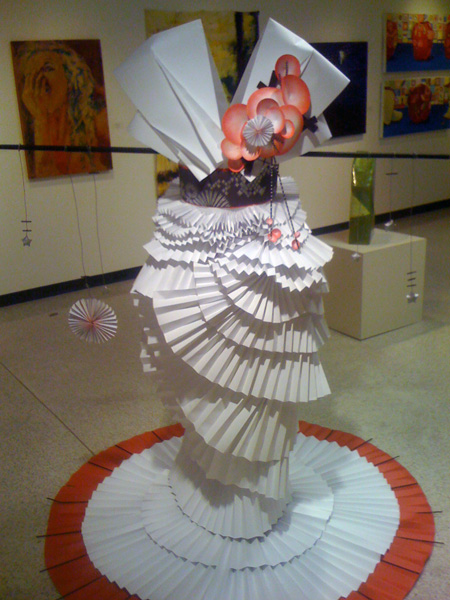 Virgin's first dance, paper and wood, by Christy Eun-A Kim. This is the first time we've ever had anything like this: over-the-top origami Harajuku fashion sculpture. Clearly Miss Kim loves her neomannerist torsions.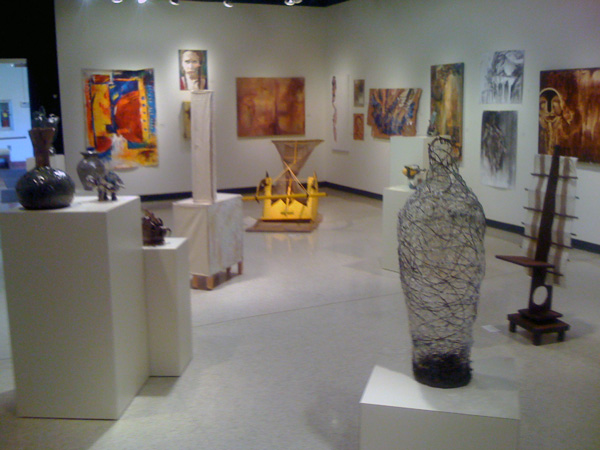 Here's an overview of the exhibit, and here's the other overview: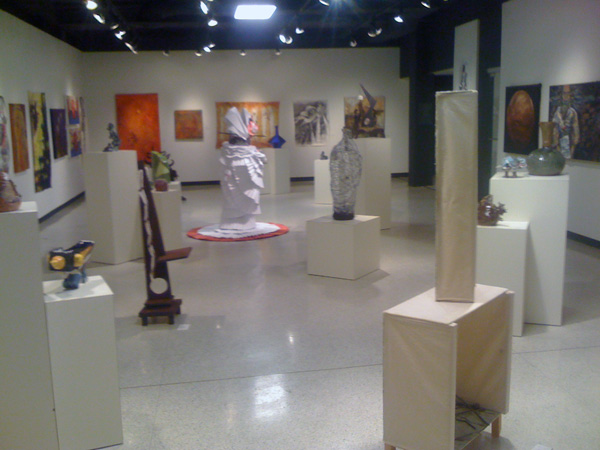 All in all a good year for art at GHP. I may snag some more images tonight.
[updated 7/23]
Two other pieces: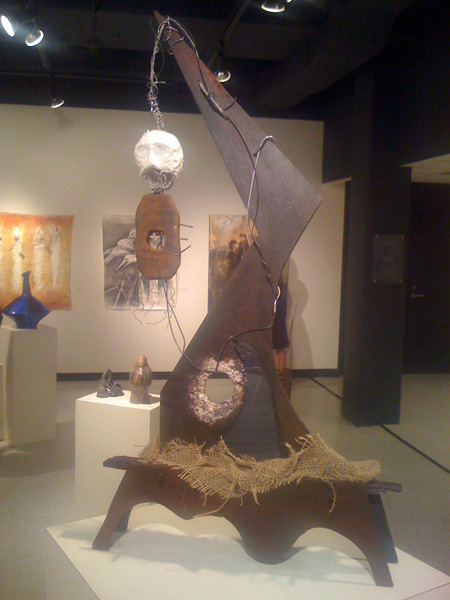 Untitled, wood, wire, burlap, by Corissa Duffey. This little piece struck me with its combination of form and materials.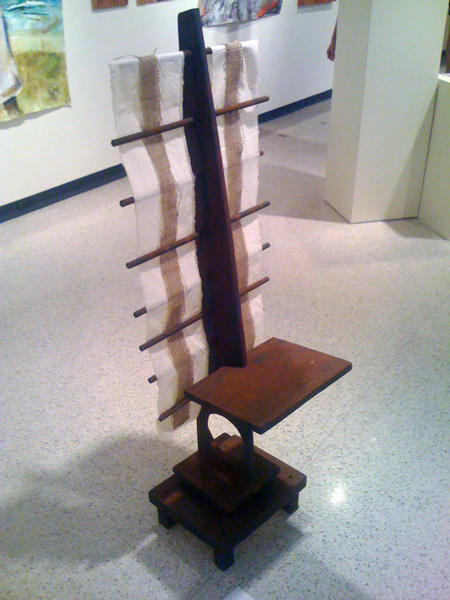 Chair with fabric, mixed media, by Jerome F. Kendrick. The self-assuredness of this piece is amazing. Very Noguchi-like, don't you think?