The taxes are at a standstill while my IRA advisers try to figure out who coded the rollover wrong and why the feds think I was the recipient of a huge disbursement that was taxed, and which if uncorrected stands to have me owe $12,000 in unpaid taxes for last year.
So I thought I'd paint for a while.
Here's the most recent thing I was working on.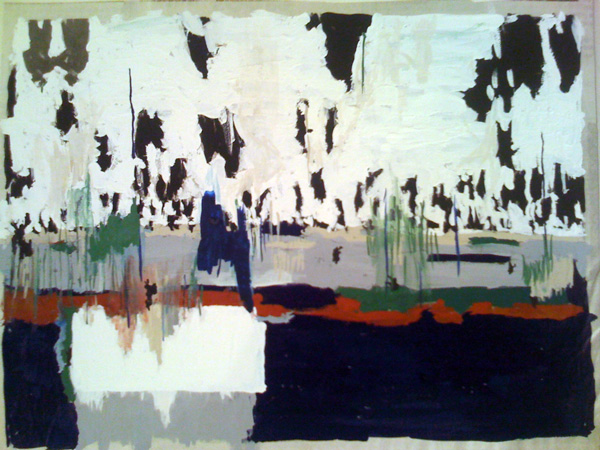 You will notice that I've been futzing with it. I am so far from thinking it's going well that I will not comment on it. And yes, I've turned it upside down. I'll let you know whether that did any good or not later.
At the moment, of course, I have to produce a painting for the Patrons of the Centre event at the end of the month. I served on the committee for the Brooks Arts Scholarship, and while discussing with my fellow committee members what an awesome group of polymaths we all were, I divulged that I had started painting again. I was immediately asked to cough up a painting for the silent auction. My vanity could not say no.
In a traditionally Lichtenbergian maneuver, I am here blogging and putting up this shot of the board with a couple of pencil scribbles on it. You can tell absolutely nothing about the thing, but as long as I keep writing here, I don't have to break out the paints and actually, you know, produce art.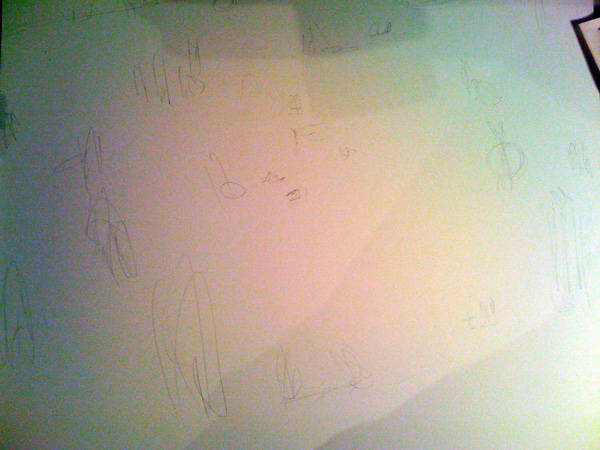 OK, I guess it's time to go clean off my palette and get started. It still has gobs of dried up gouache from my recent efforts, including the octopus I painted in fluorescent paint out on Craig's studio wall last November, and I need a fresh start.
afk–bbs
later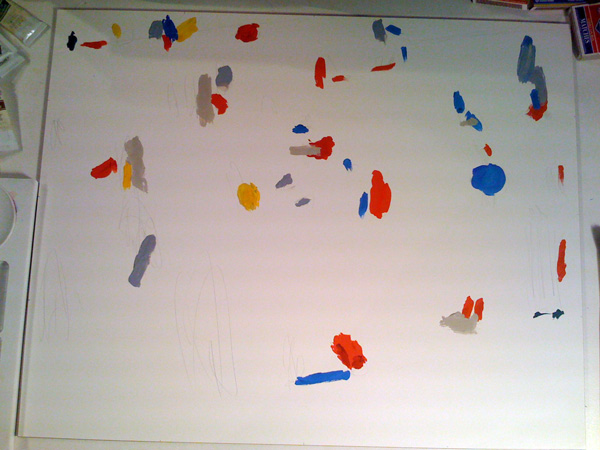 Here it is a little while later, with some color blobs on it. Magnificent progress. That's what I'm calling it, magnificent progress. Actually, I'm calling it a break for a while, since I have to go to a special Masterworks rehearsal for the "men's ensemble," i.e., those of us who volunteered to sing the porters' quartet in "Moonshine Lullaby" because the men as a whole weren't getting it. God bless Irving Berlin.