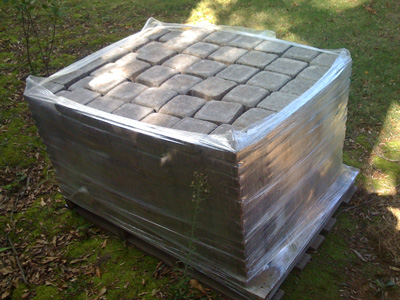 Yesterday, at 6:40 a.m., the paving stones for the labyrinth were delivered. That's right, just as I stepped out of the shower, our doorbell rang. It seems that the forklift was not going to fit through the carport. Sheesh. We had the guy put it down on the side of the carport, in our neighbor's yard.
Ginny had been fretting in a negative way since I had told her I'd ordered the stones, and now she fretted about it being in Sue's yard. Since she enjoys fretting, I helped her by refusing to fill her in with any details about my plans, since each time I tried I was greeted with more negative fretting.
But my plan was to move the stones down to the back yard anyway, no matter where they had been delivered. True, if they'd been put down in the driveway, I actually wouldn't have had to move them until I was installing them, but no matter.
So when I got home from school, I stripped down for action and got to work. An army of one, I scooped them up six at a time and walked them down the driveway. I had set up the iPhone/speaker combo, so Pandora was giving me the beat with my Tosca channel, and it was one of those fun times when you just sweat and do the work.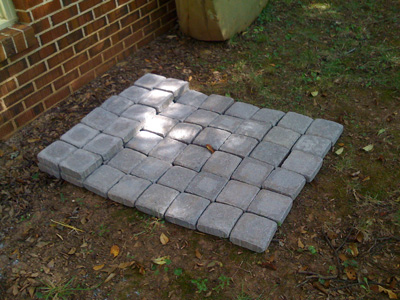 Here's the new pile, down by the house. I figured it would be out of the way of anything we were doing back there until the stones were all installed.
That's 672 stones, by the way, at 4.4 pounds apiece, which works out to about 3,000 pounds. So yes, I moved a ton and a half of paving stones yesterday afternoon. And yet I am somehow not buff this morning. Maybe it takes a day or two to show up.
My dilemma is now increased multifold: pave the path, or pave the outline? It would be unconscionable for me to pave the path, just in terms of cost. I have no right to spend that kind of money on this project, even spread out over a year or two. But it would be an amazing thing to have done, and to have. If I pave the outline, then I could probably have the whole thing done by the Lichtenbergian annual meeting in December. But then as a matter of aesthetics, what do I do about the path? It's all scrubby grass and weeds, and I could easily spend half the total cost of paving the path on treating the soil and growing grass.
The other aspect of it, as I laid out a circle of stones in the center last night by candlelight, is just how attractive a path paved by me would be. We're not talking closely fitted cobblestones here.
So here's what I'm thinking. I'm going to lay out the center, then lay out a couple of the tight turns, just to see if it would be attractive at all. If not, then I'm going to go with the outline instead.
Discuss.