My, how time flies when you're slogging through Munich.
As much as I would have liked to, it was just impossible to blog about each day. We'd get back to the hotel late, and then, if we wanted to be any kind of rested for the next day, we'd have to hit the sack.
So, apologies for not blogging the trip in real time. I will now attempt, in some multiple posts, to give the hilights version.
On Monday, Grayson took us to three major churches we had missed on Saturday.
First, the Asamskirche: built by the brothers Asam as their private church (it's sandwiched into a tiny lot beside the home of one of them), it was eventually opened to the public as it became more and more expensive to complete.
Here's the street it's on. No, that's not it in the distance. That's the Neue Rathaus. The church is on the left, above the DHL truck.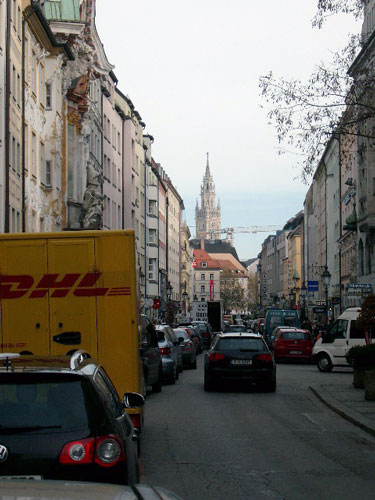 Here's the door of the exterior: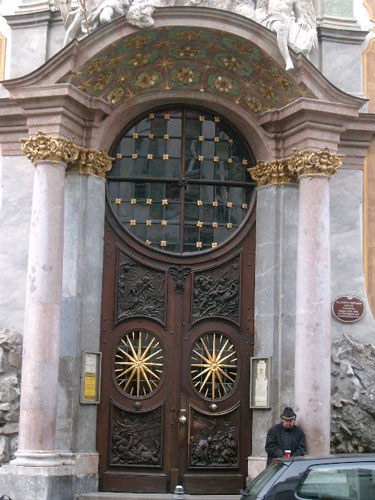 And here's the top of the exterior: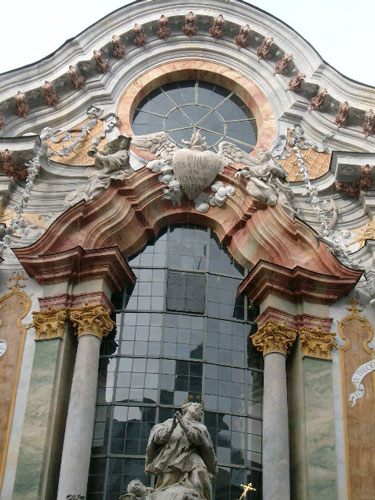 And inside?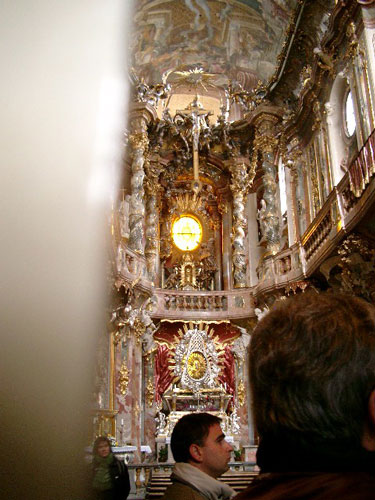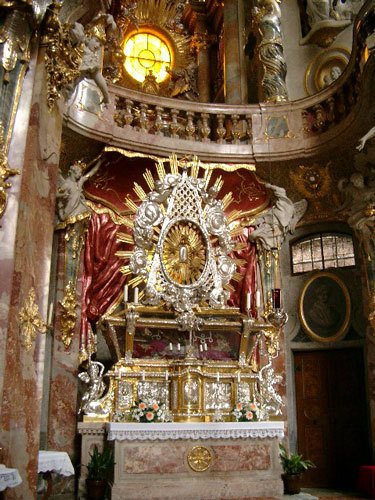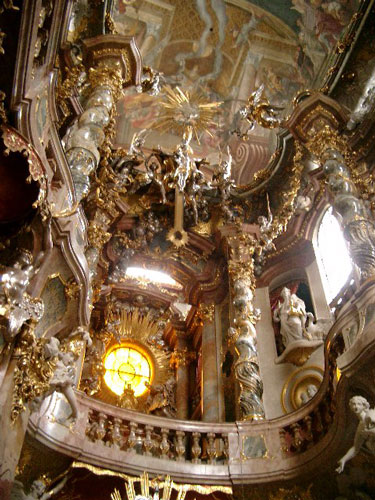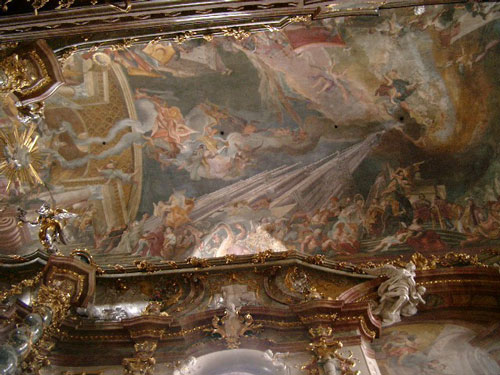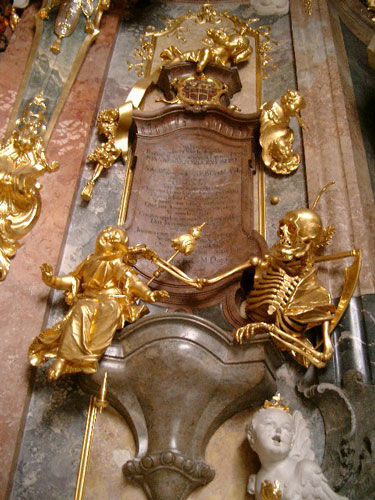 That last little bit is in the narthex: it's an angel with a distaff, spinning the thread of life. Death is snipping the thread with his shears.
Our next stop was the Theatinerkirche, at the Odeonsplatz: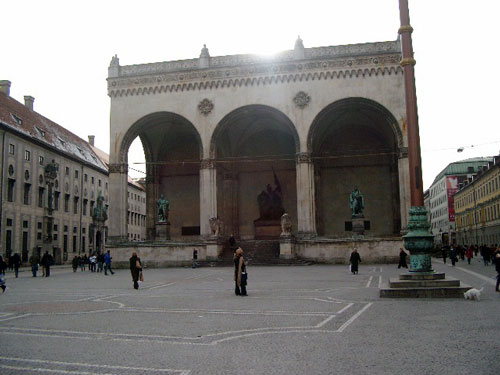 This is the Odeonplatz, built by Ludwig I, who did some town planning in the early part of the 19th century, including this nice little folly at the end of Ludwigstrasse, a main thoroughfare leading into town, lined with the magnificent buildings of the University. To the left is the Residenz, the palace of Ludwig's Wittelsbach family, and to the right is the Theatinerkirche: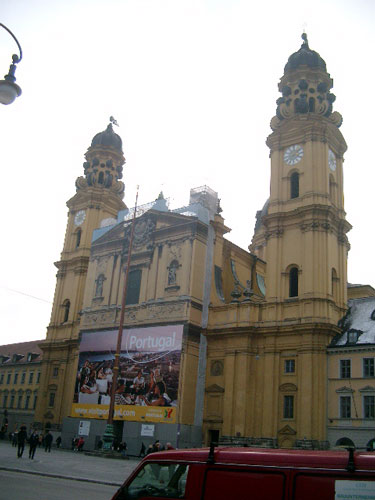 Notice the scaffolding across the front, and how it has both a photo-poster of the actual facade, plus an ad. Hold that idea; it will return.
And the inside: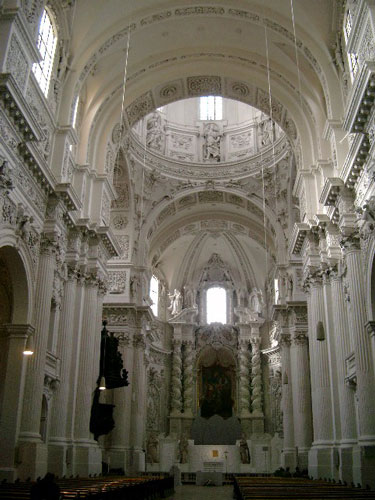 Woof. "Soaring" and "baroque" do not begin to describe this interior.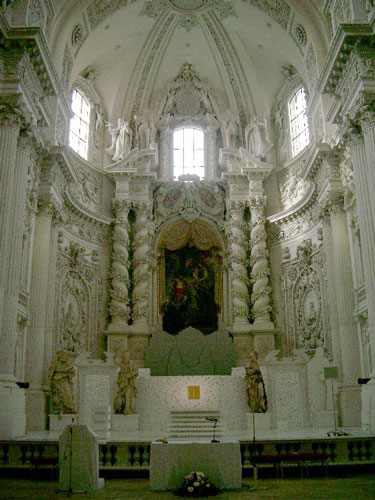 The altar.
Architectural detail, above and below: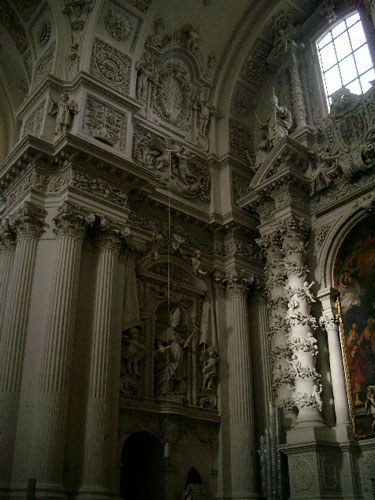 Part of what numbs the brain about most of these places is that these are actually, essentially, replicas. Most of Munich was damaged, like 90%, in the final year of the war. We were trying for the Nazi headquarters; without smart bombs, we got places like this. (The Nazi headquarters was unharmed. It is now a performing arts high school. Jews and queers, could it be any more poetic?) Anyway, Munich set about and rebuilt all of what you see here.
Our tour guide: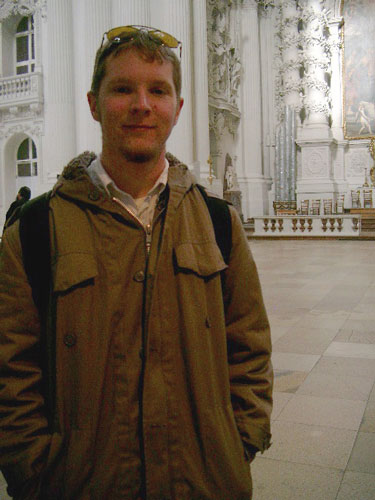 As you can see, he looks self-satisfied. Finally, he took us to his favorite church, the Ludwigskirche: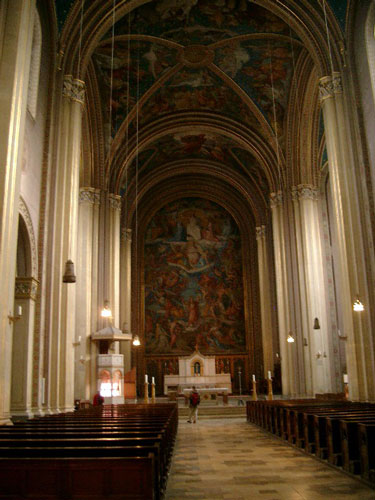 He likes its clean, neoGothic lines, and for some reason, its quasi-Renaissance frescoes.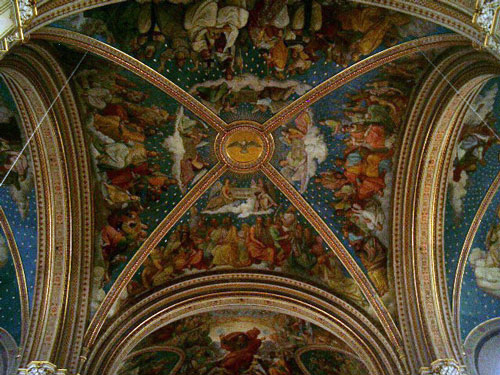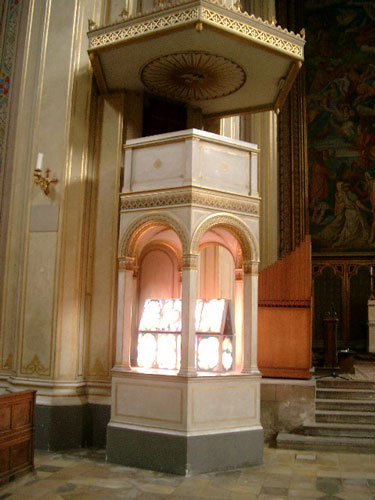 At this point, the child begged off: he had work to do. We were astonished and pleased. We ate at a really crappy restaurant that was pretentious but awful. German haute cuisine is not quite there yet.