I started it yesterday, but tonight I finished my visual for Man in the Marmalade Hat. Here it is: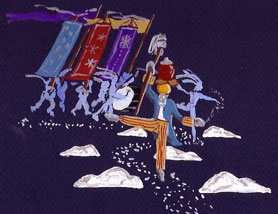 (You can click on it for a full view.)
It was fun getting out the gouache and the brushes and the palette again. The result is still clumsy, but I think if I were to continue doing this I would improve rapidly.
One thing that would interest me if I keep working on visuals like this is becoming less "shape" oriented and more movement oriented, more "painterly" in style. Use brushstrokes of color to suggest movement and mood. Use shadows and light to define shapes.
This afternoon I bought a tiny watercolor "brick," a 4×6 pad of watercolor paper bound on all four sides so that the paper won't buckle when you paint on it. I figured I would try to do one of these every other day, just whack some paint, maybe go for the artist calling card idea.
In fact, I'm going to suggest that our workshop members go look at artist calling cards for inspiration.

In other news, Charles "Cully" Stimson, deputy assistant secretary for detainee affairs, resigned. You may remember him as the ****t**d who a couple of weeks ago went on some radio station and named twelve law firms who had attorneys representing detainees at Guantanamo Bay, saying that he thought it was a shame and that CEOs of corporations should think twice before doing business with these firms. He also suggested that the lawyers were not doing the work pro bono (which they are), but were being paid through shady sources, meaning, of course, Al Qaeda.
He backpedalled and apologized, saying his remarks did not represent his "core values," which I thought was incredibly meaningless. What could he have possibly meant?
At any rate, he's gone. One down, so many to go. Write your representative. Call your senators.