So the books for Into the Woods came in and I signed for my copy.  As I took it over to my pile of stuff, this slipped out: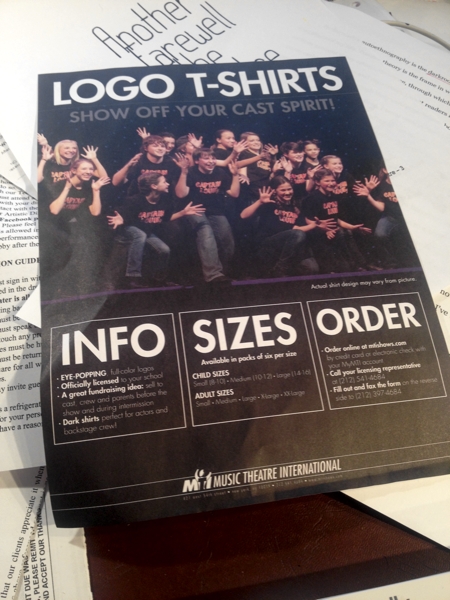 A blessing for community theatres everywhere, I suppose.  One buys them in batches of six and everyone gets to show off/advertise their production of whatever and add to their ever-burgeoning collection of t-shirts.
Music Theatre International was my go-to source for musicals back in the day, since they had shows that were at the time not the huge, overblown, everyone-knows-this-one shows like the Rodgers & Hammerstein Library's offerings.  We did A Funny Thing Happened on the Way to the Forum, The Fantasticks, Into the Woods, Lucky Stiff, and She Loves Me while I was in charge, and since then NTC has done a lot more from the collection.
Two things struck me about this flyer, though.  One is the relentless march of commodification of theatre. Yes, I know the purpose of theatre is to separate the customer from his money, but Broadway musicals in particular are now more product than production.  Not only can you buy these t-shirts, but if you go to the touring productions you can buy hats and cups and wine glasses and CDs and posters and trinkets and all kinds of be-logo'd crap, just so you can identify with this product.  You're not there to enjoy the creative work of a team of artists, you're there to sign on to Team Phantom or Team Poppins.
The other thing that struck me was the listing of shows on the back of the flyer.  In a little side box, we are offered t-shirts for the School Editions of the following shows:
Aida
Avenue Q
Les Miserables
Miss Saigon
Ragtime
Rent
Sweeney Todd
School editions.  For schools.  For students to perform.
I will be the first to admit that I have done shows with teens that pushed their sensibilities and their understanding of the world around them.
However.  Whenever I selected a show it was the thing itself, not some bastardized version of it—nor did I bastardize it.  That is the problem I have with the "school editions"; I don't care if the kids do shows with sex, violence, and cannibalistic critiques of capitalism in them, but I do care that those things are watered down. Because: MTI is not doing this watering down (with full permission and often cooperation of the artists) so that more children can explore the beauties of first-rate musical theatre, but because they want to make the sale.  Cha-ching!  More t-shirts!
And of course, they're making the sale to schools/communities who cannot handle their little darlings saying damn or fuck or explaining how the internet is for porn.  To those communities, I'd say stick to Rodgers & Hammerstein.  Although naturally they probably will want to avoid South Pacific with all its miscegenation and stuff.
(I'm still trying to wrap my head around how you make any of those shows tame enough for sad little communities.  Miserables, Saigon, and Rent still are about prostitututes; Ragtime is still about black people and blowing stuff up; Sweeney Todd still involves meat pies.  All of them are condemnations of the power structure and of rigid, self-righteous moral codes, which alone would get them cancelled by many communities.  Eh.  Who cares? Get off my lawn.)