We traveled down Hwy 27 on Friday to Colquitt, GA, where we stayed at the lovely Tarrer Inn, did Colquitt, and saw the famed Swamp Gravy.
It is worth the trip. If you don't know what I'm talking about and are too lazy to click on the link, here's the short version: the city of Colquitt decided to rescue itself from its doldrums back in the 90s by applying for some grants and creating a 'folk life' play from collected oral history. It was an immediate smash hit, and has been ongoing since then.
The town itself is almost nothing, and their grip on the tourism thing seems to extend mostly to having this fabulous theatre piece for a month of weekends twice a year. The building is an old cotton warehouse, and they've renovated it brilliantly, with a museum of local artifacts (without however any contextual explanations of any of the items on display).
The performance space is U-shaped stadium seating around a pit, with permanent multilevel platforms interspersed throughout. There is a large stage-ish area at the end of the U.
Community members from 4 to 70 rehearse the season's play and then perform it for a month. The arts council collates a new script for October (or goes back to a previous script), and then it repeats in March. They also have a local show called May-Haw, which as the website says, is more for the townsfolk than the tourists.
Anyway, the show was good. This one was stories from the murals which dot the city (another of its attractions), all of which depict specific local events and people. On the whole, I thought it was probably weaker than their usual collections of folktales, ghost stories, and reminiscences, but parts of it were just glorious.
We intend to return to see another show. Yes, it was that entertaining. Plus, it warms my heart to see this tiny community pull off something this good.
I've said enough nice things, right? I can be a little catty now, can't I?
Good.
In the window of one of the stores was this poster, for a trio singing at a local church. If you are a Colquittian who has stumbled on my blog, my sincerest apologies because y'all are some of the nicest people we've ever met, but this sent us into hysterics: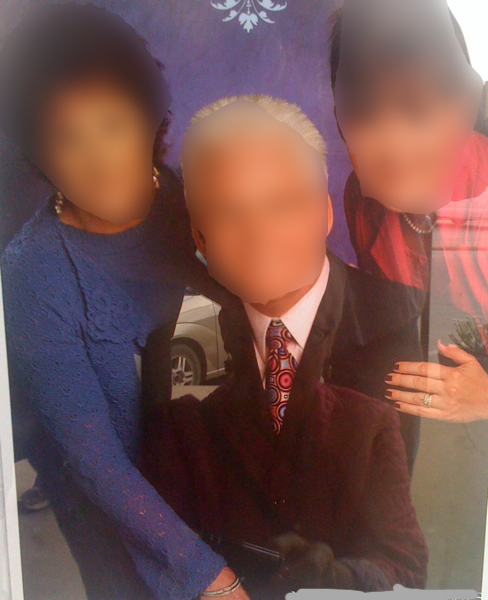 The lady in blue: exactly what is her hand doing? I promise I have not cut anything off. In fact, I had to redact the name of the group just to make sure I got as much of the thing in.
I hope this doesn't ruin my chances to be considered as director for some future Swamp Gravy, because I think it would be a lot of fun. (And Swamp Gravy, I have ideas. Ask me how the elephant story could have been a showstopper.)
At one of the shops, an antiques/decor place, we came across this: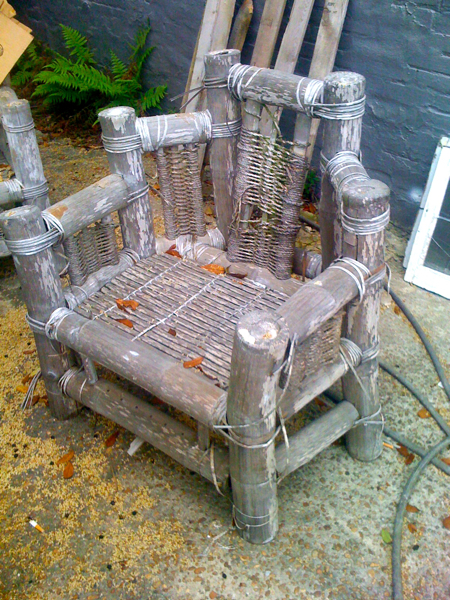 It's bamboo. There was another chair like this, plus a 'sofa' and a table. Totally wobbly, so it would have to completely restored. I was thinking skulls on the uprights would be awesome. I could indulge in all my Mr. Kurtz fantasies. I did buy something from the shop, about which later.
This morning we started our drive back to Newnan, and somehow it became a thing for us to swerve off of HWY 27 to go take a gander at any and all small towns off the path. It was actually fun. Blakely—I think—had just had its "Peanut Proud" festival. (Colquitt has the Mayhaw Festival next month.) Bluffton had this enormous and ornate building, a former school perhaps, all boarded up. I wish we had a photo.
We stopped at Providence Canyon State Park: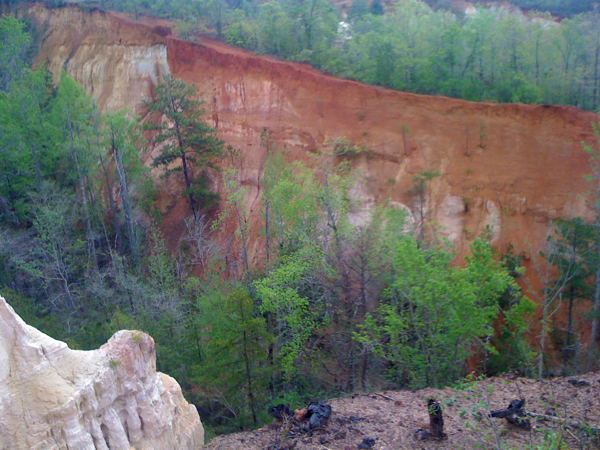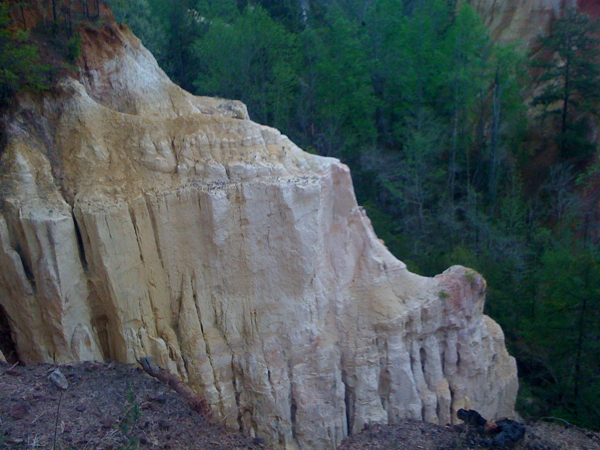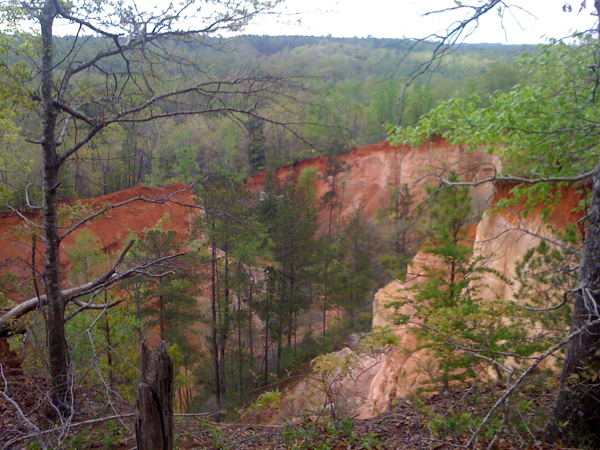 Better pictures on the intertubes, but it was awesome. To see most of it, you have to hike, and we were prepared neither with shoes nor time, so we had to settle for these glimpses from the outer rim. It's only 150 years old: settlers in the 1820s planted cotton, stripping the land of all vegetation and plowing up and down the hills rather than across. In 30 years, it looked like this. Can you imagine?
We also plan to return here to hike through the thing. There's supposed to be a wildflower hike, but the website doesn't mention it.
When we drove down Friday, we noticed a row of three small white churches off the highway. They all looked well-kept, and we thought it was odd to have three churches in a row like that. We jokingly suggested it was three hardshell Baptist churches, founded by three feuding branches of the same family. As we drove back up, we pulled off to see the Louvale Historical District. There doesn't seem be an actual Louvale as such, but then we saw the three churches. They're surrounded by a chainlink fence, but the gate was open, so we pulled up into the gate and looked.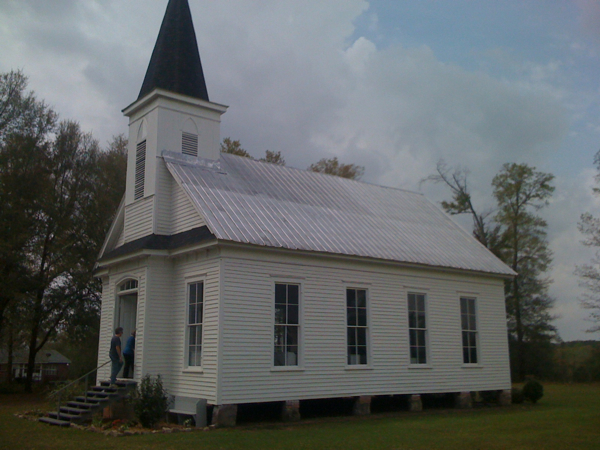 As we looked, a car pulled up behind us, and a woman offered to show us around. Her daughter had gotten married in the Antioch Primitive Baptist Church, pictured above, and she had the keys. She explained that this was the Louvale Church Row, unique in the nation. Three churches and an old school, moved to this site and still active (the school is a community center). The buildings are immaculate, and the Antioch church was elegantly simple. And the acoustics were quite live! I'd love to perform there. (I just discovered that there's a Historical Marker Database! Woot!)
Finally we made it home and I was able get out to the labyrinth to install my purchase from Colquitt: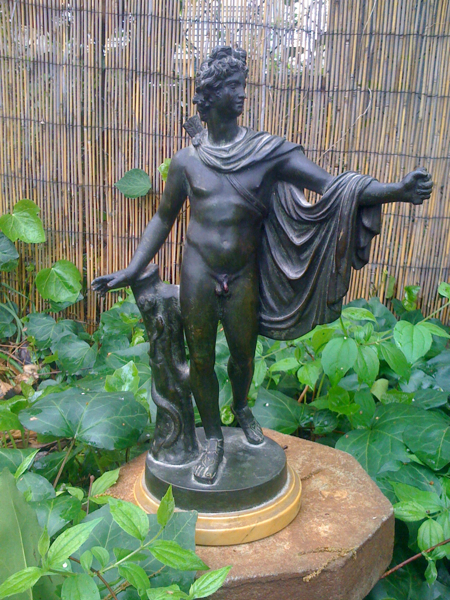 Yes, the Apollo Belvedere, a foot-high bronze. For those who don't know already, here is the skinny on the whole Apollonian-Dionysian dialectic. I hadn't really been searching for avatars of these two forces, but when I saw this—and the price was right—I had to have it.
Now I need a bronze Dionysus. This is the only even halfway well-known one I might look for, but it seems almost tame, kind of Apollonian. So I just might go for the Barberini Faun. That's Dionysian.