I'm bored, so I'm taking random cocktail recipes from The Savoy Cocktail Book (1930), giving them a try, and modifying/improving them if I think it's necessary, and reporting my findings here.
Honeymoon Cocktail
[p. 82]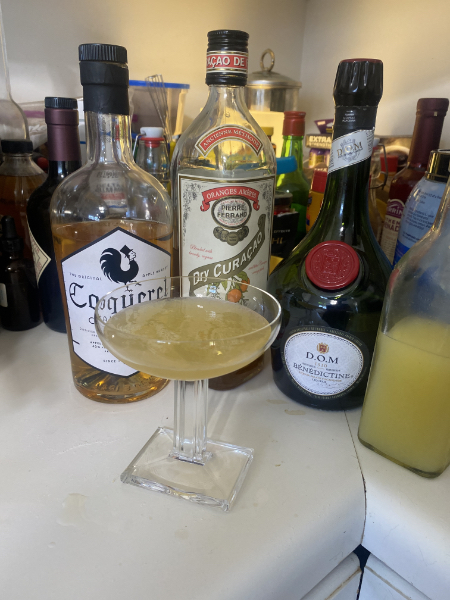 This one turned out to be a winner, but it took some figuring. The original recipe confirms my suspicion that most of these 700+ recipes were just quick slugs for the Bright Young Things who splashed into the Savoy before heading out to the jazz clubs — no self-respecting bartender these days would publish a recipe with no actual measurements.
The Juice of ½ Lemon
3 Dashes Curaçao
½ Bénédictine
½ Apple Brandy
There's a note: "Some sensitive bartenders think it is more tactful to substitute orange juice."
What? What kind of arch dig is this, and toward whom is it directed?
Never mind, we have to figure out what the heck to pour here.
Half a lemon? How big a lemon? How much juice do you want me to pour, Harry Craddock?
Pretty sure the curaçao called for here is the sweet stuff that I have eschewed in favor of the Dry Curaçao you see in the photo, but again, how much is three dashes? I actually have a set of measuring spoons for tiny amounts, and a dash is 1/8 tsp, so… 3/8 tsp?  That doesn't seem enough.
::sigh::
The good news is that my first all-over-the-place interpretation was a winner. Here you go:
Honeymoon Cocktail (adapted)
¾ oz lemon juice
⅛ oz Dry Curaçao
1 oz Bénédictine
1 oz Apple Brandy (Calvados)
Shake with ice, strain into coupe. I'd probably garnish with a lemon twist.
Let's give this point to Savoy (with an asterisk, since I had to interpret it and it's probably not the same cocktail served by Savoy).
SAVOY VARIATIONS SCORECARD: