I'm bored, so I'm taking random cocktail recipes from The Savoy Cocktail Book (1930), giving them a try, and modifying/improving them if  I think it's necessary, and reporting my findings here.
Fair & Warmer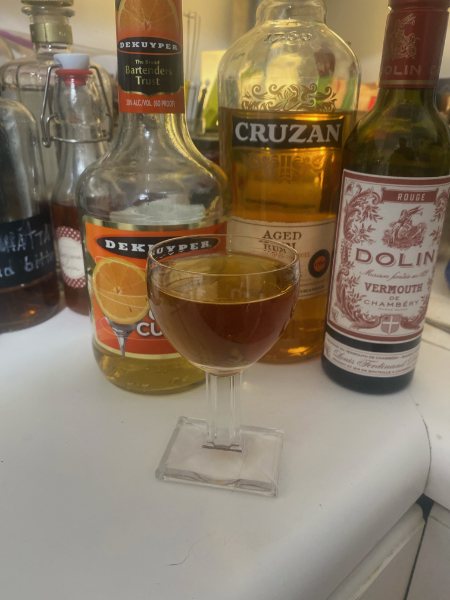 I'm sure the whole "proportions-not-amounts" thing makes sense if that's what you're used to, but the bottom line is that a recipe that calls for 1/3 sweet vermouth and 2/3 rum still requires you to figure out how much to measure out.
Even so, that's a 2:1 ratio, so let's go with
1.5 oz rum (originally Bacardi)
.75 oz Italian (sweet) vermouth
2 dashes curaçao
I had to look up exactly how much a dash is — it's 1/8 tsp, so 2 dashes is 1/4 tsp. I chose the Cruzan aged rum instead of Bacardi because I thought it might be more interesting. Also, I dug out the deKuyper orange curaçao because, hey, this recipe looked as if it might have been designed for something more sickly sweet than my now-preferred dry curaçao.
It was not good, just sort of a sledgehammer of booze (which, again, I maintain is the intended effect of most of these).
I tried again, switching back to Bacardi and the dry curaçao, and modifying the proportions.
Fair & Warmer (2)
1.5 oz white rum
.5 oz sweet vermouth
.5 oz dry curaçao
It really wasn't better. Perhaps a lemon twist might have perked it up, but on the whole it was a failed experiment. There wasn't even enough to like to interest me in trying to fix it with further trials. Into the sink.
SAVOY VARIATIONS SCORECARD: