::sigh::
This graphic has been floating around the FaceTubes for a couple of weeks: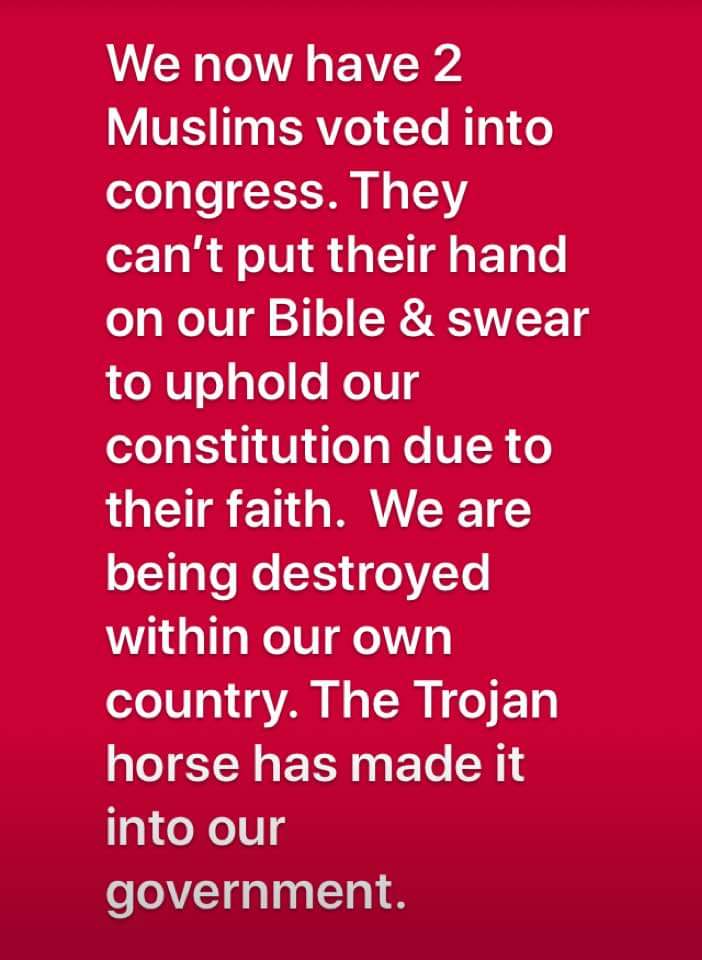 Can you not feel the panic rising? Is your amygdala not entertained? Dogs and cats living together, etc etc. I for one am the outrage.
Here are the lies and the complete miscomprehension of basic truths.  Pass it on.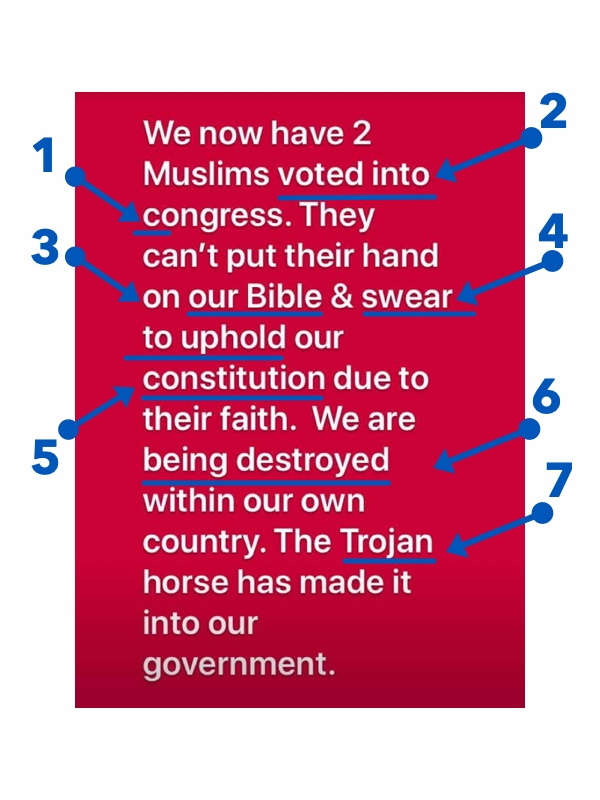 (1) DEAR RIGHTWING AMYGDALA-BASED LIFEFORM: WE CAPITALIZE CONGRESS AND CONSTITUTION. We generally spell out numbers lower than twenty, too. Thank you.
(2) That's right. They were VOTED INTO CONGRESS. By voters. That's how it works.
(3) It always comes as shocking news to the amygdala-based lifeforms [ABL], but the Bible is a holy text for Muslims too. Just as Christians revere the Old Testament but consider it to have been "superseded" by the New Testament, Muslims consider both Testaments to have been "corrected" and "superseded" by the Q'uran.  In other words, just as an ABL would just as soon not swear on a Torah, Muslims would rather use their own holy text.
(4) As usual, the ABLs have constructed a fictitious universe in which THE TRUTH, THE WHOLE TRUTH, AND NOTHING BUT THE TRUTH can only be TT,TWT,ANBTT if the swearer puts his LEFT HAND ON THE BIBLE. Anything else completely invalidates the oath, right? Sadly, no: several Christian sects will not swear oaths (mainly because Jesus tells you not to), and even if you look at Presidential inaugurations, Theodore Roosevelt did not use a Bible when taking the oath in 1901. Both John Quincy Adams and Franklin Pierce swore on a book of law, standing in for the Constitution. Lyndon B. Johnson used a Roman Catholic missal. No branch of government requires that anyone swear an oath on the Christian Bible, not even your podunk county courthouse. (The last few times I was on a jury, a Bible was not even offered to witnesses — they just raised their hand and swore — and that was some years ago here in Coweta County, GA.)
(5) Funny thing about "upholding our constitution [sic]": Article 6, Clause 3 says, and I quote (in its entirety):
The Senators and Representatives before mentioned, and the Members of the several State Legislatures, and all executive and judicial Officers, both of the United States and of the several States, shall be bound by Oath or Affirmation, to support this Constitution; but no religious Test shall ever be required as a Qualification to any Office or public Trust under the United States.
Let's repeat that last part for the hard-of-thinking: no religious Test shall ever be required as a Qualification to any Office or public Trust under the United States.
That's right, Kenneth, not only is swearing on a Bible not required, such a requirement is prohibited by the Constitution. Which all duly elected members of Congress — Muslims or not — swear to uphold.
(6) Oh, ABLs. Your palpable fear is ridiculous. I will refrain from commenting on the obvious, and that is if we're being destroyed within our own country, it's by the rampant corruption, cruelty, and fecklessness of the current administration and those whose amygdalas salivate like so many Pavlov's dogs at the sound of Dear Leader's voice.
(7) I'm not sure how much of a Trojan horse two members of Congress constitute. I mean, what are they going to do, charge the chair and just take over Congress? Start issuing fatwas from the well? Whip out their scimitars and force the other 536 congresscritters to convert to Islam on the spot (which, by the way, the Q'uran explicitly forbids, no matter what its practitioners have done in history and don't even get me started about imperialistic Christian missionaries over the last 500 years).
The whole tsimiss reminds me of those who are shocked by people who wear shorts to church, or who put sugar on their rice, or who don't put a salad fork on the table: they somehow think that the world they've always felt safe in is actually objective reality. No, sweetie, it's just the way you've done it. Dragging religion into it just elevates the stakes, and Jonathan Swift blew that whole idiotic mindset out of the water in Gulliver's Travels with his spiteful, petty Lilliput, where the two kingdoms go to war over which end of a boiled egg to crack open. He was referring to the religious wars of the 17th century between Protestants and Catholics, but he would smirkingly recognize the ignorant amgydala-based lifeform who created this graphic as a dyed-in-the-wool Lilliputian.