This one sprang from a desire to use my new bitters from Amor Y Amargo bar in NYC, specifically the Colorado Lavender bitters from Cocktailpunk.
Also, I had bought a while back a bottle of St. George Pear Brandy.  I should have known better, but hope springs eternal and St. George is usually not wrong.  The problem with pear brandy is that the flavor overwhelms anything you put it in; nearly ten years ago we were in Key West and during a rainstorm took shelter in an outdoor bar, where a young man who had fled investment banking for the island life struggled with us to make a cromulent cocktail using the stuff.  He failed, and I haven't succeeded myself.
Until now.
The Camino Flores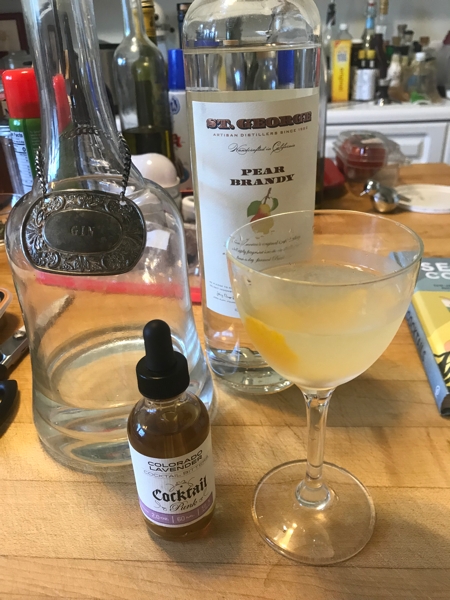 1.5 oz gin (Sipsmith preferred)
.75 oz lemon juice
.5 oz simple syrup
.25 oz pear brandy
2 good squirts of lavender bitters
Shake the first four ingredients with ice; strain into a coupe. Dribble the bitters on top. Garnish with a lemon twist.
I go back and forth as to whether it's cromulent or not, but others have told me it's interesting enough.  I may try again tonight with maybe 1/3 or 1/4 oz simple syrup.
Anyway, enjoy!
(h/t to Marc for an idea for naming)