What a day!
It was decided[1] that most of the party wanted to go to the Georgia O'Keeffe museum in the morning. They reported at lunch that it was, of course, phenomenal: a thorough look at her career, both at her creative process and her impact on the art world.
I, on the other hand, had other plans.  Whenever we travel, I go to the Labyrinth Locator to see if there are any interesting labyrinths to walk. Santa Fe is crawling with them, but they're mostly paving stone versions of the Chartres pattern, and I don't have any real connection to that.
But then I found Temples of the Cosmos. Oh my. Leaving aside the woo factor, what an amazing feat! Sixteen installations, labyrinths and stone rings, spread across the property — what's not to like? So I hopped in the car and drove back down the Turquoise Trail about 30 minutes for a 10:00 appointment.
I was warmly greeted by James, who left me alone to explore the property.  I was the only one there all morning.
Here's a quick tour.
Warning: there are two kinds of people in this situation.  One, like my Lovely First Wife, wants to know every little detail about what she's getting into.  The other, like me, would prefer to explore and discover and be delighted as we go along.  If you think you are going to visit StarDreaming and you are like me, you might want to skip down to my discussion of my experience there.  On the other hand, I'm not going to be giving you that much detail.
TEMPLE OF THE SUN
Each temple has a standing stone with an engraved description which tells you what kind of space it is, any details about the stones involved and/or the construction of the temple, and the woo involved.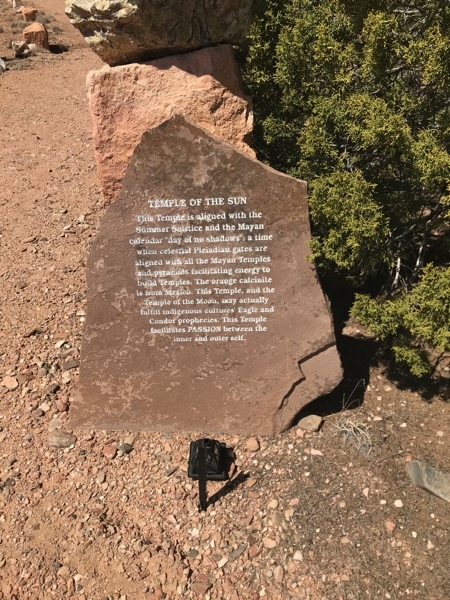 Here's the entrance: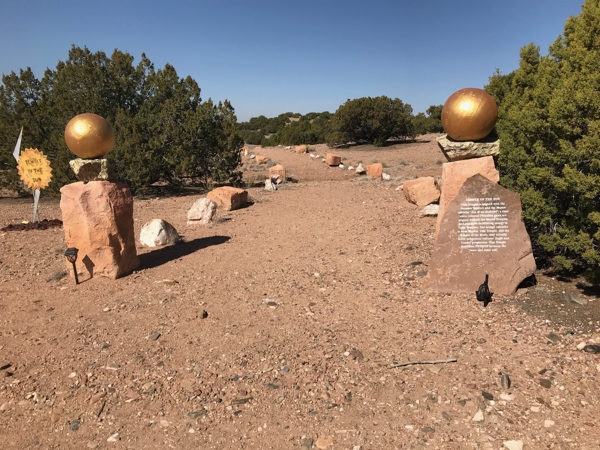 And the large circle of stones: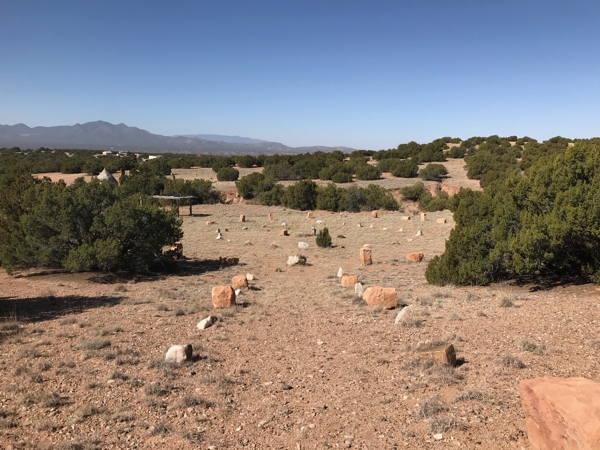 Each temple has an altar (or two or three) and a firepit, which made me want to be here when fires were going on.  On the altars, people have left stones, trinkets, items that have enriched them.
TEMPLE OF DREAMS
I loved this one. (For many of these, I'm just going with a slideshow.)
TEMPLE OF THE RAINBOW SERPENT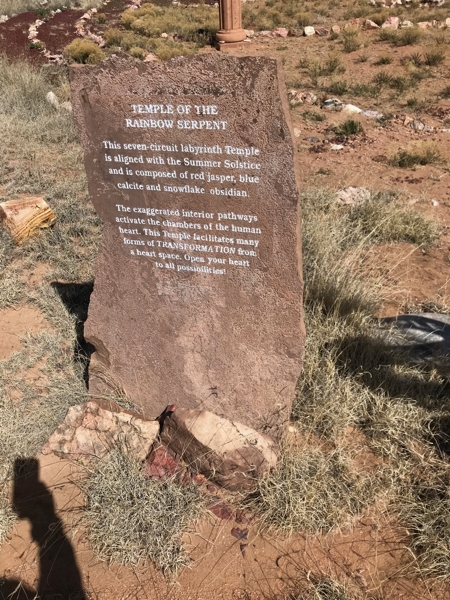 This one is a 7-circuit labyrinth, like mine, but the central cross area is hugely enlarged.  These enlarged inner spaces completely altered the walk: less straight journey, more "goals" that you come upon.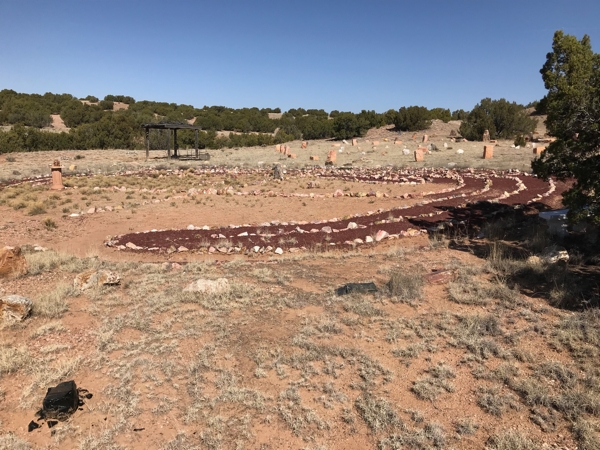 All those big spaces had separate altars.
RAINBOW MEDICINE WHEEL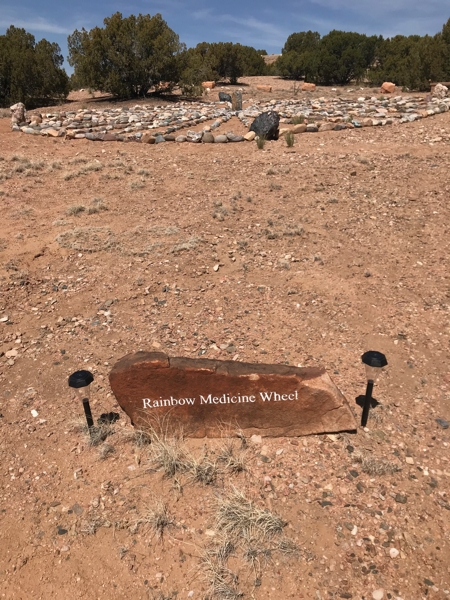 This medicine wheel has 28 points and is aligned with the great Medicine Wheel in Wyoming.
TEMPLE OF THE MILKY WAY
GRANDCHILDREN CIRCLE
One of the few temples I did not interact with.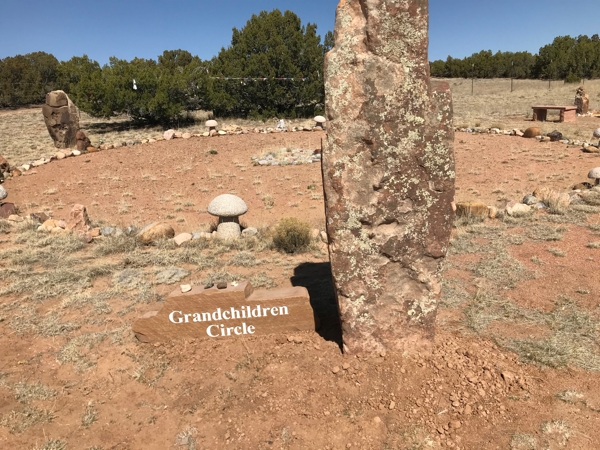 PYRAMID OF LIGHT
This is the newest (and final) temple.  It is stunning.
I liked this detail: three firepits between the Pyramid of Light and the Temple of New Earth.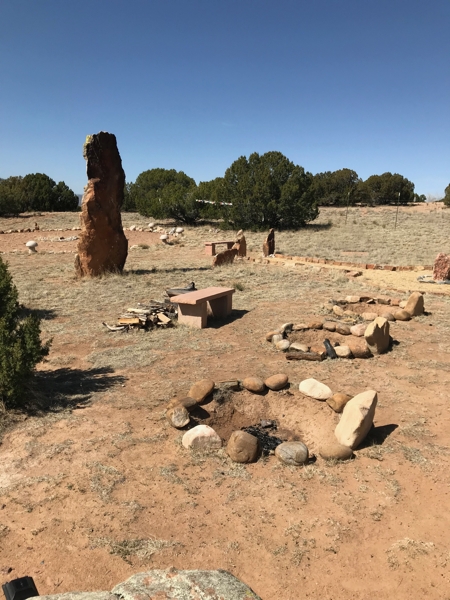 TEMPLE OF NEW EARTH
TEMPLE OF THE VIOLET FLAME
TEMPLE OF THE HEART
FAERY RING
This one was honestly one of my favorites, representing as it did the spirit of PLAY. Pure whimsy in every corner.
There appeared this series of posts with streamers, clearly leading across the arroyo to another area.  Ah, I thought, I think I will let that area stay a mystery.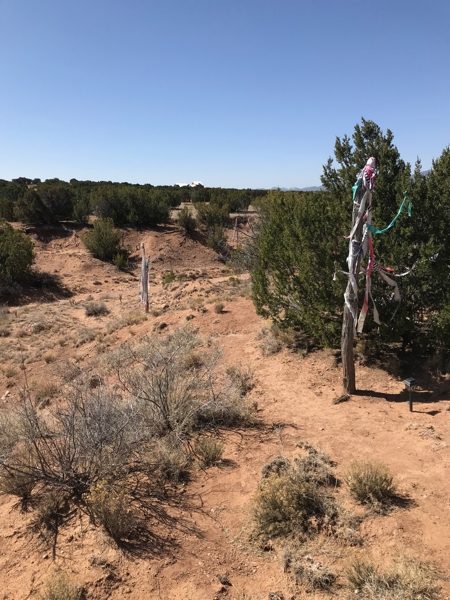 But then I gave in and followed them.
TEMPLE OF INFINITY
There were curious onlookers.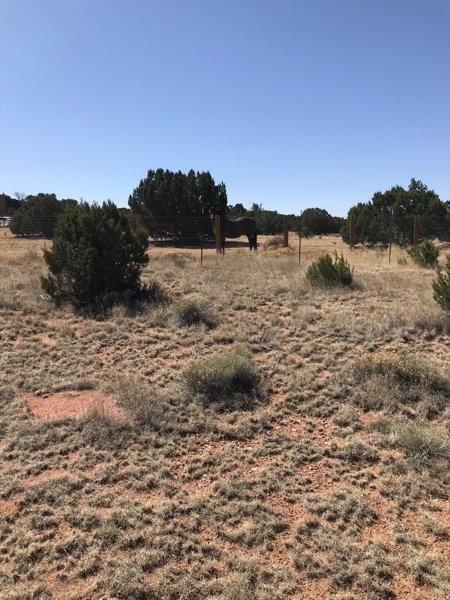 I don't have enough photos of the Temple of the Stars (although I know I took a 360 of it, it seems to have vanished from the phone), the Talking Stones, nor the Temple of Lightning to share.
There was a spot for those who might have been dragged there by their spouses: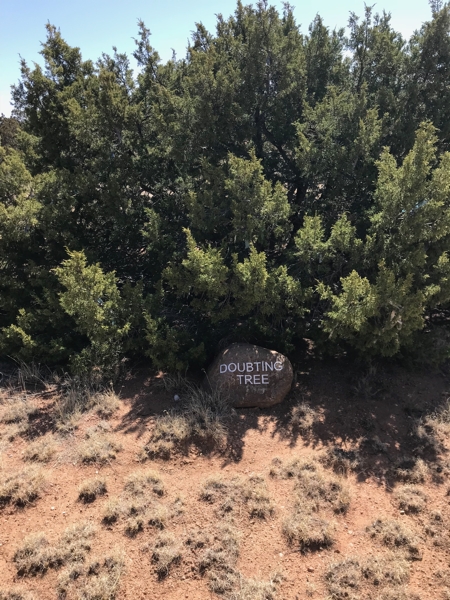 TEMPLE OF NEW ATLANTIS
TEMPLE OF MAGIC
TEMPLE OF AVALON
This is a 7-circuit labyrinth and is one of the ones I did not engage with, mostly because I didn't know it was up on the hill; I had already decided that the Temple of the Moon would be my finale.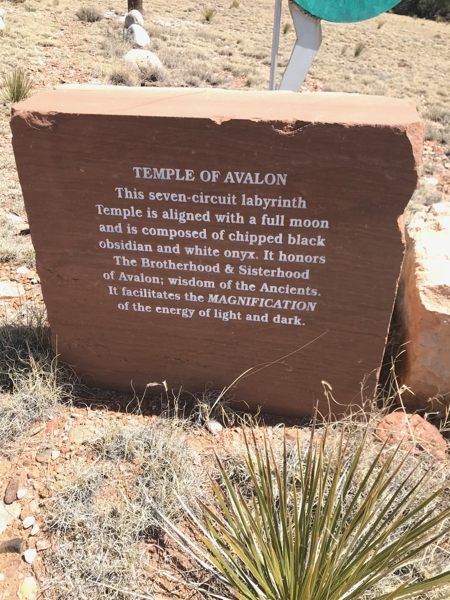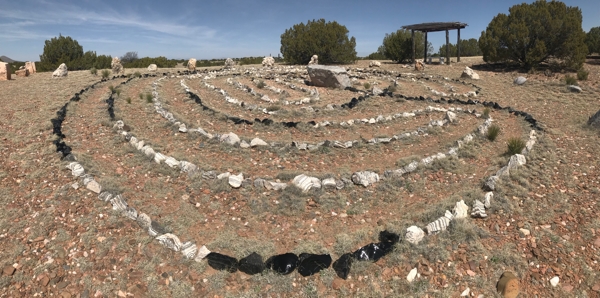 TEMPLE OF THE MOON
My final shot is from the hill of the Temple of the Moon, just looking out over the western side of the complex.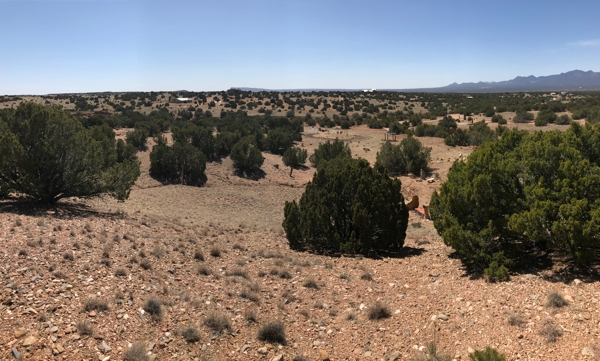 ---
So, what was my experience like?  I spent two and a half hours there, walking labyrinths, listening to the space, doing the hippie woo thing.  Obviously I'm not going into details about what happened there, but I want to say that there was an incredible energy to the place.  The Temples of the Cosmos was the most thrilling environmental art I've ever been in. By the time I walked my third labyrinth, I was reeling from the energy flow.  I felt both empty and balanced.  It was the calmest I have felt in weeks.
I look forward to returning to this place for one of the organized events.
Eventually it was time to go.  I had a nice chat with James back at his house, saw his studio — he is a pretty amazing artist on top of all this — and took my leave.
I met my fellow travelers at the Plaza and ferried them to lunch at Tomasita's, a very good Mexican restaurant where we shared our morning experiences and also came up with a great indie movie idea.  No, I'm not sharing it here.  What, and give you the laurels at Sundance what properly belong to us?  Pffft.
We walked from Tomasita's over to SITE Santa Fe, the installation art museum we visited briefly the day before. There we saw the Future Shock exhibit, which had interactive exhibits, visual art, assemblage, movies, all of which had something to do with life in the future.  I encourage you to click on the link and explore some of those images.
Back to the condo for a nap, and then cocktails at Secreto Lounge, the top-rated cocktail bar in Santa Fe. The cocktails were good, but not stellar.  The one I was interested in was not available because they were out of  some of the ingredients.  It does not speak well of their planning abilities to run out of their "farm-to-glass" infusions/concoctions.
Dinner was at 315 — a fabulous meal with a fabulous cocktail called The Chamberlin: gin, Amaro Nonino, Campari, burnt orange syrup, and Angostura bitters.  I shall be attempting to reconstruct this upon our return home. So far this has been the best meal of the trip.
—  —  —  —  —
[1] Passive voice is used deliberately.