Isn't this lovely?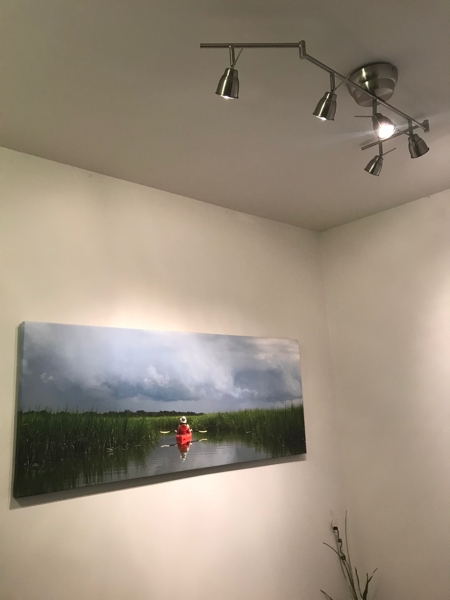 This is the open stairwell to our basement playroom, featuring a really spectacular photo of my Lovely First Wife kayaking in the marshes on the coast.  One day when I was not paying particular attention, she had the photo enlarged onto canvas and hired an electrician to install the very attractive lighting fixture you see here.  What's not to like?
Of course, being the hyper-rational, analytical green that I am (Greens: 98% Right!), my first question was, how do we replace the bulbs?  There was a vague answer about a ladder and boards, but since these were halogen bulbs it would be years before we needed to worry about it.
Two weeks ago I noticed we were down to only one of the bulbs.  It was time to worry about it.  About the same time we had electricians in to reconfigure the outlets in our two guest rooms — different long story —and I asked one what the solution might be.  He opined that I might need one of them foldy-bendy ladders one sees on the TV.
Well then.  An excuse to buy an expensive foldy-bendy ladder?  I'm in.
This of course necessitates a drive to Home Depot, which is not convenient.  Remember that fact.  I buy a likely-looking Gorilla Ladder™ and stuff it in the car and bring it home and set it up in the living room. It is immediately apparent that none of its configurations will work in our stairwell; trust me on the geometry and physics of this.
It is clear that I will have to go buy boards to lay across the stairwell to the little ledge that for some reason our contractor built in there, possibly because he foresaw a day when my LFW would have such a fixture installed.
It dawns on me at about the same time that I do not know what bulbs I need to buy, which means that after I drive out to Home Depot — inconvenient, remember? — and buy two 2x8s and lug them home, I will have to set up the whole thing in order to climb up and remove a bulb, then MAKE A THIRD TRIP OUT TO HOME DEPOT TO BUY THE BULBS.  It is at this point I decide to congratulate myself on what a superior husband I am.
So today, I have errands to run and I cleverly figure out that I don't have to drive all the way out to Home Depot because there is an establishment right next to the grocery store that sells bulbs.  And batteries.  I will refrain from naming this establishment, because the previous two times I went there, they did not have the bulb or battery that I needed.
This time, however, they did have the exact bulb I needed.  They had four of them.
I needed five.
And here we are.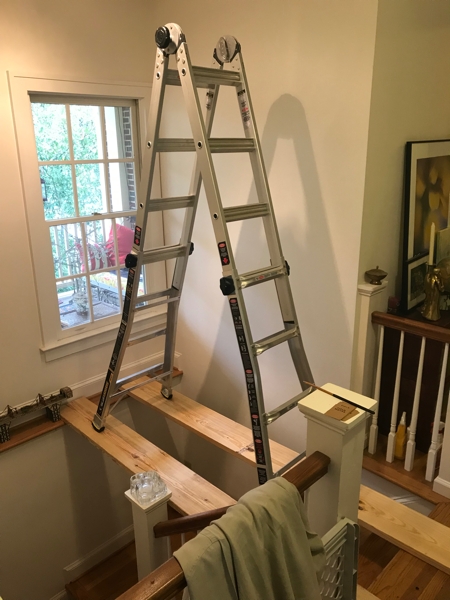 And from below: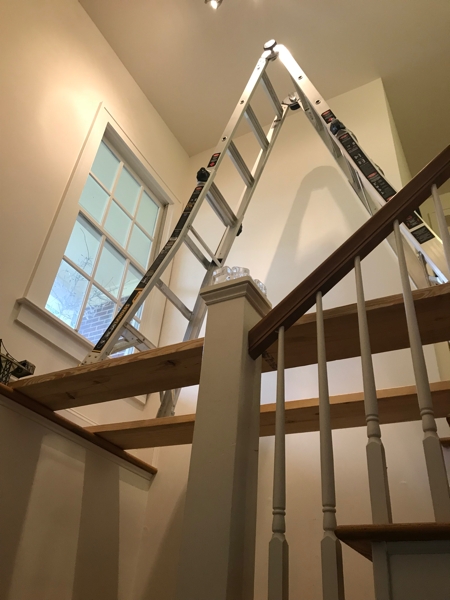 I don't believe I've mentioned that the bulbs are tricky to remove and install, have I?  Or that for the fifth and final one I will have to edge my way to the other side of the ladder to climb up to reach it?
Or that I am a really, really superior husband?