Monday, May 22, we came home.  Once again, the Viking River Cruise folk were super organized, telling us when to have our bags out in the hall and when to report for the bus.  We were driven to Prague Airport and bade farewell.
One more funny English: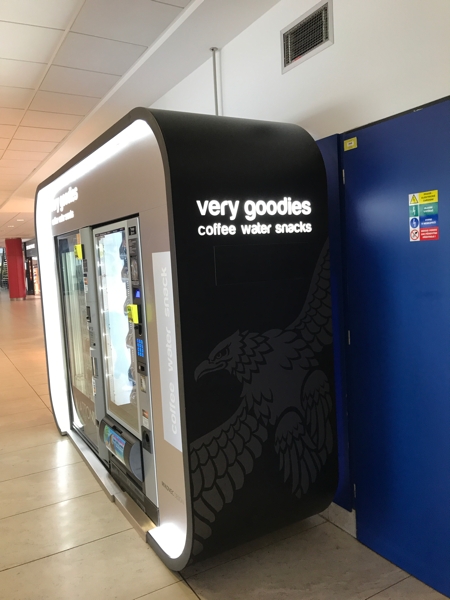 So vending.  Much wow.
The flight home was a lot more bearable than the flight over, mostly because we were not trying to sleep, but soon enough we were home and the jet lag claimed us.
—————
So what advice do I have to give those considering a Viking River Cruise?
First and foremost: do it.  If you can snag a two-for-one deal, that's awesome, but even though these things are nowhere close to cheap they are exactly what the commercials imply.  The shipboard experience is flawless from the moment they pick you up at the airport till they drop you off again.
Having said that, do not expect anything from the bus tours other than a brief overview of the city you're touring.  The tour guides are excellent and very knowledgeable, but you won't actually have a lot of time to stroll or see all the museums and churches they are pointing out to you.
On board, do go for the prepaid tipping.  We did our calculations on the last day and found that the amount pretty much covered what we would have tipped anyway, and it's a whole lot easier than trying to decide which of the staff you really want/need to tip.  We added some specific tips for specific staff we found especially helpful, like the ever-adorable Sorin.
You probably do not need the alcohol package.  Wine and beer (usually regional) are included with the meals, and even if you have one or two cocktails a night in the lounge, the total comes nowhere close to the $300/cabin package cost.  It may be that the package covers bottles of wine not on the menu; you'd need to check that yourself.  If so, and that's your thing, then then alcohol package might be economical.
Do not be afraid to use the concierge staff.  That's what they're there for.  Ask questions; get them to call you a cab; use their services.
Be bold in your dinner partner choices.  Viking does not assign tables, so it might feel a little like middle school all over again, but we never failed to have a great evening with whomever we sat.  You also get to meet the different servers that way.
The food is first rate.  If you take lunch in the lounge, that may be a buffet, but all meals in the dining room are all white table cloth service with gourmet preparation.  Every meal has a menu with three choices of appetizer, entree, and dessert.  There are also "always available" options for those days when Bavarian chow is just not going to do it for you.
Be sure to attend the "port talks" each night.  That's when your program director will give you the outline of the next day.  It may save you looking like a clueless oaf the next morning and will certainly save you from having to stand in line at the concierge's desk with all the clueless oafs.  Also, you may discover that your tour leaves at an ungodly hour in the morning that you were planning to sleep past.
In that same vein, if you're on a ship with the little lavalier tour guide headsets that you have to charge in your room, please figure out how to do that right.  I'm not going to point fingers, but too many of our shipmates were hapless when it came to getting these things to work.  They were nice enough about it, and the tour guides were unflaggingly positive, but still. Don't be that guy.
And in that vein, be aware that the average age of the Viking River Cruise patron is north of 65.  There were a handful of couples younger than us, but on the whole these are people who have been retired for a while and who can afford to do this out of boredom.  (There were a couple of tables that never left the ship as far as I could tell, just playing cards in the lounge every time I saw them.)  This fact has nothing to do with your experience; only once did we encounter someone who might be described as crabby, and certainly I never saw anyone being unkind or rude to the staff.
Don't be afraid to chat with the staff.  They have interesting stories to tell.
If you can afford the time and money, book an extension after the cruise like we did in Prague.  It truly gives you a chance to decompress before being whisked back to real life and wondering if the past week were all a dream.  (We are now also proponents of booking a pre-extension as well.)
If you're not overly familiar with architectural history, do yourself a favor and learn the major styles: Romanesque, Gothic, Renaissance, Baroque, Rococo, Neo-Classical.  Google is your friend.  The reason you want to do this is that the tour guides rattle these things off and usually assume you know what they're talking about.  (In education, that's called the "curse of knowledge.")
My lovely first wife is a keen reader of the Top 10… series of travel books, and indeed they are quite handy.  Again, you won't be getting to many of the items on a Viking River Cruise but the books are a good overview/prep for what you will see.  We make fun of her for her devotion to them, but the truth is we let her do all the research and rely on her for where to eat and what to see whenever we're traveling on our own.  Also, if you're determined to see the Klimts in Vienna, for example, knowing ahead of time what you absolutely have to do will let you make plans with the staff's assistance to make it happen, if possible.
You will need to tip your tour guide and your bus driver every trip, so lay in the small euros when you can.  Public restrooms on your tours are usually not free; your tour guide should be able to warn you how much they are and tell you where free ones are.  (They will always plan for restroom breaks, and they try to make them where the facilities are free.)
There's at least one tour each day that's included as part of the tour.  You can add others for an additional charge, and you can do that ahead of time, but it is possible to wait until you're on board to do so, when you can ask for details from your program director and when you have a better idea of the trip.  Also, be aware of your own stamina.
Speaking of which: buy really good shoes, up to and including orthopedic numbers.  You'll be walking a lot, often on cobblestones, and this is not the time for those cute little sandals. Or heels.
And DO NOT OMIT THE NAPPING.