You will recall that I had arrived in Prague with a list of some twenty bars which, according to my internet research, were highly regarded by the craft cocktail world.  Filip, bartender at the hotel's Cloud 9, had recommended without hesitation AnonymouS Bar.
I did a little further research at their website, anonymousbar.cz, and found that they had recently opened a second bar, AnonymouS Shrink's Office, which played off the work of Rorschach. Decisions, decisions.  I finally opted for the original because 1) they opened at 5:00; 2) they took reservations online; 3) they took credit cards (a bar bill in koruna? no thanks); and 4) it was nonsmoking.  Next time we'll brave the Shrink's Office.
Our cab driver used his GPS to get us there, except that when we arrived AnonymouS was nowhere to be seen on the narrow cobblestone street.  The driver was a little flustered, but I assured him it was fine.  It was all part of the game.
I led our crew down to a nondescript wooden gate, where there was a courtyard piled with what may have been discarded HVAC equipment, and there across the courtyard was the bar, still without any kind of sign.
Upon entering, I was little nonplussed to find that they did not have our reservations, but it was after all 5:30 and the young pretty people weren't out yet.  It was not a problem.
AnonymouS Bar looks like a place the League of Extraordinary Gentlemen would congregate, mixed with overtones of the hacker group Anonymous.  Our waiter was bright, friendly, and ever so arch, as if he knew a secret.  Which he did.
The menu is a little booklet, with the first page a list of descriptors followed by cryptic instructions: Follow the Script.  Follow the Vision.   Then there's a simple list of five cocktails, each based on a standard classic like the Negroni or Manhattan.  Between these five drinks there are large blank rectangles, labeled OP, which we never did figure out.  There are boxes: Follow the Vision—Ask for More.  Then there's the standard listing of beers, wines, and spirits.
We ordered our first round, and while we were waiting our server donned an Anonymous mask trimmed with EL wire and snapped a Polaroid:
That's me in the Anonymous mask.  At this point we were hooked, trying to read a message into random events, like the weird b in Remember.  (Who knows?  It might have been a puzzle we never tumbled to.)
Marc and I had ordered a V's Blood, their version of the Negroni.  It arrived first, and thus it began: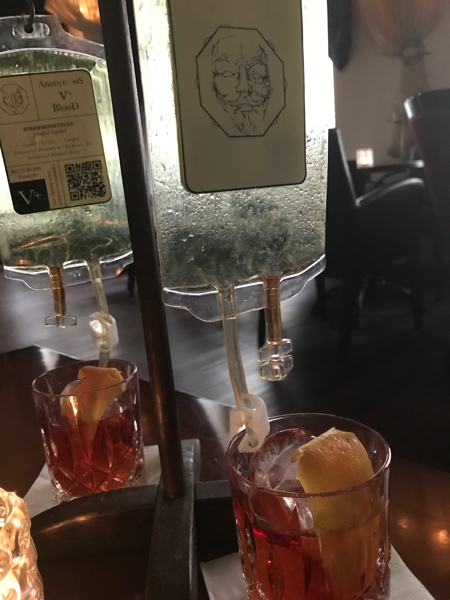 Yes, presented in IV bags and drained into our glasses.
I will say right now that all this gimmickry would have been enough to drive me from the bar if it were nothing but gimmickry.  But this place knows its show biz, and the drinks were nothing short of the best cocktails I have ever had in my life.
My lovely first wife got a Remember Remember the 5th of November, a Manhattan: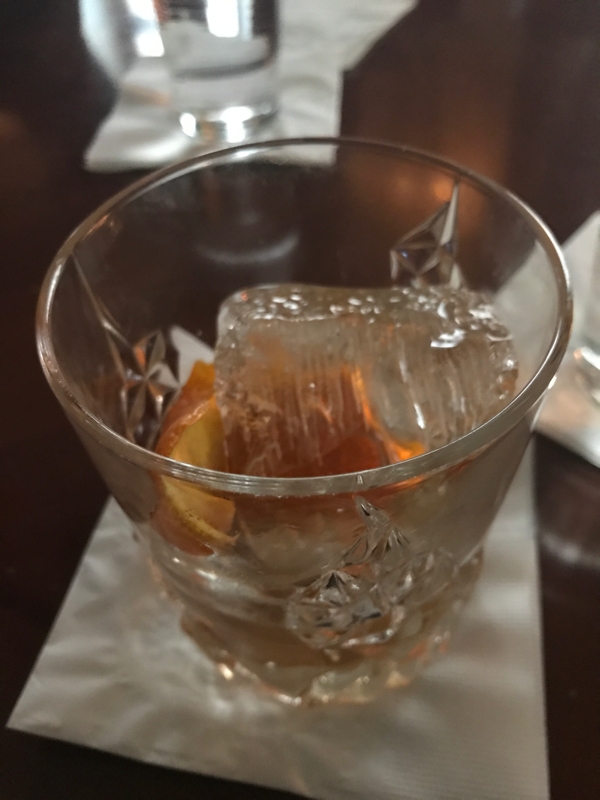 This was by far the best Manhattan I've ever had: bourbon, sherry, and black walnut bitters.  I will be desperately trying to reconstruct this one.
MF had The Scarlet Rose:
Yes, those are rose petals.  This was a version of the Ramos Gin Fizz, and it was tasty.
At this point I felt the need to send photos of these marvels to a Facebook group I belong to that updates everyone on their drinking habits, mostly beer but some cocktails, because what's the point of being in the best bar in Europe if you can't make everyone else jealous, amirite?  I noticed that the bar had wifi, so I asked our waiter if I could get the password.
"Yes of course," he said and shimmered away.
With that settled, I got online and began posting.
SPOILER ALERT: If you want to go to Prague and experience the fun and games of AnonymouS Bar for yourself, read no further.  I am not kidding.  I almost don't want to tell the rest of this experience because it would be a shame to short circuit someone else's delight, but given that most of you will very likely never be in Anonymous I will go on.
But seriously, if you think you want to go do this yourself, stop reading right now.
As we were mulling our choices for our first round, I made so bold as to "ask for more" like the menu instructed.  We were told that that option would be available after our first round.
When the time came, there were two options for More: one for vision, one for smell.  I asked for the olfactory menu.  We were brought a wooden case that slid open to reveal five tiny bejeweled flasks, each a different color.  We were instructed to smell them and choose one.  That would be our next cocktail.  There was a printed menu for reference.
My lovely first wife then asked for the visual menu, and we were brought a ViewMaster.  There the cocktails were linked to video games.
Round two:
THE SCRAP (Resident Evil)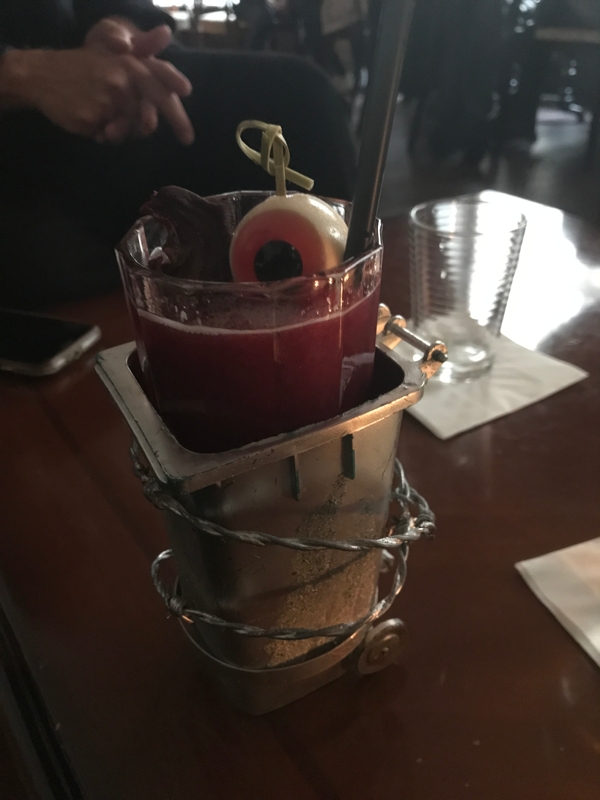 Vodka, pickled beets, lemon, pistachio syrup—entirely too sweet we decided… until the gelatin eyeball dissolved enough to release citric acid crystals into the drink which, sucked up through the straw, were a perfect balance.
EAU DE BLEU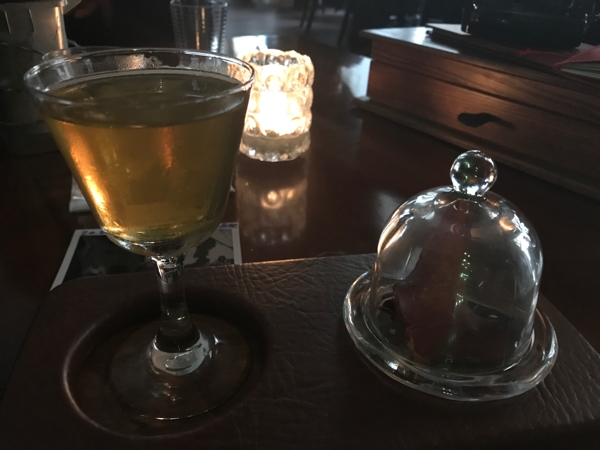 Bourbon, peated honey, vermouth, jasmine aperitif—and under that little bell?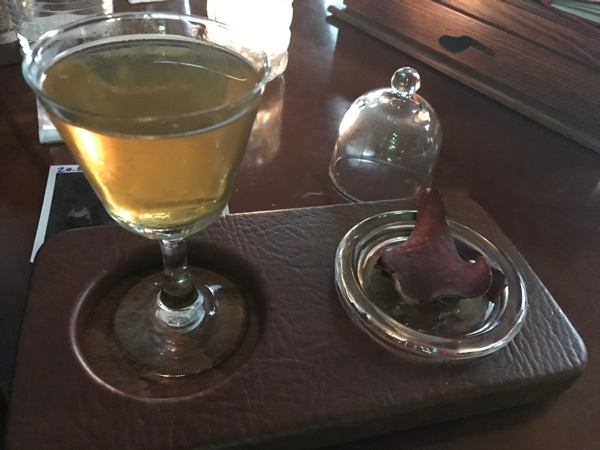 Dried ham, to be munched on while sipping to complement the drink.  Amazing concept.
EAU DE VERT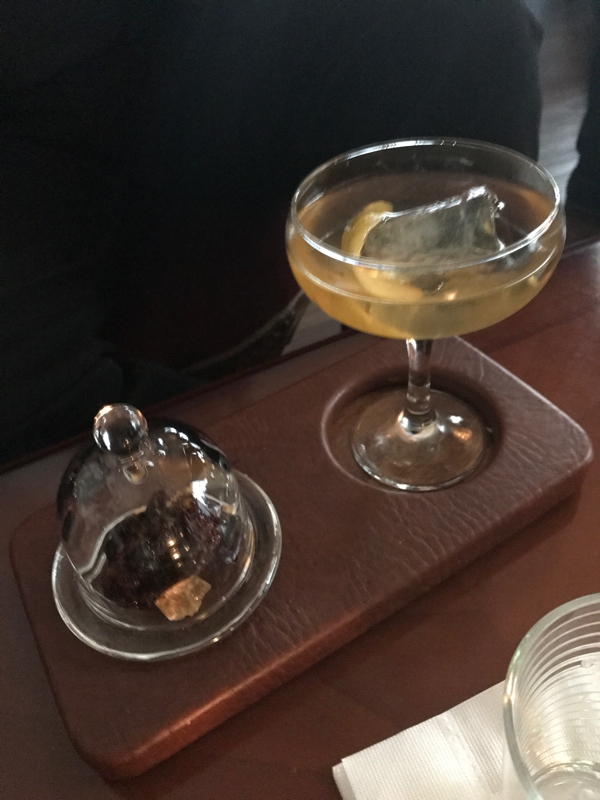 apricot-infused cognac, syrup of oyster mushrooms/truffles, bittering spices/herbs, accompanied this time by mushrooms.
EZIO AUDITORE (Assassin's Creed)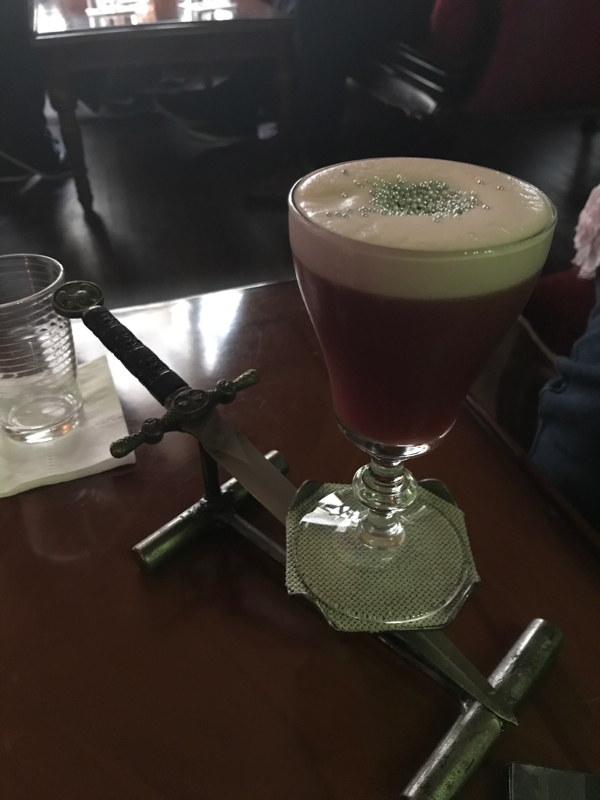 wine blend, vanilla syrup, lemon, egg white, honey; probably our least favorite, but still tasty
Round Three—oh yes, at this point we were on a roll.
Now here's an odd thing: we seemed to be the only patrons in the place who were actually thrilling to the chase, as it were.  It was a light crowd, still very early in the evening for young barflies, and everyone else seemed to be ordering your basic drinks, and mostly bottled beer at that.  Of course, it was Czech beer so that's something, but who goes to one of the world's premiere craft cocktail bars and orders nothing but Pilsner?
There were a couple of groups of young men, which we assumed were bachelor parties.  (Prague is a destination for young parties like that, especially Brits.)  One of them at least ordered a showy coffee: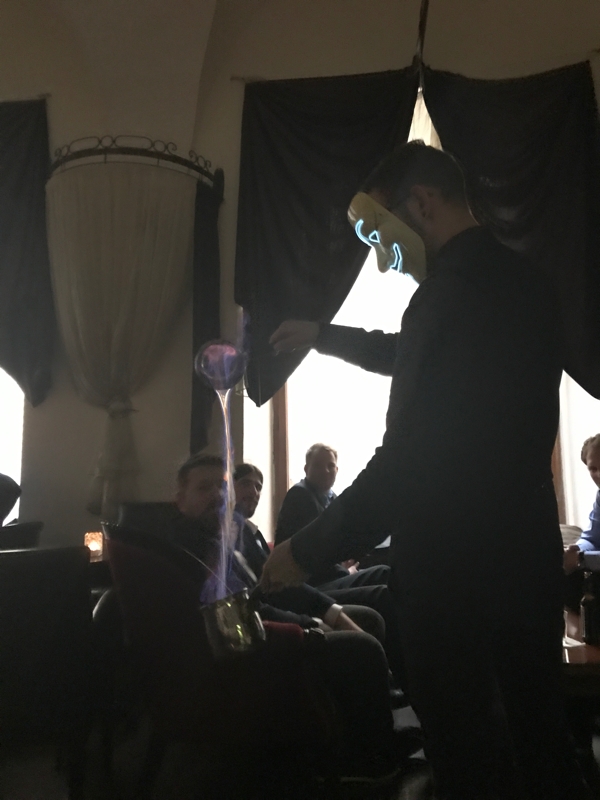 Later in the evening two young women came in, one of whom was doing a dead-on Scarlett Johansson.  As far as we know, it could have been.  ScarJo, where were you the night of May 20, 2017?
Anyway, Round Three:
CODENAME 47 (didn't get the video reference written down..)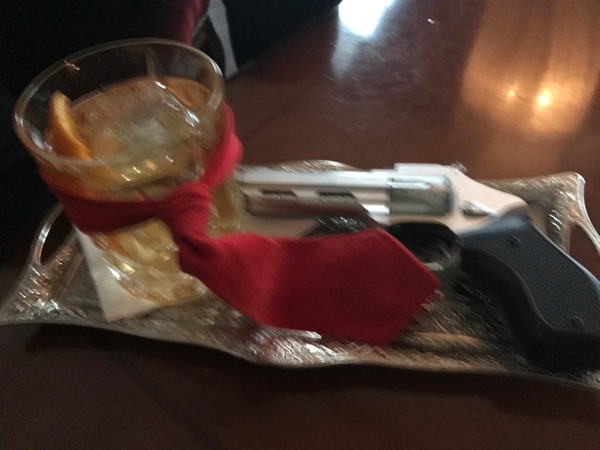 Sorry for the fuzzy photo: Scotch, absinthe bitters, maple syrup
Marc enjoying himself: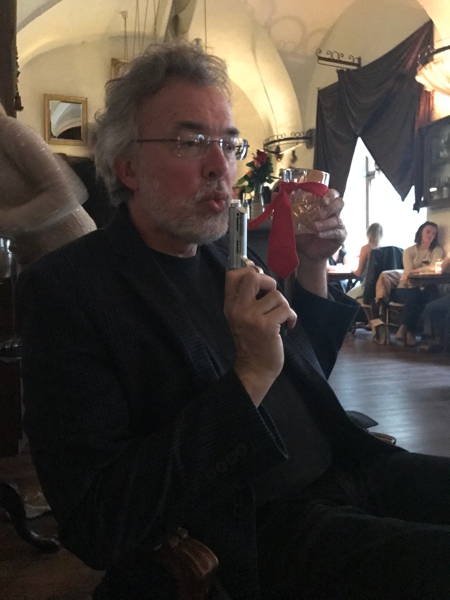 EAU DE ROUGE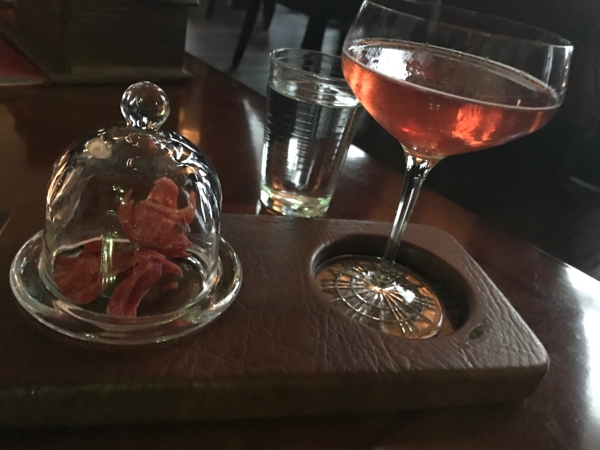 Vodka, gin, wine leaves, blend of French aperitifs, "forest fruits," dried candied hibiscus
And for my last drink, I played a game of my own.  I showed the waiter the recipe for my Smoky Topaz and explained that this was my favorite drink in the world.  He began to tell me they didn't have all the ingredients, and I told him I knew they didn't because I had scoped out the bar.  I wasn't asking them to make the Smoky Topaz—I was asking them to use that information to make a drink that would please me.
The results were stunning: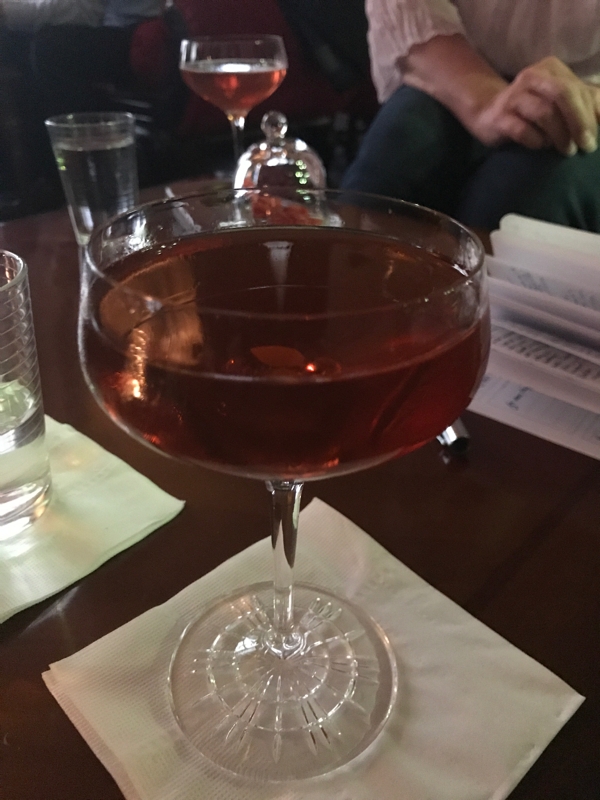 Genever, green chartreuse, Grand Marnier, Amaro (but which one?)  It was, if I'm being honest, better than the Smoky Topaz.  It precipitated a bit of an existential crisis.
I'm going to work on this one, and if I'm successful it will be the Smoky Quartz. (Update: see here for how that turned out.)
Three rounds of phenomenal cocktails being more than enough for anyone, we asked for restaurant recommendations and were sent to MANU, an Italian seafood restaurant floating in the Moldau.  It was top shelf, a lovely way to end our day.  (Our waiter had been an au pair in Dunwoody.  Yep.)
And when you absolutely have to connect your Art Nouveau hotel to the Renaissance guard tower: