Okay, people, here's the deal.  I am now two days behind in this blog adventure, and so I think what is going to happen is that I'm going to move forward without so many photos.  It's a pain on the iPad/phone to get the photos prepped and uploaded, and yesterday I simply ran out of time to get the entire Vienna post done.
With that said, here's the rest of Vienna.
Our natural travel instincts have kicked in, and rather than return to the bus and head back to the ship, we snagged a cab and headed out to the Belvedere Palace, Prince Eugene's little place.  It is now a museum, and we had a hankering to glimpse some Klimts.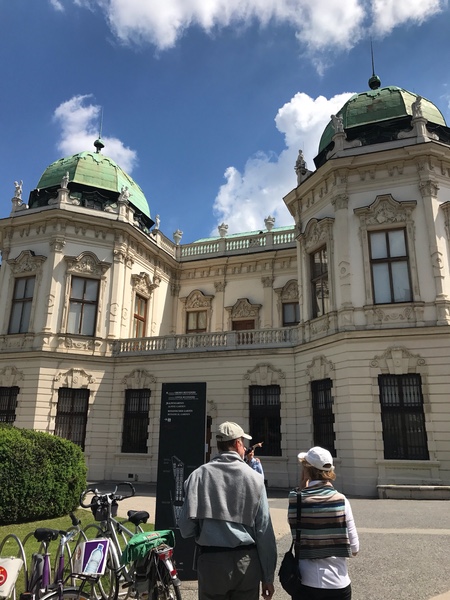 That is not the palace.  That is the side of the palace.
This is the palace: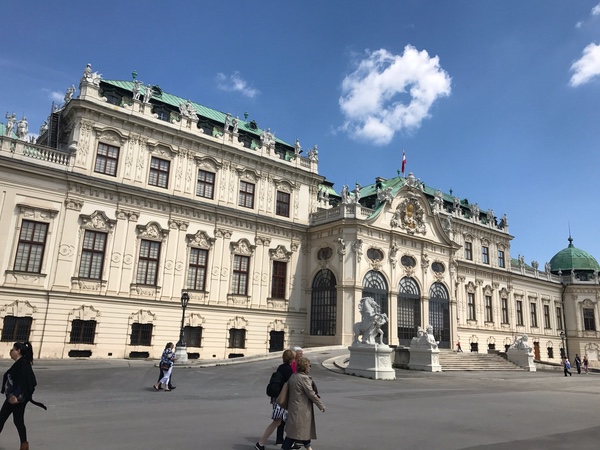 And here are the gardens in "back," facing the city and the other part of the palace, the Lower Belvedere.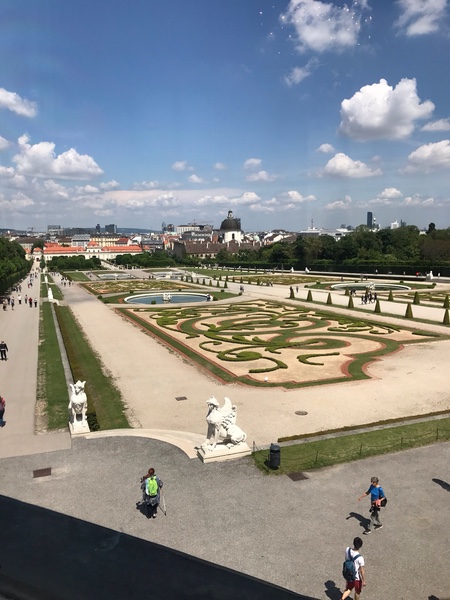 The grand staircase here is grand.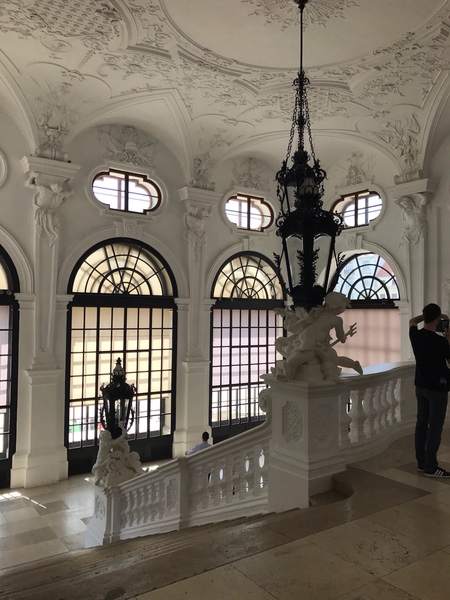 This was fun.  In the first room, which we think might have been the ballroom, there were over the fireplaces these definitely non-period pieces: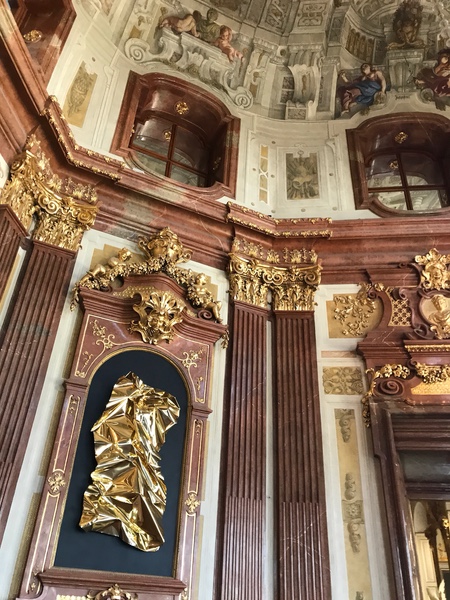 The original oil paintings are out for restoration, so Swarovski commissioned these gold-plated sculptures to hold the space in the meantime.  They are quite striking and the perfect 21st-century complement to the rococo splendor of the setting.
Photos of the art are not permitted, so I can't show you the Klimts.  You can google them, of course.  Here's the thing: no matter how many times you've seen these famous paintings online or in your art history books, nothing prepares you for standing in front of them.  It's only then you see the incredible eye of the artist, his design, his florid Art Nouveau sense of detail.
It's also not until you're standing in front of them that you begin to understand what a revolution he was.  In another room is one of his earlier portraits, and its photorealism is astonishing.  The lady's fleshtones, her jewels, the fabric of her gown: all rendered in gobsmacking detail.  I stood and looked and looked at the diamonds on her bracelet but could never see the brushstrokes.
So when he transitioned to his flat, fevered, Art Nouveau style, it must have been a delicious sensation in salons all over town.
As it turned out, we were able to do our little jaunt to the Belvedere and still make it back to the ship for lunch, after which we set out for the afternoon trip to Schönbrunn Palace.
Now this is a palace.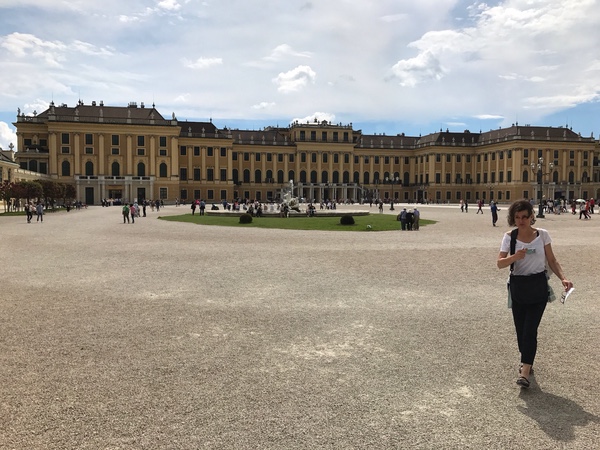 Very reminiscent of Versailles, and that's not an accident.  The architect wanted to outdo Versailles, placing this palace on the top of the hill and making it larger, but was told that a) it was too expensive; b) on top of the hill would be inconvenient; and c) this was a family home, dude, rein it in.
And so he had to settle for a mere 1400 rooms.
We saw about a dozen of those rooms, and again, photography was not permitted, but the palace's website gives you a good idea.  It is mostly cozy in ways that Versailles is not, but it's still an eyeful.
I am proud to say that when I asked about the Gobelin tapestry in the "Napoleon Bedroom," whether it was customary to depict peasant men urinating on the pub wall, that the tour guide admitted she had never noticed it.
Every palace has to have its gardens, and this one's a doozy.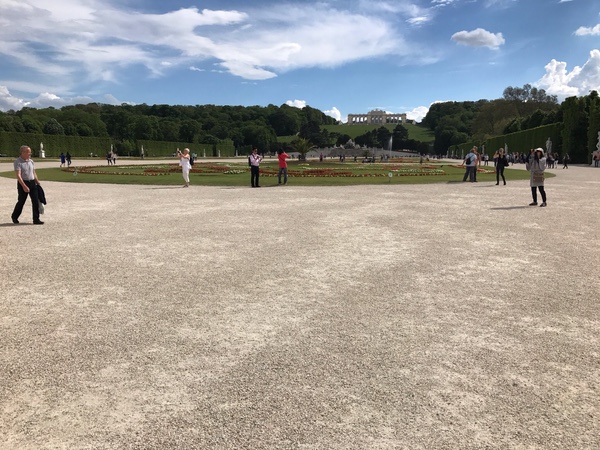 We thought we might walk down at least to the fountain halfway down, but even that was too much.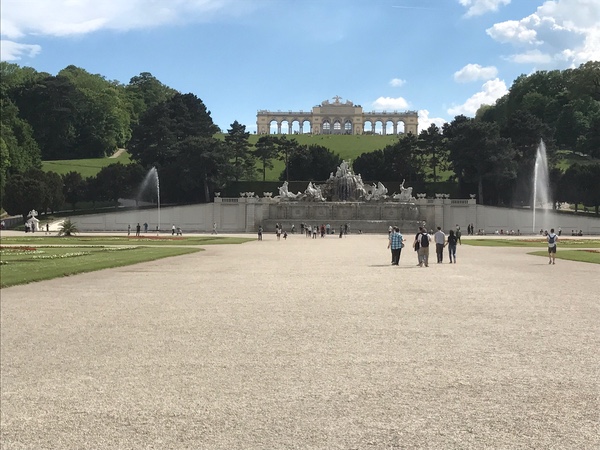 The thing on the hill is the Gloriette; it's where the architect wanted to place the palace, but he had to settle for a folly instead.
The gardens are huge.  I took a video panning around to show the boulevards extending out from this central promenade; I'll upload it when we get home.
A look back at the palace: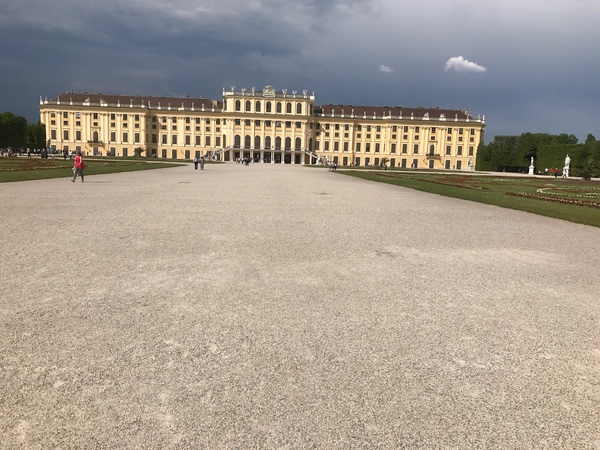 Back to the ship, and then we made our own plans for the evening: the Haus der Musik, a fabulous interactive music museum (thanks for recommendation, Turff!)  where I bought a waste book: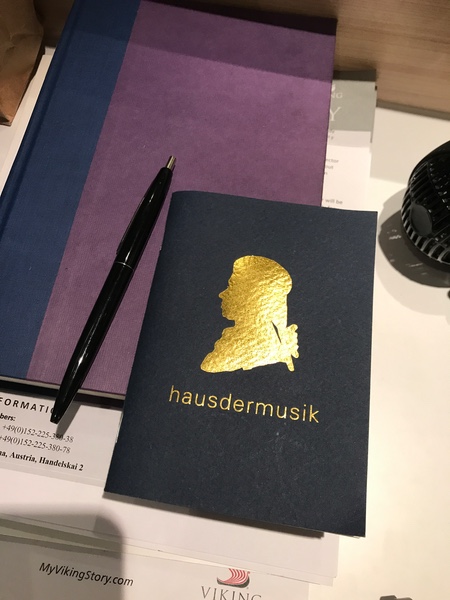 I also bought a couple of CDs of Mozart and Beethoven remixed by a local musician into trance music, and a set of wooden drums that I'm too lazy to take out of the box to take a picture of.
And we saw Mahler's hat, you guys!
And then we went to the Ferris Wheel. Oy.
I am mildly acrophobic, but for some reason riding this thing was on my lovely first wife's list, and so up we went. I do not, for some reason, have a photo of the wheel as we approached it. But here's our ride:
The building with hearts all over it is covered with LEDs and was broadcasting a Mother's Day message to us all.  That's St. Stephen in the center.  No clue what the blue dome was; something in the amusement park.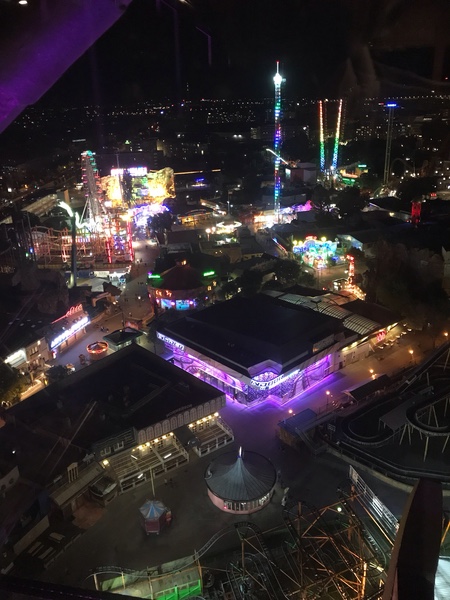 Here, have one more church: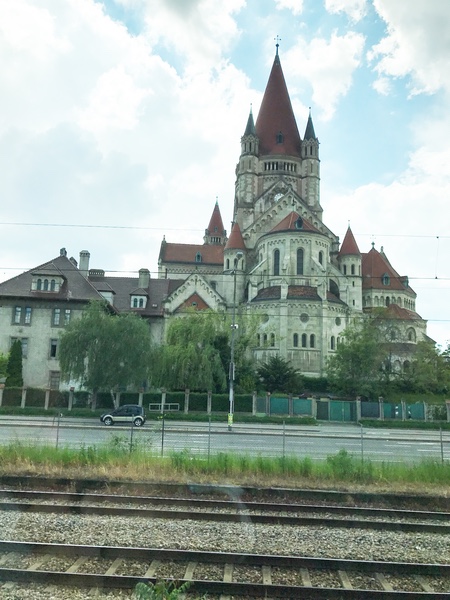 This is St. Francis of Assissi, and despite its Romanesque appearance, it was built in the 19th century to celebrate Emperor Franz Joseph II's 50th year on the throne.  There were several enormous churches like this: I think we should give thanks for this king's birthday… I know, we'll build a brand new church in a city with over 600.