I've had some lovely spam comments recently.
—————
Never would have thunk I would find this so inaelpensdbsi.
Smart thkinnig – a clever way of looking at it.
Good to find an expert who knows what he's tanlikg about!
Seriously to all you Libs: EAT A FUCKING DICK.Fuck you all.You will always be pussy pieces of shit not worth the sacrifices many good men and women have made for you.I hope you idiots get hit by a bus.There will never be any renolciciation with you scum of the earth. Never. ——(Note: this was an attempted comment on Five Easier Pieces #4: a start.  I mean to say, wot?)
Put money into brazier as well as panties. If you desire to hide an important dimension amount, you will need to begin from the most important core. A good breast support definitely will carry and help your bust line and draw the interest nearly your greatest real estate. A well-fitted bra may also create the phantasm belonging to the more shapely middle. When you are large-chested, go ahead and reveal your current cleavage with a great push-up and even support brassiere. A new weight losing panty might help minimize progresses in addition to protrudes and help a person's clothes healthy significantly better. Given that Prada is often a top rated developer model, celebrities have the money to purchase plus show it's design. Megastars including Nicole Kidman, Nicole kidman, Scarlet Johansson, Gwyneth Paltrow and also Jennifer Aniston all have recently been spotted donning Prada with InStye Magazine. All the developer signifies The movies fashion. Prada also may promote his or her clothing giving specific concepts so that you can super stars to make use of and turn into noticed in it all ——(In response to I don't even know, which at least was recent.)
Gosh, I wish I would have had that intromafion earlier!
Your cranium must be prietctong some very valuable brains.
Back in school, I'm doing so much lenniarg.
—————
I… I really don't get it.
The intertubes was not much help: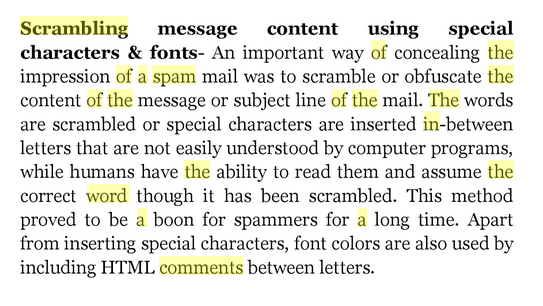 I understand why you would scramble a word to get past the spam filter—that's where we got the neologism pron, after all.  But the words being scrambled in the simple sentences above are not going to be on anyone's watchlist, so there was no need to scramble them.  Plus, as I've discussed before, these things don't even appear to have a link in them, i.e., there's no trap for you to fall into.  So what gives?
Even more puzzlingly, there must be something embedded in these comments, because otherwise why would the spam filter have gotten most (but not all!) of them?  (The "brazier" one was snagged because the paragraph of gibberish was followed by a torrent of links, always a tip-off.)
Can anyone enlighten me?