Back in 2010, my Lovely First Wife and I found ourselves in Seattle, where we were staying with inlaws-to-be and attending the Winter Olympics across the way in Vancouver. While there I purchased a little charm, as in charm bracelet/pendant thingie, an old typewriter key: MARGIN RELEASE.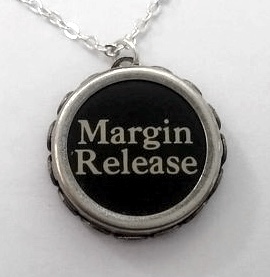 I blogged about it here.
tl;dr: on old typewriters, margins were set by physical metal "tabs," and if the word you were typing at the end of the line were only going to go past the margin by one or two letters, you could press this key and it would allow you past that boundary.
I bought it to be a talisman on the new Utilikilt I purchased there in Seattle at the flagship store, and I wore it on a little chain attached to a belt loop, along with a little clay talisman of the Man-in-the-Maze design that I got in Jerome, AZ.  The effect was trés woo.
Alas, it has vanished.  I'm thinking that it was last week when I was vacuuming/mulching all the leaves from the labyrinth for an evening out there.  If so, then I might still come across it somewhere.
However, it just as easily could have vanished at any point in the last four or five months.  If it fell off at Alchemy, then I know it's gone—although I have repeatedly stumbled across items there that I thought were gone forever. Still, I've ordered a new one from Etsy, all the way from Australia.  That's the one in the picture, actually.  I'm prepared to face the margins again.  If the old one shows up, I can gift the new one.
In preparing to write this post, I did a quick search for the original post and realized with something of a shock that it was written at about this time in 2010—seven years ago.  This was before getting and losing the directorship of GHP; before retiring; before becoming ordained by the Universal Life Church so I could perform wedding ceremonies; before I even thought seriously about attending Burning Man or indeed knowing that there was a regional burn here in GA; before formulating the Nine Precepts of Lichtenbergianism and beginning my crusade for world domination.
I have pushed past a lot of margins since then.