Step 4: Improve the walkway
Years and years and years ago, before there was a labyrinth, before there was anything in the back yard but weeds, I created a walkway.  It has remained a constant no matter what else has happened in the area.
After we put in the patio two years ago, I re-landscaped it with mulch and all that jazz, but that has never been quite satisfactory.  The mulch drifts, and it looks messy.  So now I'm taking steps to contain the mulch: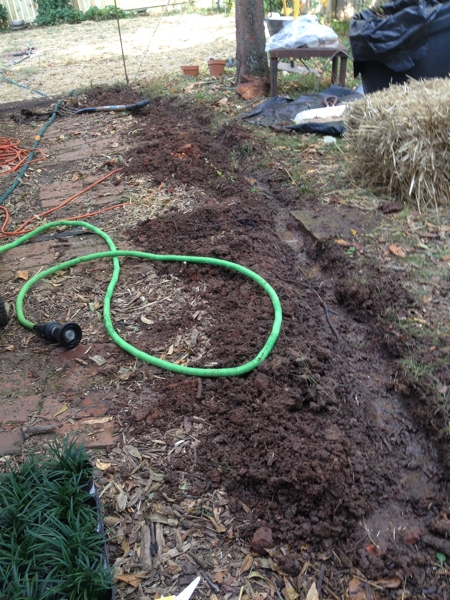 The majority of the work was creating a trench for the dwarf mondo grass.  The ground is so dry and hard that I used a trencher to cut through the soil, then again to create a parallel cut.  I watered it to soften it, waited, then went back over it with two different shovels, watering and scraping the whole time.  It was tedious.
I also wondered at the ethics of a construction grading firm who—twenty years previously—blithely bulldozed all the construction detritus into what was surely going to be a landscaped back yard.1
I also also wonder at The Home Depot, where I bought out their entire stock of dwarf mondo grass (six flats), and the nice lady watering the plants asked if I would be needing more.  I cheerfully replied, "Maybe, but you certainly will."
Getting the mondo into the ground was easy: plop the plant into the trench, cover.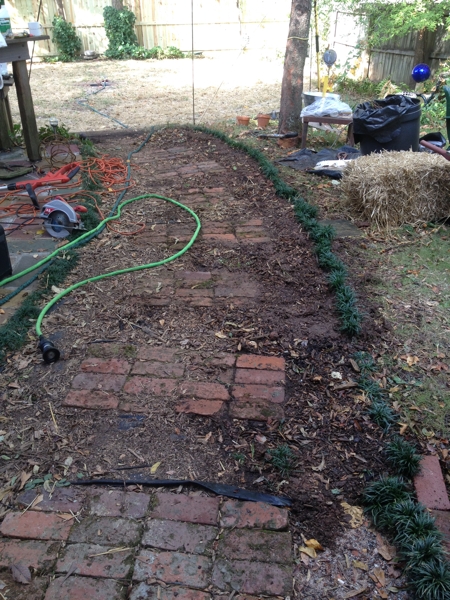 "People" will tell you that mondo grass is easy, that you plant some and it will "spread" and "fill in."  These "people" are lying.  It never does.  There was a small patch near the downspout by the patio for twenty years, and it never grew nor spread.  Never.
So if I want to further fill in the path with mondo, I will have to buy it and plant it.  That should keep me busy until my mid-70s at least.

In other news, you may have seen the video on the FaceTubes about the cool little metal triangle that all manly men should have to cut lumber and/or pipe.  It slices, it dices, it's better than a Veg-O-Matic.  I bought one last month and yesterday I got to use it for the first time.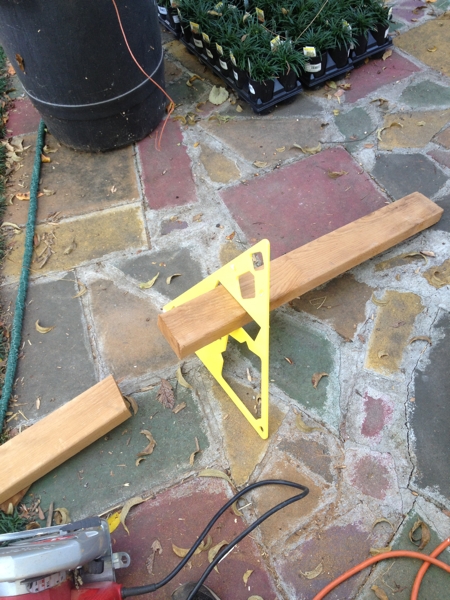 One of the great pleasures of being alive is when something like this is everything that is claimed for it.2   Where was this device during all those years of set building at the theatre??
I used it to cut a board to insert into the fence along the patio, because of course the lighting fixture we've been holding for a couple of years, waiting on a new fence, is too big to fit between the rails but too small to attach to the rails.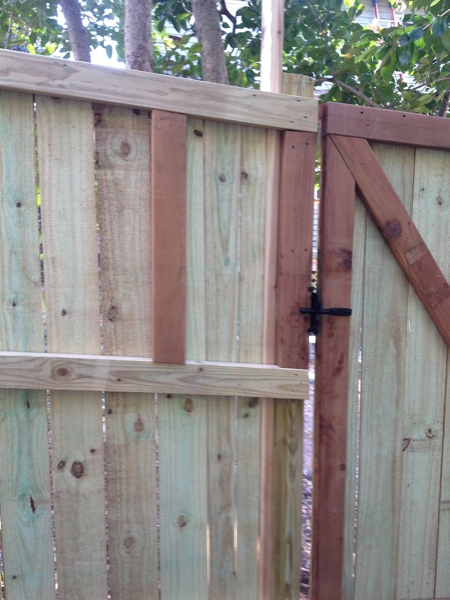 One more thing: a huge task on my GLRP checklist was to dig up the underground speakers and figure out why they had stopped working.  I figured I would at least have to buy new speakers; I hoped I wouldn't have to dig up the cables as well.
I plugged in my little marine amp (not all-weather, just weather "resistant") and plugged in the iPad and the speakers, just to be ready to test.  Lo! the far speaker, down where until last week there were ferns (::sigh::) began playing.
Great, I thought, only one speaker to dig up.  I began to pull up the bricks that I had laid around the speaker to slow down the ivy.  As soon as I touched the second brick—THE SECOND BRICK, KENNETH—the speaker came on.  This is after months of not producing sound of any kind.
I chalked it up to living a virtuous life and replaced the brick.
…to be continued…
—————
1 I don't have to wonder at all.  I remember the day: I had arrived home from school to find the bulldozer guy grading the entire back yard into a slope down to the retaining wall despite the contract to create two levels.  I stopped him, told him he was doing it wrong, he said he knew nothing about it and started back up.  I stopped him again and told him rather acerbically that either he could call his boss and find out the specifics, or he could finish the job and then I would call his boss and he would have to re-do the entire yard.  He rather sensibly chose the former.
2 Another thing that performs equally well is the Sonos sound system.  It's awesome when you can have every speaker in the house playing a different station and can control all of them from your phone or iPad or computer. But I digress.