Fellow Lichtenbergian Jeff Bishop asked me for a photo to include in his new history/compilation book on Coweta County, and I found to my chagrin that I had very few physical photos of my regime as artistic director of the Newnan Community Theatre Company (as it was then known), and the online photos I had were of low quality.
Sic transit gloria mundi, indeed.
However, I did find this photo: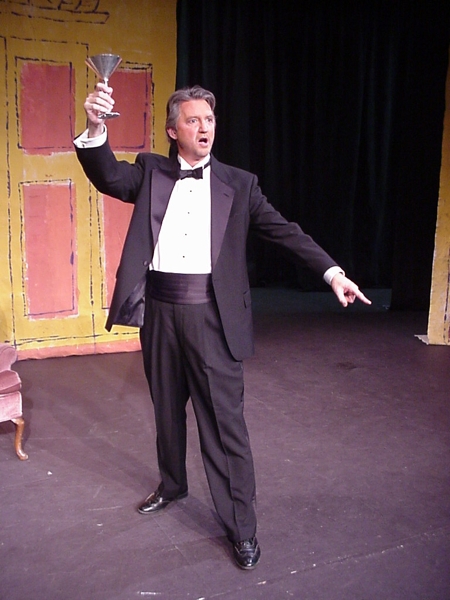 Here I am, singing Count Almaviva in my own translation of Nozze di Figaro, titled Mozart's Marriage of Figaro. This was in the fall of 2002, fourteen years ago.
Mercy, what an accomplishment! I had decided two years before that I would leave the position of artistic director at the end of the 2002 season,1 and I wanted to go out with a bang.  Figaro had been on my bucket list for years, but actually producing it was always sort of out of the question.
But it was clearly a case of now or never—when else would I have the chance?  Who would ever give me a shot like this?  Me, that's who.
So over the course of 18 months, I worked and worked on translating the thing.  It was actually fun, working out the punchlines — this opera has punchlines — and the rhyme schemes.
Then we had auditions, and wouldn't you know it, no one suitable auditioned for the Count.  I was forced, forced I tell you, to take the role myself.
I found a reduced orchestration, from the National Opera of Wales, and hired a tiny orchestra.  Dave Dorrell designed a gorgeous set of fabric drops that made the set changes easy,2 the usual gang of angels and elves made the costumes (especially the Act IV masquerade, in which the four principals found themselves dressed in their 18th century parallels). We pulled together the missing chorus members and got to work.
And how did this ultimate vanity project, an 18th-century opera buffa masterpiece, fare with the audiences of Newnan?  Sold out, start to finish, standing room only, thunderous applause.  It was exhilarating.
In order to identify some of the performers in some of the photos I pulled up, I dug out the program and was struck by my Director's Comments.  I will leave them here:
I always thought that someday I should like to direct opera.  Perhaps one day I shall, but in the meantime, what we've done with Mozart's Marriage of Figaro will serve.

What have we done?  We have taken the world's most perfect comic musical work and approached it as if it were a brand new script intended for our audiences.  When I translated da Ponte's libretto, I kept an ear out for natural sounding English and made sure that that the humor  was ratcheted up to the level where it would be funny to a modern audience, not just quaintly amusing. Likewise in our staging, we've applied all our experience as musical theatre performers to the score and text, pointing up the jokes and playing out the sheer humanness of the characters.

For they are human, splendidly and foolishly so, as the title of Beaumarchais's original play suggests: The Follies of a Day.  Everyone sings in the Act IV finale, "Day of fools and night of madness," and by that point, they all understand exactly what that means, about the others and about themselves as well.  And through them, we see ourselves.

Who hasn't had to deal with the Count, convinced that everyone and everything is out to get him when he is the author of his own problems?  Who hasn't been Cherubino, young and in love with love even as he is tormented by the sweet newness of it all? (And who hasn't written really bad love poetry, like Cherubino's Act II song, "Ladies, confide in me"?)

With any luck, we haven't had to suffer like the Countess does, but if we have, she shows us how to get the courage to take charge of our own life.  Figaro and Susanna show us the value of humor in a relationship, even at the moments of highest stress in their lives.

And don't we all hope that forgiveness and completeness are possible?  Don't we all wish that our problems would resolve themselves in a shower of fireworks and joy in a moonlit garden?  There's the ache in the brilliant comedy: despite what we think might happen after the curtain comes down and the sun comes up the next morning, for one moment there is redemption, summed up in Mozart's perfect little world.

That's our goal tonight, to bring you safely through all the lunacies of these wonderful characters to the final haven of the garden, and to send you out into our own night with that perfect joy now a part of your life as it is a part of ours.
Dang, I write good, don't I?
—————
1 We ran Jan-Dec in those days; most of us were educators and opening a season along with school would have been stupidly stressful.
2 Fun story: I had in my head that I wanted the color palette to be a muted 50s kind of style, based on my favorite childhood book, The Color Kittens.  I didn't have my original copy, so I ordered one from Amazon and was astonished to find that it was illustrated by Alice & Martin Provensen, the illustrators of William Blake's Inn!