This one was an accident.
I had copied down a bunch of cocktails from the interwebs, and one of them was called New Friend, ringing changes on a classic cocktail called Old Pal, which in turn is based on the Boulevardier, which in turn is based on the Negroni.  Got that?
Here's how it goes:
Negroni: equal parts gin, Campari, sweet vermouth
Boulevardier: rye, Campari, sweet vermouth
Old Pal: rye, Campari, dry vermouth
New Friend: rye, Aperol, Cocchi Americano
Yeah, that's a big jump between the Old Pal and the New Friend, but it works.  You can read about it at Serious Eats.
But then I messed up.  In pulling ingredients, I got the rye and Aperol but then had a brain-fart and grabbed the new bottle of Amaro Nonino, which is not the same as Cocchi Americano.  But the drink was scrumptious, so I finished it before trying the actual New Friend.  (The Cocchi Americano is a vermouth, so it had a brighter, grapier flavor than the mellower Amaro Nonino.  Slight preference to the Amaro Nonino.)
Best Friend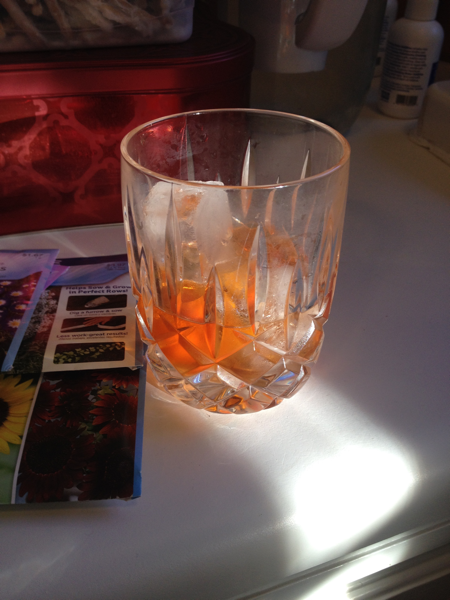 1 oz rye
1 oz Aperol
1 oz Amaro Nonino
orange peel
Stir with ice, strain into glass, garnish with orange peel.