I have to vent.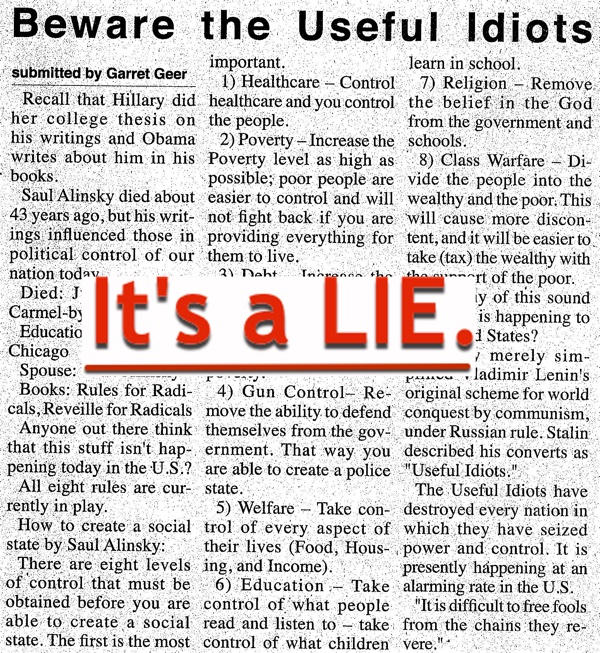 On Facebook this morning, a now-unfriended person paste-posted an image of what looks like a newspaper article outlining the deeply nefarious "Rules for Radicals" by Saul Alinsky.  Even if I hadn't read "Rules"—which I have—this artifact didn't pass the too-outrageous-to-be-true test.
So I commented that it wasn't true, linking to the Wikipedia article on "Rules" and the Snopes article debunking the artifact.  (I also uploaded the graphic to the left; this is now my standard response to these idiocies.)
Another commenter then commented on the original, "Good to know, may I repost?" AFTER I HAD ALREADY DEBUNKED IT—but this is not my first time observing a rightwing nutjob's blindness to the facts right in front of him.
Here's why I'm seething: the next time this exchange percolated through my newsfeed, the original poster HAD DELETED ALL MY LINKS, leaving only my comment that it wasn't true. He then commented, "To all my liberal friends—gotcha!"
WTF, dude.  "Gotcha?"  You posted a lie, I discredited it as a lie, and you have concealed that.  You have not deleted the post, you have not acknowledged that you slipped up and allowed your rabid weasel-brain to get the better of you, you have deliberately spread a lie as the truth.  Son of a bitch.
This person—it almost goes without saying—a fine, upstanding Christian in this town.
As the article says, "The Useful Idiots have destroyed every nation in which they have seized power and control.  It is presently happening at an alarming rate in the U.S."