One of my 2016 Lichtenbergian Proposed Efforts is to continue my work with 3 Old Men, my Burner theme camp.
For over a year now we have joked about expanding the camp to include a 50-foot square, roped off, with a deer stand at one end where one of us would sit with a megaphone and yell commands at any hippies who stepped into the square.  Well, deer stands are a) expensive; and b) heavy, so we've never gotten around to doing it.  (Needless to say, we already have the rope from the old version of the labyrinth.)
But I think getting this idea off the ground is going to be my major 3 Old Men focus for a while.  First of all, we can give up the deer stand idea—just a tall bar chair would do, especially if we put it on a small platform.  So that's a major hurdle we don't have to clear.
The second major item on the agenda is what exactly would happen if hippies wandered into the enclosure?  I have a vague idea of contact improv/InterPlay/Twyla Tharp movements, but once I'm sitting in that chair,  what happens?
To that end, here's my newest Waste Book: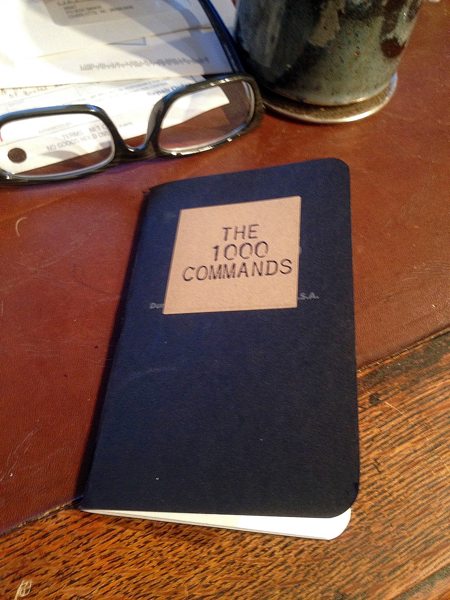 When I'm trying to avoid other projects, I can pick this up and start imagining what would be interesting, amusing, or beautiful in the arena.  I also intend to engage the rest of the troupe in the project, probably through a Google Doc.
Also too, I have to come up with a name for it.