So, yesterday we went on a multi-part adventure. My Lovely First Wife booked an All The Things tour1, via Grand Canyon Scenic Airlines, and as usual the rest of us were slightly aghast to find that it a) was twelve hours long; b) involved an ATV ride, hiking, and river rafting; c) ended with a three-hour van ride back to the airport; and d) worst of all, required us to be at the airport at 5:45 a.m.
And as usual, the entire thing was glorious.
First of all, if you have never been to the Grand Canyon at all, go. You have no choice in the matter. Just go.
Secondly, save up enough pennies to book a flight over the Canyon, preferably after you think you've seen it all from every viewpoint. You haven't, and flying over it will re-boggle your mind. (I would recommend a helicopter ride rather than a plane ride.)
We arrived at the Grand Canyon Airport on time and were sent out onto the tarmac to get into a smallish plane: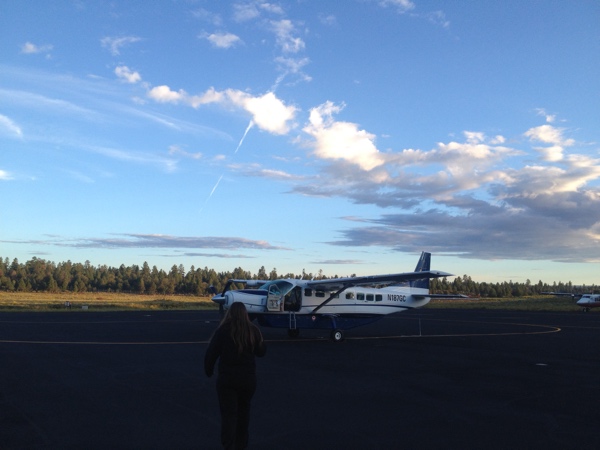 I am still squeamish about heights and especially heights in smallish aircraft. But we all loaded in, our party plus a nice couple from Yorkshire plus a pleasantly talkative man originally from Savannah, and up we went.
I will not bore you with all the photos I took.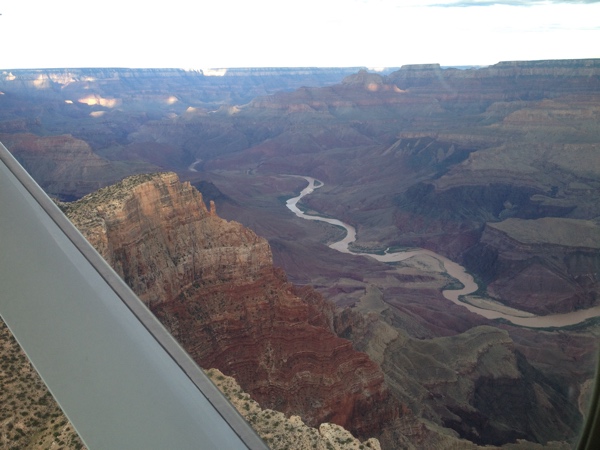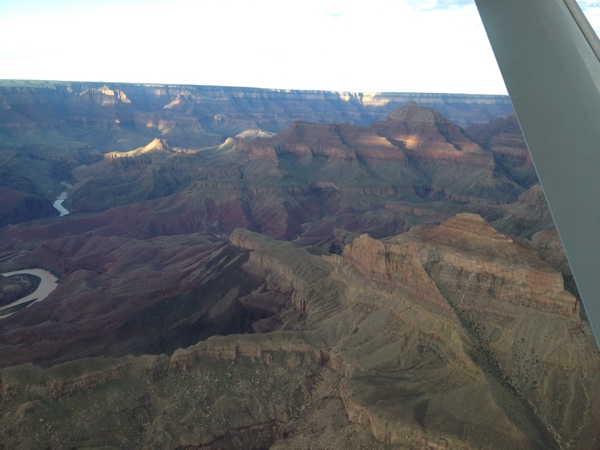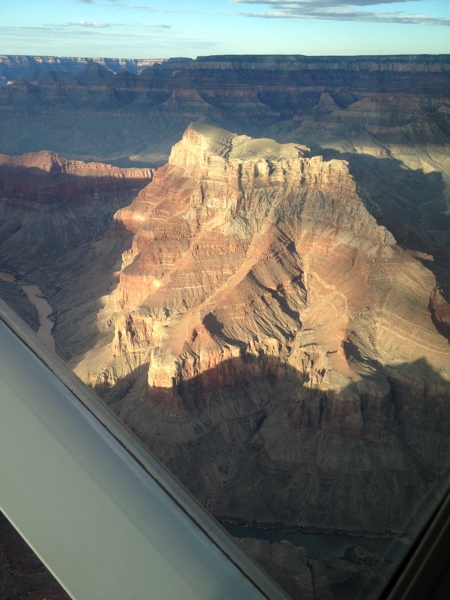 We flew up the river to Page, AZ, where the Glen Canyon Dam creates Lake Powell: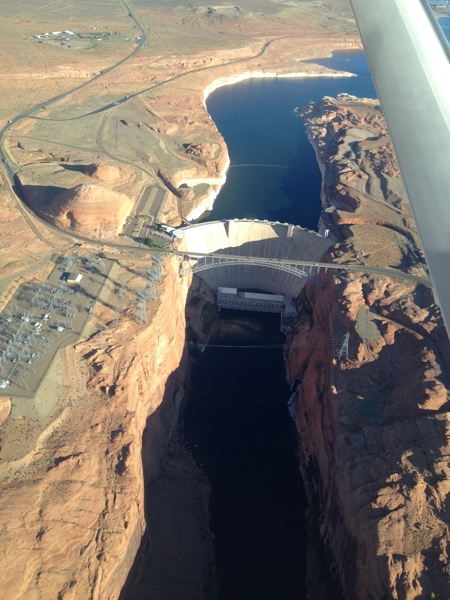 We deplaned and climbed onto one of those tour jeep-like things where you sit on a bench with perfect strangers, in this case three Chinese women who had spent the weekend in a reunion of thirteen of their girlfriends from elementary/high school in China—all of whom now live and work all over the U.S. and Canada. It was quite startling to hear them conversing in Mandarin and suddenly one says, "Whatever…" in perfect valley girl inflection.
There was elkage: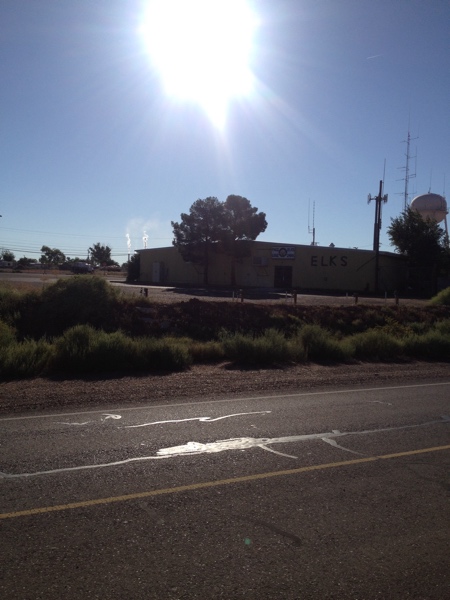 Our destination was the Upper Antelope Canyon. I knew that from the booking but had no idea that where we were heading was THAT canyon—you know, the one on all the posters.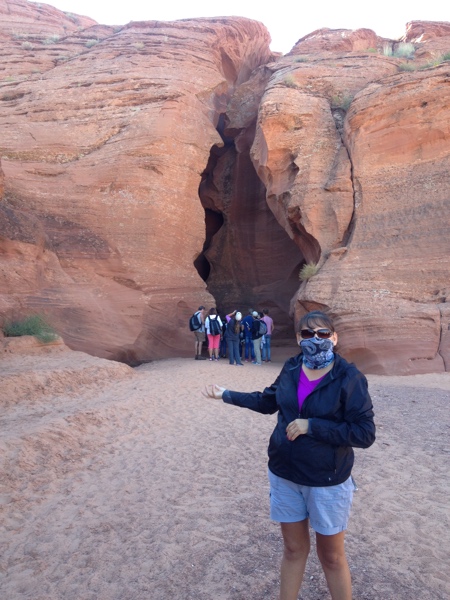 This is our guide, Dee, shepherding us into the canyon. It's actually a deep cleft in the rock, scoured by wind, sand, and flash floods. As Dee explained, small flash floods deposit sand while big ones flush it out. In the 15 years she has been a guide, twelve feet of sand have been deposited in the canyon.
Again, I could go for pages posting photos: the whole place is one huge photographer's orgasm. I'll post a few with the warning that you won't see any dramatic shafts of light like on the posters—it's too late in the year for that. In another couple of weeks, Dee said, light won't penetrate the canyon at all.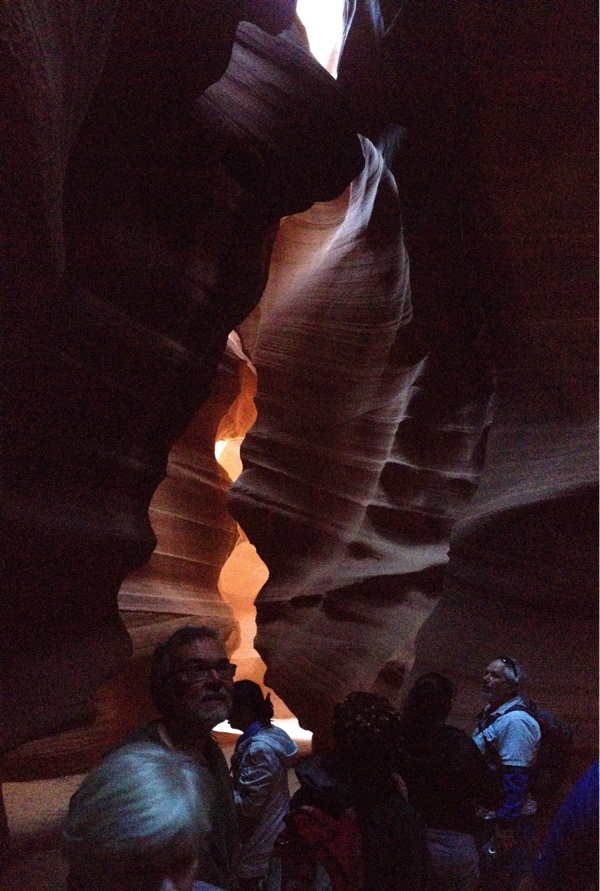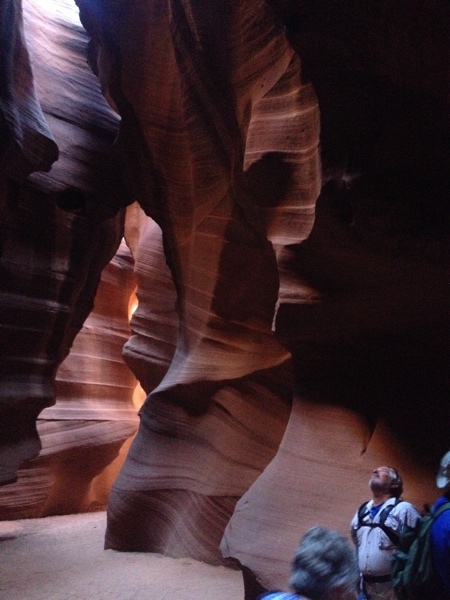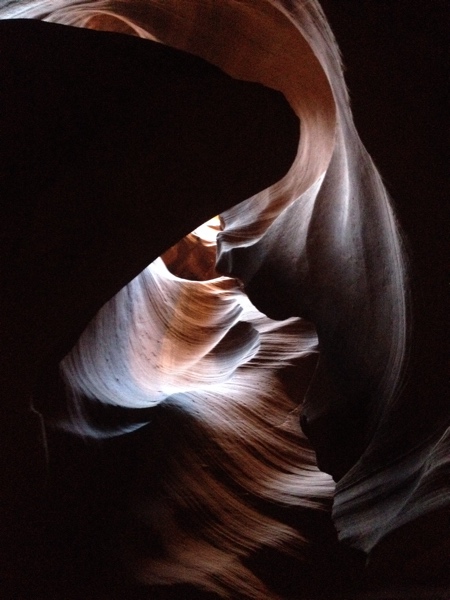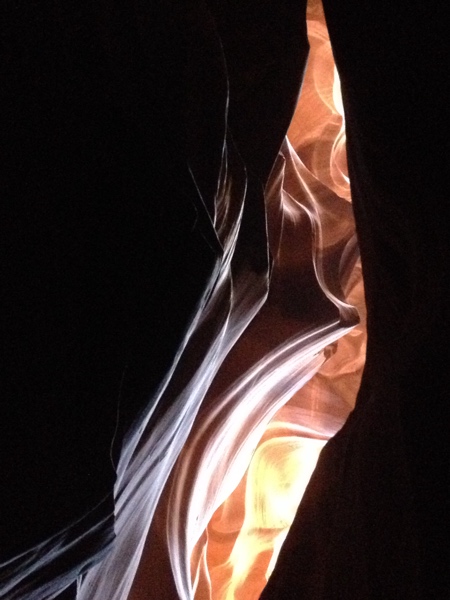 Even though the place was relatively packed—there was a tour right ahead of us, one was treading on our heels, and we walked back through all the tours on their way in—it was peaceful in that stunning way that sculptural architecture is. Like the Grand Canyon, your eye cannot take it in and comprehend it, even though it's so much smaller.2
We hopped back on the tour jeep and were taken to the river tour place, where we got on a luxurious bus and drove for a longish while, crossing the Colorado via the Navajo Bridge, the only bridge for hundreds of miles, over an already deep gorge.
Our destination was Lee's Crossing, the only place where the cliffs take a break and give people and animals a shot at crossing the river. Until the Navajo Bridge was built, it was the only way to get across the Colorado at all.
We got onto a nice, large, stable inflatable raft with our box lunches and proceeded to munch while Kim, our pilot, guided us away from the dock and upstream towards Lake Mead. The tour usually puts in up near the dam, but there has been some alarm and concern over a particularly large piece of rock (Kim said it was 30×40 feet, 8 feet thick deep) that was threatening to collapse. Apparently the standard procedure is to go ahead and dynamite the thing and get it over with, but since it's next to the dam…
So we put in at Lee's Crossing and went upstream.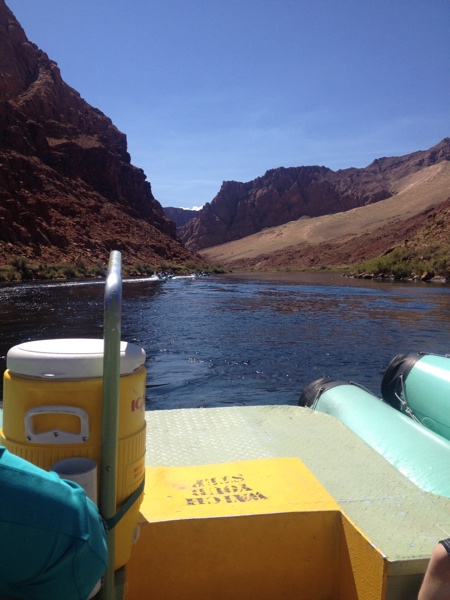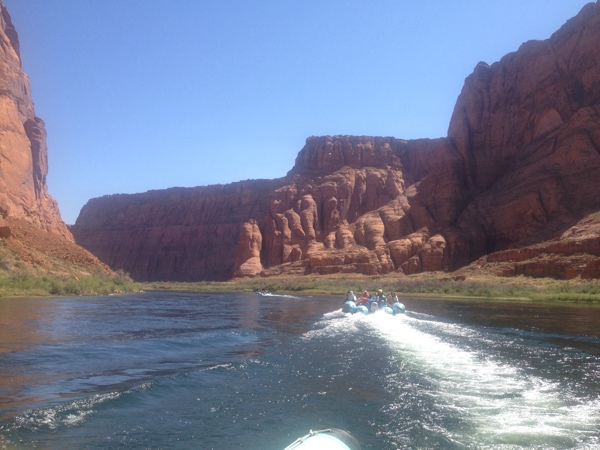 The cliffs in this section of the river are Navajo sandstone. (The Grand Canyon is limestone.) Sandstone is much softer and easily sculptable by wind as well as water. It's very easy to start seeing images in the stone.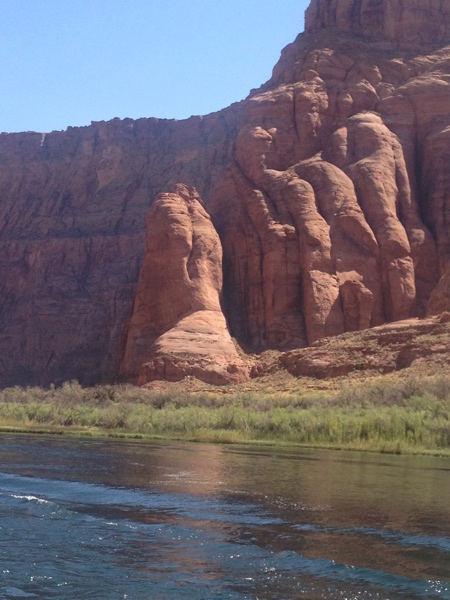 These looked like a lady's butt. Your mileage may vary.
As always, scale is difficult in these shots, so if you click on the following photo to get a full-size version, look in the distance for a tiny little pale blue-white dot. It's along the shoreline, about halfway to the right of center. That's one of the rafts in our flotilla, about 20 feet long.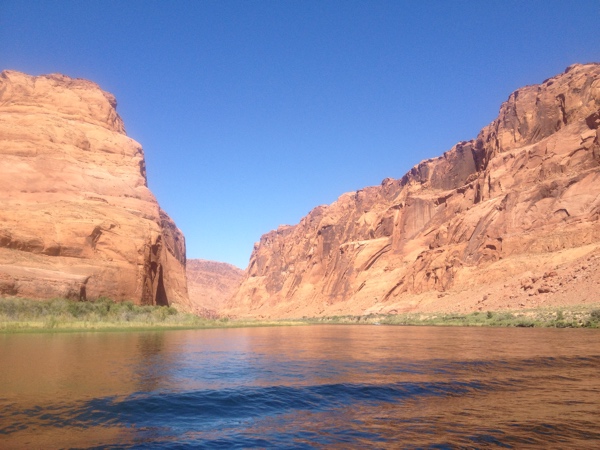 We finally stopped off at a point that has ancient petroglyphs and restrooms. Both are marvels: the restrooms are solar-powered composting jobs, and at that point the shade they offered were as much a relief as the facilities. (There are actually seven campsites along the river with these wonders.)
The petroglyphs are from several different periods, and the guide gave an appropriately fuzzy "interp" of what they might be pictures of, mostly antelope and other fauna.  The hurky little figure to the right is most likely a deity of some kind.  You can tell because it's elevated above the rest.3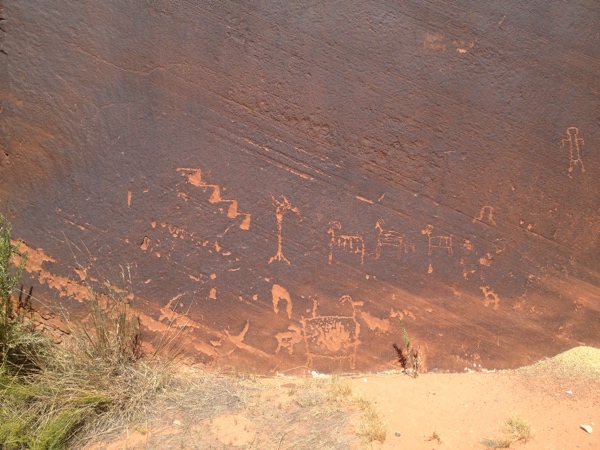 The black surface is called "desert varnish" and is a microthin layer of clay and oxides that accrues to certain rocks in certain environments. It coats a great deal of the canyon walls in phantasmagorical patterns, and here the Native Americans scratched through the surface to create the glyphs—for reasons that are absolutely unknown and unknowable.
We went back down the river to Horseshoe Bend, pictured here from above: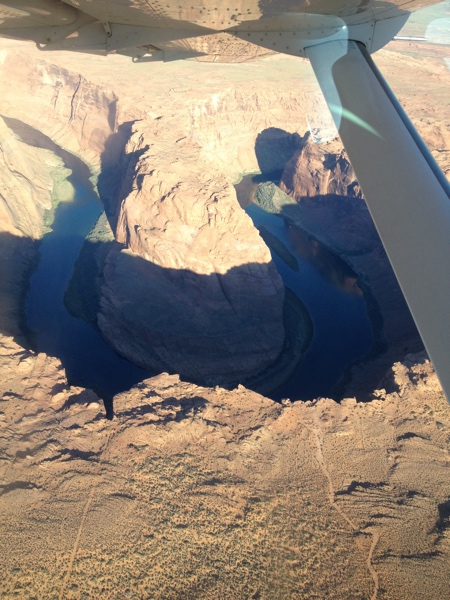 The Colorado makes a 270° loop here, much like I-85 South as it splits from I-75. Here Kim cut the engine and we drifted for a while in the silence. There were mallards and herons, and the water was clear enough to see the bottom 30 feet below. (This clarity is due to the dam; previous to its completion in 1963, the Colorado was notoriously muddy. "Too thick to drink and too thin to plow," was Powell's assessment. And yes, ecologically that's a problem.)
At this point, we were all hot, sunburned, and increasingly ready to be done with the adventure. Finally we made it back to the crossing. Like they say at the Canyon, it's a long way back up.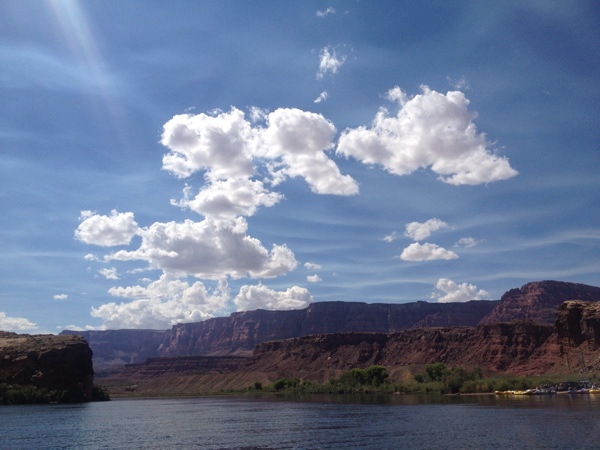 Despite my fears of a three-hour van ride back to the airport, we were welcomed by the luxurious bus with a charming and informative bus driver, and even an interesting onboard documentary about river runners.
Arriving back in Tusayan, we cleaned ourselves off and went back down to the Best Western for a simple meal of tapas.
—————
1 Officially known as the Scenic Canyon River Adventure Tour
2 "Smaller" is always a relative term in these parts: the walls of the canyon were hundreds of feet tall.
3 It's always been my opinion that perhaps scholars should consider that these are doodles by bored shepherds, or even by children whose mothers told them to go amuse themselves.