So what if I haven't composed a new note in — let's just say "a while"?  I have been working.  Well, I've been working this week, anyway, on reorchestrating A Christmas Carol for its new production this coming December 10-20.
I'm a little over halfway through the show, and today I thought I would share some results: the Christmas Present Street Scene.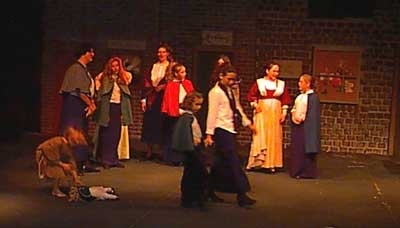 In this number, we have the chorus just generally being Christmas-y all over the place, with loud, jolly parts interspersed with quieter sections over which touching scenes are played.  We hear the Christmas Waltz for the first time, and we end with the Chorale, which brings the mood into a somber reflection on the Reason for the Season, segueing into the Cratchits' home.
In last year's production, there were issues involving the inability to repeat sections appropriately, and so the music got chopped up instead of played straight through.  If only I had known about the theatre's use of QLab…
Oh well, things are going to be much better this year.  Those who have fond memories of long-past years will rejoice to hear the full orchestration restored.
Behold, Christmas!
Christmas Present Street Scene | vocal score (pdf) | mp3