So these: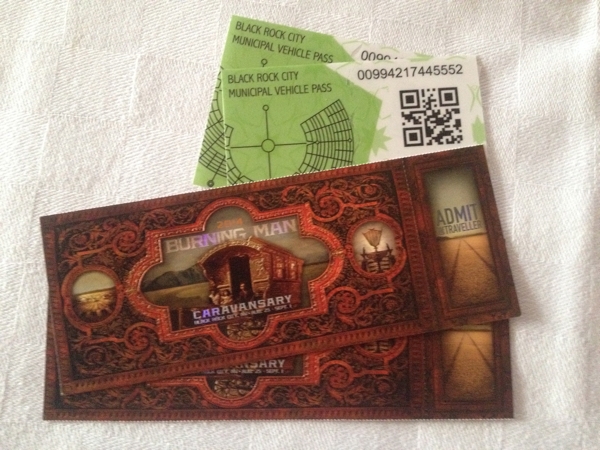 ::sigh::
Quick recap for those just joining us: to celebrate turning 60 this year, a friend and I decided we would go to Burning Man.  You can read all about it if you like.  Against all odds, I snagged two tickets and vehicle passes, and then Craig ended up not being able to go.  Since the trip was going to be a buddy movie, I decided to postpone the experience until 2015.
Fortunately, there's no such thing as being "stuck" with Burning Man tickets.  I already have sold them to a friend of a GA Burner acquaintance.  But I had to open the package yesterday and at least take them out and hold them once.
::sigh::
(This is not as sad as it might sound, since we're heading off to Alchemy Burn in October as a simpler intro to the Burning Man world.)

And then today is the first anniversary of losing my job with GHP.  I've done a lot of grieving in this one year—and I suspect I'm not done—but I am grateful to all of my friends who have grieved with me and supported me with their kind thoughts through the entire cycle of this year's program (which just ended last Saturday).  Thank you all, and thank you, GHP, for all the wonderful years—this would have been my 30th year.  I am who I am today because of GHP, from attending as a student in 1970, to starting there as an instructor in 1984, becoming assistant director in 1997, and finally becoming the director in 2011.  It was a good run.