But first, a wonderful comment that my spam filter forwarded to me for evaluation:
What's up to every one, for the reason that I am in fact eager of reading this webpage's post to be updated on a regular basis.
It contains fastidious information.
Fastidious, that's me all over.

I'm guessing that many people know that although the labyrinth occupies the majority of our back yard, there is a small portion on an upper level that does not belong to the labyrinth.  Nor does it "belong" to me.  It belongs to my lovely first wife, who has long desired a party patio.
The very nice stone wall that I built last September in the first burst of retirement was part of that effort, and in fact we had the sod laid in and some other little plantings done, but on the whole the result on the other side of the walkway—the patio itself—was unsatisfactory.
The LFW does not easily settle, her 36-year marriage to me (as of this Tuesday) notwithstanding, and so now we are embarked on getting exactly what she wants.
Here's what our back yard looks like at the moment: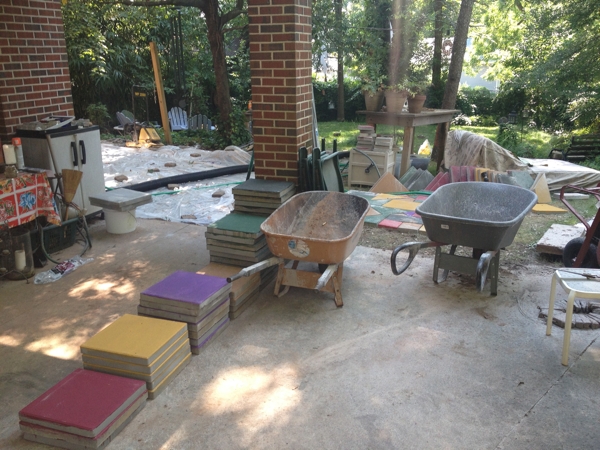 You will remark, no doubt, on the festive colors you are seeing.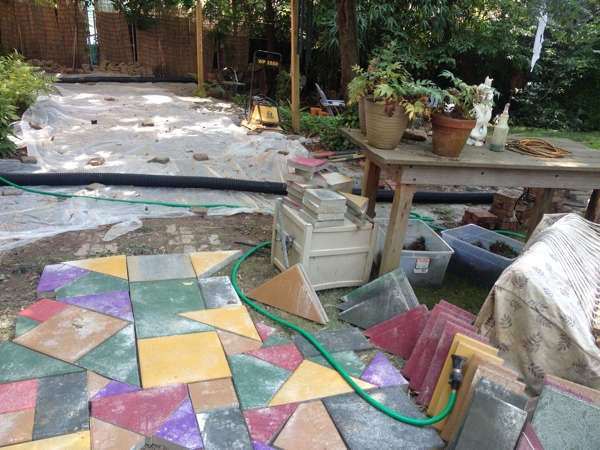 Good shot of the successive approximation of the layout of the pavers by our team (Cow-Tip, Squirrel, and John—let me repeat that: Cow-Tip, Squirrel, and John), who have never in their careers been called upon to do anything of this nature but who are attacking the æsthetics of it all with great gusto.
Spoiler alert: this patchwork regularity is not what the LFW wants, but I am given to understand after a discussion on Friday afternoon that Cow-Tip, Squirrel, and John are now in complete alignment with her desires.  Also, it should be noted that the plastic sheet in the background is the actual location of the patio. The foreground is just the team's staging area, guaranteed to kill off the sod we installed last year.
Stay tuned for further developments in The Patio, Part II: The Harlequinading.