Recently I had the pleasure of reading Grock, King of Clowns, the memoir of Adrien Wettach.  No, I had never heard of him either, but Mike Funt said I should read it, and so I found a used copy on Amazon and ordered it.
Totally delightful read, even though I had no clue as to who this man was or how he managed to retire to a 30-room villa in Italy as a millionaire after 50 years of performing as the most famous clown in the world. We live and learn.
But that has nothing to do with my secret lust.
For this book was a discard from a university library, and tucked away in it were these: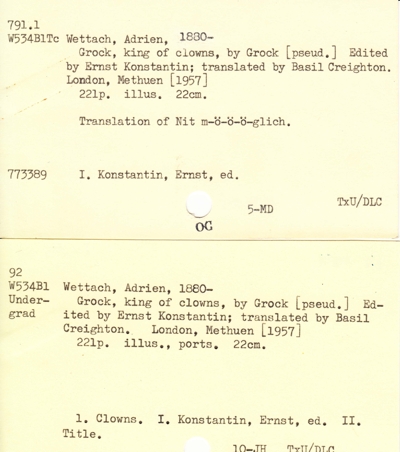 ::sigh:: Have you ever seen anything more beautiful?  The only way these could be more arousing would be if they were a complete set.  Still, I mustn't complain.
Actually, these are two main entry cards, possibly from two different libraries.  Neither is what I would call complete.  The first one has the original title (Nit m-ö-ö-ö–glich) but no subject headings; the second has the obvious subject Clowns but not the original title.  There is also the difference of opinion as to where to put this book.  The first library puts it under Circuses in the 791's, although they could have extended the number with the –092 standard subdivision for biographical works, i.e., 791.1092, although –09 would have been sufficient.  The second opts for the Biography section with the 92, the lazy librarian's shortcut for the actual number, 921.  Either card is correct.
Both use Cutter numbers for the author rather than the first three letters of the author's last name.  For the regular school library, that's an unnecessary complication.  (So would be the extension of the Dewey Decimal number I suggested above. The purpose of such detail is to allow books on similar topics to be grouped together on the shelf, and how many books on the circus does a regular library have, after all?)
This just gets me going.  Even among media specialists I was a cataloging freak.  I loved cataloging, from the days when we still typed the cards ourselves (like these two) to online MARC records.  I knew the Dewey Decimal Classification Abridged edition by heart, and when we built the new East Coweta High School I ordered the full edition.  When it arrived I was physically tingly, if you know what I mean and I think you do.
The new library at ECHS was essentially empty, a blank slate, and over the next four years I got to fill it with 15,000 books, most of which I cataloged myself.  Sure, some came with catalog cards, and most books in those days (1988-1992ish) had full Cataloging in Publication records on their copyright pages, but, you guys, CIP was often hugely inaccurate.  The minions at the Library of Congress were often cataloging based on a title page alone, and that created some incredible howlers, DDC-speaking-wise.  I was compelled—compelled, I tell you—to correct them.
I was so in love with cataloging that I actually programmed an Apple ][e to print a full set of catalog cards for any given main entry.  The way it used to work was that, like the above cards, you had a "main entry" for a book. That main entry included titles, subject headings, editors, illustrators, etc., and after you typed that card, you then typed all the other cards.  Originally, subject cards had the subject line typed in red ink, but around the time I arrived we had settled on ALL CAPS instead.  (See here, for example.)
With my program, you typed in all the elements—author, dates, title, subtitle, publisher, subjects—and then the dot matrix printer spit out every card you needed.  It was awesome, and everyone in Coweta County used it until the state automated us in the early 90s.
Let me be clear: I am not one of those who misses the actual card catalog.  What a nightmare to construct and maintain!  What happens when a book is not returned?  Do you pull the catalog cards?  At the time, the main entry cards (plus title cards) were in one piece of furniture, and the subject cards were in another piece of furniture.  You'd be pulling all these cards from everywhere—pulling the metal rod out of the entire drawer, pulling the card, reinserting the rod, etc.—and, what, storing them?  Because then what if the book shows back up when lockers are cleaned out at the end of the year?  Then you have to refile the cards.  Ugh.
But the cataloging itself?  Remember this scene?  That's how I feel about cataloging.  I was so notorious amongst my fellow media specialists that when new books came without cataloging, others would wait until I had input mine in the online system, then just add their copies to my main entry.  If the books came with electronic cataloging, I would go through and correct entries, add subject headings, and improve call numbers.  I was incorrigible.
I mean, look at this: Catalog card prøn!
Now go here and get your inner Dewey on!