You may recall that last weekend I bought a limestone bowl at the American Craft Council show in Atlanta.  This was for the express purpose of installing it at the west point of the labyrinth.
The labyrinth is aligned to the compass, with the entrance at the eastern end.  (When you see photos of the center, the bricks are in line with the points.)  Back in the day, the four elements were each associated with the four directions:
East — Air
South — Fire
West — Water
North — Earth
Easy enough.  Over the last six years, each of the four points has gone through various incarnations as I get a better feel for what belongs in the space, and water was the last of the points without a permanent feel to it.  I had settled for a glass bowl that I found at Ross (Dress For Less) for cheap—I had the local glassworker remove the pedestal and reattach it upside down in the bowl to serve as a place to put the candle while the bowl was full of water.
But it froze and broke during the polar vortex, and I decided that this time I would find a permanent solution.  As soon as I saw Brooks Barrow's creation, I hoped this would be it.
Oh yes.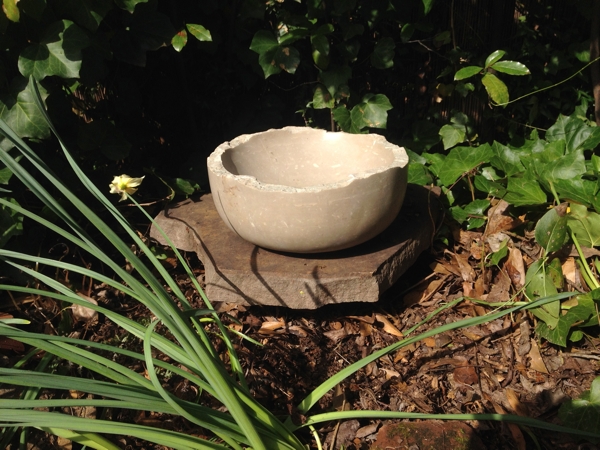 Here it is in situ.  I cleaned out the new ivy growth and raked a bit.  Just now coming up are the Japanese painted ghost ferns that grow in front.  I could plant a couple more there just for effect; they're such lovely plants.
Here's a long shot of the bowl, from across the center of the labyrinth: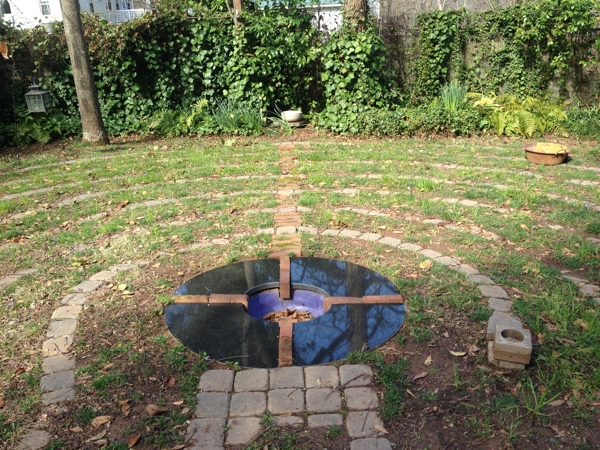 So last night some friends and I had an installation ritual; we used all four elements, with me carrying a bowl of water over to the new bowl.  I poured it in, lit the candle in the center and was immediately struck by how perfect it is.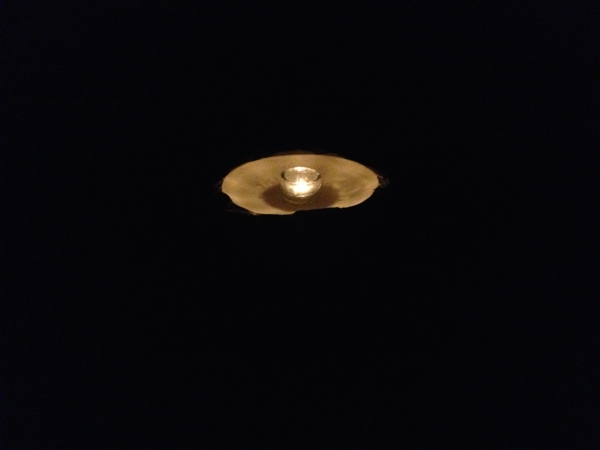 It's just this luminous pool of water floating there—perfectly stunning.  Because the bowl's interior is shallower than the outside, you get a "big bowl" look from the outside, but the inside is this perfect little scoop of light.
Here's the long shot: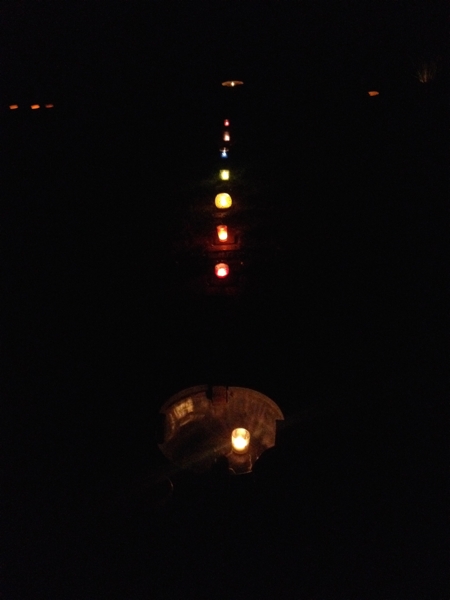 Ta-da!  Finally, all four points are finished to my satisfaction.  I should pull all four together and do a blog post about them as a group.  (For one thing, they have rather tidily arranged themselves from tallest to shortest around the circle: Air–Fire–Water_Earth.)
So there we are, a new piece of the labyrinth.  Stop by and see it.