It is perhaps indicative that my first post since the Cross Country Trip should be about an alcoholic drink.  Since that time, I've started a new job, gone on Retreat with my Fellow Lichtenbergians, hot-tubbed with my friends at a mountain cabin for  Thanksgiving, and come up with two really snarky Liberal Rants, which I hope appear shortly on this blog.  And yet I haven't blogged until I invented a new way to over-imbibe.  Hmm.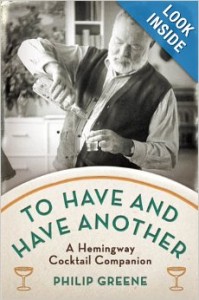 Anyway, in the living room I have a recent book, To Have and Have Another: a Hemingway cocktail companion, which is great fun, mostly of a handful of recipes and a great deal of literary attribution, history of legendary bars, and just plain gossip.  What more could one want?
On p. 236, we get the Villa America Special, named for the French Riviera home of Papa's friends, Gerald and Murphy, who hosted anyone who was anyone of the period,
Gerald Murphy's signature drink was the Villa America Special, although as the book points out, it's basically a Sidecar.  That's OK—I've rung a change on his basic recipe that I am refraining from naming because I cannot believe anyone hasn't already done this and named it.  I'll keep googling it.  (In the meantime, bookmark savoystomp.com.  Wow.  They hold forth at the Alembic in San Francisco, which, if you've been an Attentive Reader, you will remember is where the lovely first wife and I went on Haight Street on the second day of the trip.  They're the ones who could not make us a Cinnamon Twist because they didn't even have the ingredients.)
The Sidecar, of course, is just brandy, triple sec, and lemon juice.  Gerald Murphy gave his recipe as:
The Villa America Special and/or Sidecar
1.5 oz Cognac or brandy
1 oz. triple sec or Cointreau (or another liqueur of your choosing)
3/4 oz. lemon juice
Rub the rim of a cocktail glass with lemon, then dip it into coarse sugar.  Shake ingredients with ice, then strain into the sugar-rimmed glass.
It was the parenthetical "or another liqueur of your choosing" that got me going.  As part of my on-the-job training, I have been developing an online course about vintage cocktails, and one of the objectives of the course is that the learner become so comfortable with the "chemistry" of cocktails that he/she is able to invent new ones.  And this one would seem to be simple.
So I surveyed my liqueur cabinet—as one does—and chose three to start with.
The first is a liqueur that I think I bought last Christmas to inflict on my friends: Mama Walker's Glazed Donut Liqueur [MWGDL]. It is as nasty as you are imagining.  It tastes exactly like a Krispy Kreme, but it finishes with a horrible artificial-flavoring/Aspartame aftertaste.  Not even the 20-somethings who are attached to my household would take it and give it to their friends to finish off.  (You can also get MW's Bacon and Pancake liqueurs, FYI.)
Today was its last chance before it becomes a libation—as in "poured out to the gods"—at the Lichtenbergian Annual Meeting.  I mixed up the drink, gave it a good stir and sipped it.
Almighty Cthulhu, it was awful.  Down the drain it went.  (I should mention that I'm using an inexpensive brandy for all this.)  And so MWGDL will meet its demise as Corroborative Evidence in the flames of the Ash-Bound Brotherhood.
The third liqueur was Creme Yvette, a violet-flavored liqueur that was all the rage a century ago, but I never got to test it.
Because the second liqueur was Swedish Punsch, also a favorite of our immediate ancestors.  Trust me, it's not common.  I had to order it online somewhere.  (I think there's only one brand available in the U.S.)
So I made a Sidecar using Swedish Punsch, and for the sugar rim I used a Salted Caramel Sugar that we picked up at Pier 34, from spiceandtea.com.
Sidenote: This sugar is very very tasty stuff but quite expensive, and so one cannot just pour it out in a saucer and swirl your glass through it like margarita salt.  Here's my devisement: take a saucer and a large serving spoon.  Pour your lemon juice—fresh, if you're really serious—into the saucer, and a teaspoon's worth of the sugar into the serving spoon.  Swirl the glass through the juice, then nudge the sugar in the spoon.  Not as fast as ye olde margarita salt, but you end up with less waste.  And sweet Cthulhu, it's tasty.  [I have not been able to find a recipe to make your own.]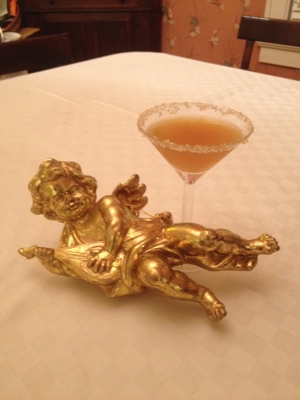 Swedish Punsch Sidecar, until I find a real name
1.5 oz Cognac or brandy
1 oz. Swedish Punsch
½ oz. lemon juice
Rub the rim of a cocktail glass with lemon, then dip it into Salted Caramel Sugar.  Shake ingredients with ice, then strain into the sugar-rimmed glass.
I cut back on the lemon juice a bit; it might be with fresh lemon juice you could bump it back up to 3/4 oz.  I'm thinking if one used fresh lemon juice, you could start by paring off a wide swath of lemon peel to use as garnish.  It would look swell.
As far as adjustments, it might be fun to experiment with 1/4 oz of simple syrup or agave, or perhaps a dash of blood orange bitters.  More work is required.
Final verdict: not bitter, as so many artisanal concoctions are these days*, and not sweet like the old vermouthy things.  The salt and caramel of the sugar gives a great finish.  I like it a lot, which in practical terms means I've had three to make sure.
update: I cannot find on the intertubes this recipe.  I claim it as mine.  Now for a name…
_____
* A whole 'nother post to be done on Cynar, current darling of mix-meisters of the past few years