In which a Woman fulfills her Dream of Driving across This Great Land of Ours, accompanied by her Husband, who Hates to Drive
For those who have laid bets, my lovely first wife is still alive.
Here we are on the cable car.
—————
The cable cars of San Francisco are a wonder, to be sure, but if you had to choose between riding them and going to Muir Woods, go to the woods.
Here's our car being turned around: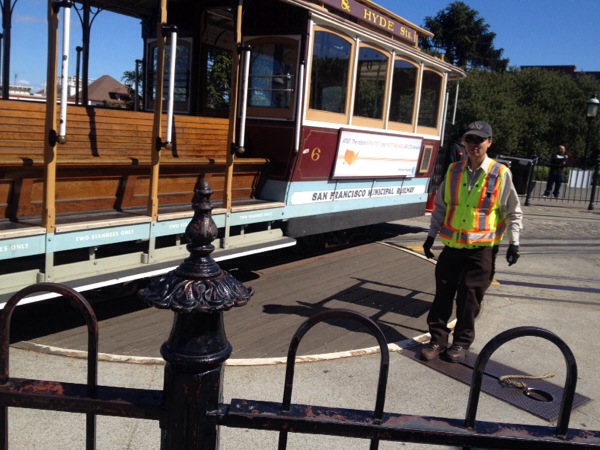 One is not really sure whether the turntable is powered or not, because the cable car guys make a big show of pushing it around.  However, since one has electricity, why not use it while simultaneously making the grandmothers squeal for the children to watch the strong men?
On board, the view is half parts riding a bus and riding a roller coaster: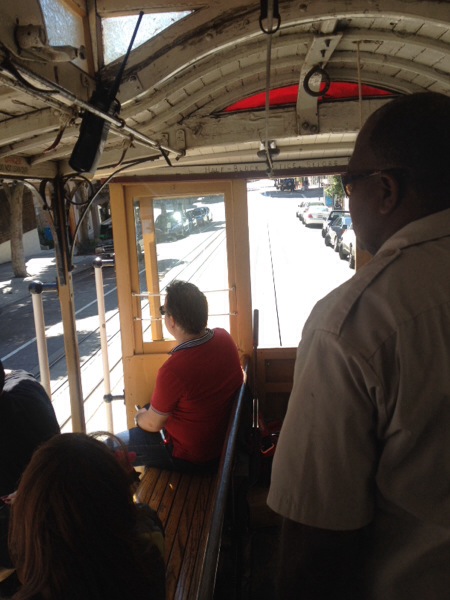 We never did get to ride on the outside benches, or to hold on outside.  And this is the closest we ever got to the TransAmerica building: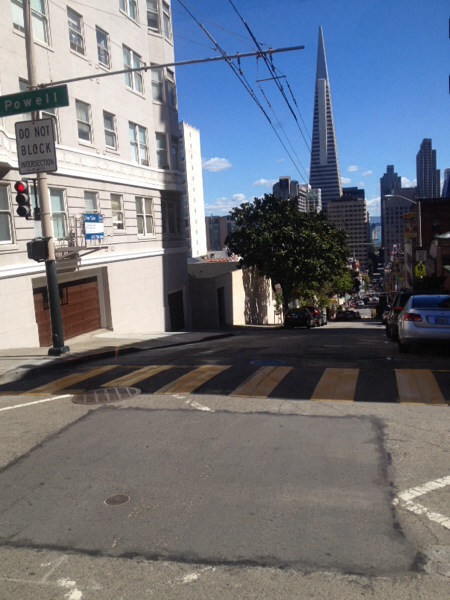 I discovered later in the day that getting off at one of the stops would have put us at the doorstep of the flagship Apple Store, but that's the kind of thing that one plans in advance.  Which we have largely not done.
So we rode from the Fisherman's Wharf station all the way to the other end, on Powell Street.  I have spared you the early part of the morning where we drove all over that area trying to find that terminus.  It was nowhere near parking that I could see, so it's just as well that we gave up and went back down to the piers.
Then we rode back.
The next thing on our checklist for the day was to eat at The Codmother: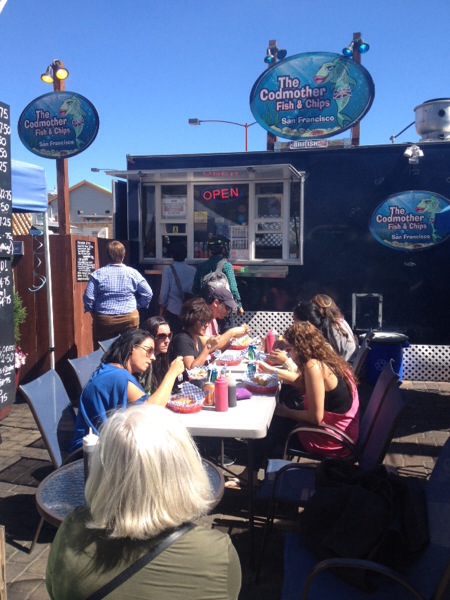 My lovely first wife has developed a taste for the Top 10 series of travel books, and this little food truck was in the San Francisco volume.  (Yes, we have volumes for every stop on the way.)  She even went up and got the lady/owner to autograph her page, which made the lady's day, since no one had ever done that before.
I pointed out that this officially made her a crazy person, but that did not seem to bother her.
The fish and chips were indeed very good, so that was worth it.
Finally, we had to trek over to Ghirardelli Square, which is simply, only, merely a shopping complex.  You may avoid it in its entirety, no matter what your travel volume tells you.  Remember, those writers take bribes.
In case you doubt me, here's a nice place to buy art there: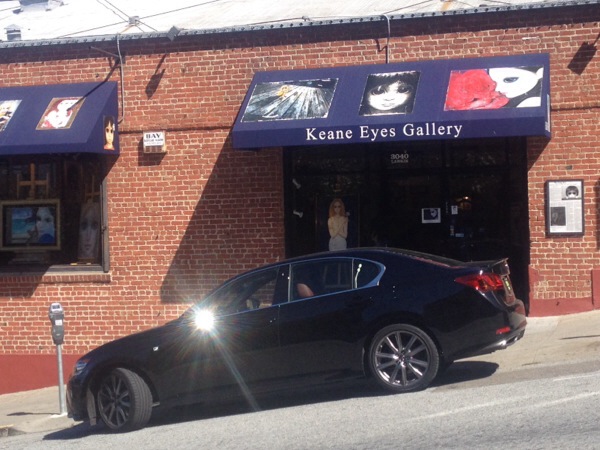 This is where you are all very grateful I did not win the lottery, because if I had zillions to burn, you'd all now be proud owners of a big-eyed waif paintin'.
There is a shuttle between Ghirardelli and Pier 39, another clue that the locale is more shopping than special.  It runs every 20 minutes, and so since it's just a 15-minute walk, we hoofed it.  On the way, we stopped to buy some tacky postcards, and on an impulse went into Frank's Fisherman, a gentleman's clothing store.  Much to be admired, and I came out with a couple of lovely things.
SIDE ESSAY: It is interesting that this new job has presented me with yet another wardrobe change, and it's a change that is emblematic of the differences between my previous and upcoming work environments.
This new shirt, for example, is a faded corduroy plaid, grays and yellows and blues, and the tie I bought to go with it is mirrored mermaids on a yellow background.  With a nice pair of jeans and my TOMS shoes, I'll be appropriately dressed for the office.
Whereas at the DOE, I was always in a dress shirt and tie, even on "jeans and sneakers" days.  When the Board met, or when the circus was in town (I'm looking at you, Gold Dome), it was full business attire, i.e., suits and ties.
Remember, I didn't mind this attire at all.  GHP was my dream job, and them's the rules; also, I'm quite comfortable in a formal setting anyway, so I liked dressing for work every morning.  Now, I get more leeway in what I wear on a daily basis, and that's fine too.
Also while we were walking back, the winner of the America's Cup race—which we had just missed seeing earlier in the afternoon—came gliding by, its sails furled, but now trailing an impressive U.S. flag: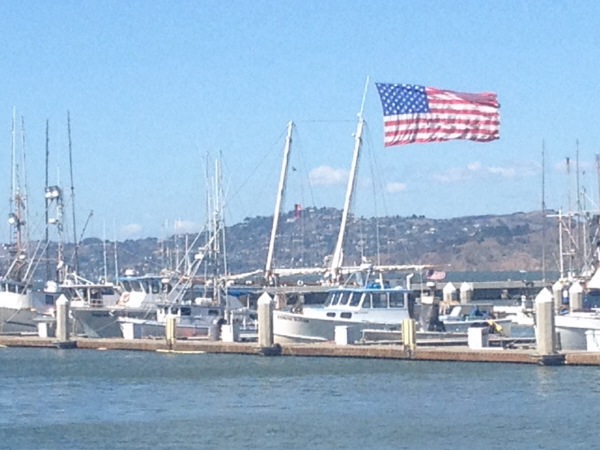 Traffic was beginning to be heavy on the way back to the hotel, so I turned off the path on which my phone had set us.  This annoyed Siri, and so she deliberately took us on a fabulous zig-zag path back to Stanyan St., the steeper, the better.  Eventually we arrived, ordered a cab for the opera tonight, and went to the room to crash.  There will be a separate post about the opera, which is the San Francisco Opera's world premiere production of Tobias Pickett's Delores Claiborne.  Yes, that Delores Claiborne.
—————
In the meantime, here are the photos of our hotel and room.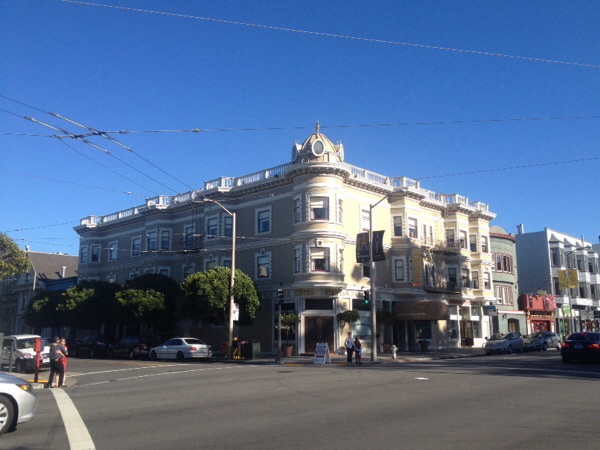 Here is the Stanyan Street Hotel in all its Victorian splendor.  It was built before the fire, but it's over near the Golden Gate so missed destruction.
Those of you who are of a certain age are now puzzling over why the name is so familiar.  Here. You're welcome.
My lovely first wife booked a two-bedroom suite, because it was the only room in the city unoccupied by sunburnt men wearing Under Armor shirts or by Cheetohs-stained geeks.  However, when we opened the door in the wee hours of Monday night, we found an apartment.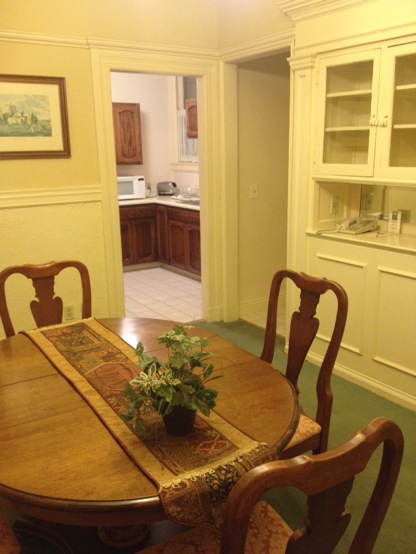 A full dining room with Craftsman china cabinet, with a full kitchen beyond.  (I just discovered full ice trays in the freezer.)
The view from the master bedroom: the second bedroom, and a full sitting room with bay window.  All the windows are counter-balanced and work.  In fact, all of the windows were half open when we arrived.
Bathroom and closets, and we're set.
We drove by the hotel we were originally booked in till we read the reviews—generally a gross place, managed by surly staff—and boy, did we luck out!