I began unpacking my old office stuff, and doing so raises an issue: what to do with all that stuff.
I had four large plastic tubs filled with stuff from my office: books, folders, decorative items, a veritable medicine cabinet, a small flock of tools, rulers, pens, inks, markers, sticky notes, labels, teas, a coffee maker, memorabilia, and an  "idea card stadium" with hundreds of idea cards.
All of this flotsam was largely in duplication of stuff I already have at home.  Those of you with an office know how it is; you need a second stick of deoderant at work for those days when your brain can't even manage the unconscious ritual of your morning toilette.  (Oh, right, like that hasn't happened to you…)
So what is one to do with an actual duplicate desk?  How does one merge two worlds when one of them no longer exists, especially when there's barely enough room for the one that's already there?
Truth be told, that's why it's taken me a month to even look at those tubs.  It wasn't going to make me all maudlin about my cubicle in the Twin Towers overlooking the Capitol—I just couldn't manage thinking about where I was going to put everything.
I've kind of done it.  At least the tubs are empty; not everything has found a home yet, nor will it for a while longer.  But the tubs are empty. Now I'm looking around my study and thinking I need to completely overhaul it so that I will have a place for all my stuff.
Why I could go to work for 36 years and not be bothered by the fact that I didn't have a place for all my stuff is quite irrelevant.  Now that I'm at home all day every day and rapidly approaching that new period where I will actually start being productive/creative again, it is critical that I reorganize/redesign/restructure the study so that I have a Place. For. All. My. Stuff.
I mean, look at this: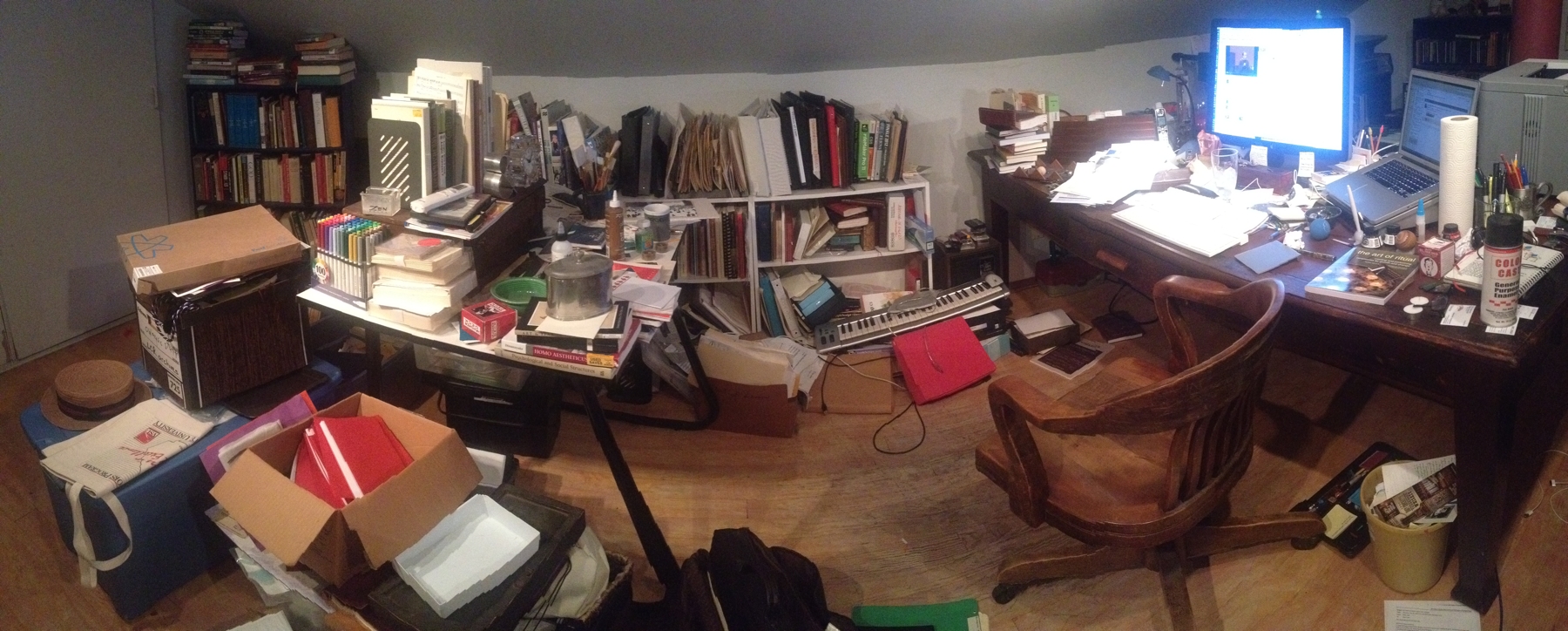 Let's just look at the stuff here and pinpoint why it's even in my study.
On the left, a big blue tub of material I used to carry to GHP as assistant director.  It didn't make the trip in 2012 or 2013.  Atop that is a box of my old choral music, and on top of that is memorabilia from my office.
Ignore the books in the back.
At the bottom of the photo, underneath where you can't see it, a tub of material from Lacuna Group's work on William Blake's Inn.  Atop that, a painting (unfinished) from the Field series; a box of art paper and envelopes; to the right of that, a desk tray, and an old wooden box with office supplies, and under that, the large blank book in which I will write A Perfect Life (some day).  To the right of that, my leather satchel, formerly used for travel to the office, now my Lacuna kit.
On the table, markers, glue, paint for various thinks, like Artist Trading Cards and more paintings; books on the creative process; more cards/envelopes.  A large wooden box with drawers of music score paper and other implements.  On top of that, two DVDs on mixing colors; books on orchestration and composition, rhyming dictionaries, drawing books, and three study scores: Brahms' 4th, Shostakovich's 15th, and Strauss's Death & Transfiguration.
Under the table where you can't see them, my drawing box/kit, a Lacuna Group tub for our "bear/giraffe" piece, and the original pages of my Mozart's Marriage of Figaro.  Plus two blank Moleskine notebooks that I have just now reclaimed to begin doing morning pages.
On the shelves behind the table, books, but also folders of materials for setting to music; copies of William Blake's Inn and A Christmas Carol; stationery; blank books, some of which have ongoing narratives in them (Figaro, William Blake, the Symphony, etc.); a box of videocassettes of the 2002 production of Figaro.
In front of the shelf, a folder of paperwork for my mother's estate; full scores for William  Blake and the Symphony, plus a pile of scores of three decades of abortive attempts; the keyboard; letters from Craig, and trailing out there on the right, more stationery and a book on counterpoint.
On the desk itself, on the left, a stack of books on ritual and liturgies, topped by The Book of the Labyrinth.  Behind those, the source books for the 24 Hour Project, plus folders of texts.  The little triangle thingies are a fold-out box that originally held Singer sewing machine attachments and which I am configuring as a little assemblage/icon piece.  Behind that, the aforementioned idea card stadium, noticeably empty.
A stack of papers that haven't found a home yet, including my separation paperwork from the DOE; another blank book, half buried; two computer keyboards (duplicates, remember?); desk detritus; the copper of my Lichtenbergian Chalice, silently affirming my inactivity; a small wooden pencil box containing ink pen nibs for lettering in The Book of the Labyrinth; the computer monitor, with two sticky notes of 24 Hour Challenge texts; a lifetime supply of sticky notes; the laptop; inks for Book of the Labyrinth; another book on ritual; a blinking red reindeer nose; pens; paper towels; a reference book on knots.
You can ignore the trashcan.
Continuing on the other side of the desk…


The backside of the technology, including a little shelf unit for the multiplugs and chargers; my old G4 and Grayson's old iMac; a mess of mostly audio cables which used to live comfortably in a purple computer bag; another keyboard and stand; printing paper supplies; every box of every Apple product I've bought in the last ten years; paper for the printer and drawers that haven't been opened in fifteen years; old issues of Mac magazines; my Lovely First Wife's old quadraphonic stereo (and 8-track player!); shelves of old software and books that are largely useless; my old SE-30 and two old synthesizers; a Memorex turntable that could potentially digitize any album we want to if we'd take it out of the box and set it up.
I will spare you the photos of the other bookshelves, the CD shelves, and (behind me in the two photos above) my college drafting board; various art supplies like chipboard, canvas boards, sketch pads, a paper cutter (one of two now), rulers, Lacuna Group stuff.  Plus a tall cabinet of art supplies and printing supplies, and a filing cabinet.
I should be a busy, productive artist, but it will take me until 2014 to reconfigure all this stuff.  Don't expect new works from me until then.  At least that will be my excuse.
—to be continued…