I changed the one note in Prelude (no fugue) No. 4 that I was unsure about.
I futzed around and designed an iTunes "album cover" for Six Preludes (No Fugues). I just hate to see my music in iTunes with one of those blanks. It makes me feel like some unappreciated amateur. Oh, wait…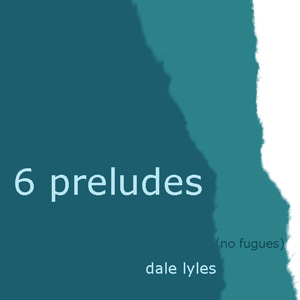 New opportunities from the American Composers Forum:
2010 Finale® National Composition Contest: score for eighth blackbird (9/15)
Park Avenue Christian Church: SATB (9/1)
Lynn University Conservatory of Music: short orchestral (9/15) [Milky Way?]
Austrian Composer Society: orchestral work (9/30) [Milky Way]
National Lutheran Choir: SATB (9/30)
University of New Mexico: vocal or instrumental, solor or chamber, based on themes of folk songs available online (10/1)
Boston Metro Opera: vocal, choral, and operatic work (10/15) [William Blake]
Soli fan tutti: short chamber score (10/31) [Bassoon/String quartet]
Imagine Music Publishing: string orchestra (11/1)
Renée B. Fisher Foundation and the Neighborhood Music School: short piano works for student competition (11/13) [some of the Preludes?]
Opera Southwest: "a short opera in English using original music as a tool for educating elementary through middle school audiences in the areas of the sciences or humanities." (12/1)
City Chorus (London): SATB for amateurs, 90th anniversary celebration (12/3)
Orchestra of Our Time: short score for chamber ensemble (12/31) [Bassoon/String Quartet]
Butler County Symphony Orchestra: an original 10 minute orchestral composition on the theme of "Space Exploration." (2/1) [Milky Way, duh]
Earplay New Music Ensemble: scores for 1-6 players (3/31) [Preludes]
Second Life Virtual Concert Hall: "Especially interested in art noise, ambient, minimalism, computer music, music influenced by popular styles." (ongoing)
Opus 21: solo/chamber ensembles (ongoing) [Preludes, Bassoon/String Quartet]
New York Miniaturist Ensemble: works composed of 100 notes or less [ed.: I think they mean "fewer"] (ongoing)
Ann Arbor Cantata Singers: SATB (ongoing)
Any suggestions about any of these? Discuss in comments.