Nothing of import to discuss, just lots of little meandering ideas.
Yesterday was my birthday, yes, thank you for all the well wishes, and I received several nice things. Those of you who know my penchant for wooden boxes (and clearly my wife knows it) will understand the thrill I got from this: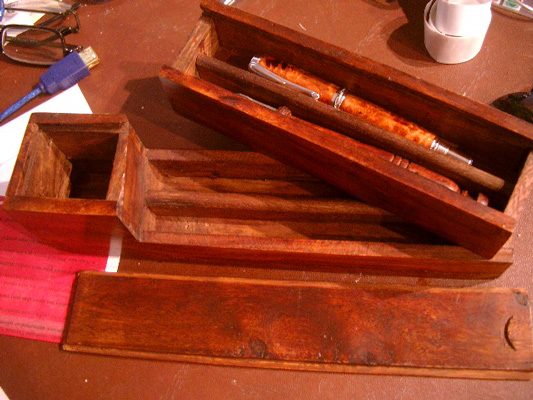 It's a pencil box, not an antique, but a very neat replica of one. Here you can see the inkwell on the left, and the upper "drawer" swung out to the side. The joint between the inkwell and the drawer is not distorted: it actually slants so that the drawer can swing out. When it's swung in, the lid slides all the way in and holds it all together.
I'm thinking about making it my pen & ink case for all those many times I'm sketching with pen & ink. Well, you know, all those times I'm going to be sketching with pen & ink.
My dear wife also gave me, as a semi-serious gag gift, three little art kits: watercolor, sketching, and oil pastel. Each "artist's kit" is about 12×14 and opens up to reveal a nice pad of paper, a tray of supplies, and a book by the series author, one Philip Berrill, the "Flying Artist."
In what is surely a stunning example of the Newnan Vortex™ at work, Mr. Berrill died exactly two weeks ago. It almost makes me feel bad about what I have to say about his kits.
Here's the cover to the watercolor kit: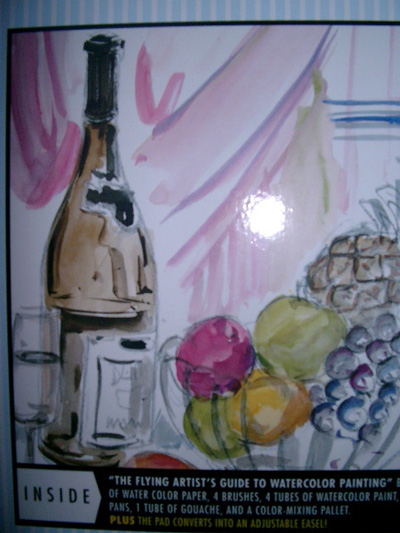 This is it, guys. It doesn't get any better in any of the illustrations in any of his guides. It's awful. It's so awful that it doesn't even make me feel better about myself as an artist. I mean, this guy was famous and apparently rich from the sales of his books and kits. He flew to Dubai to teach ex-pats how to paint. Mercy.
Plus, the pad converts into an adjustable easel. At least there's that.
I do think that such a kit would have been a godsend to me as a child. The quality of the materials is not the best, but it's all there in a nifty little book/box, and there are some cheesy examples in the book to copy that wouldn't strain the abilities of the rankest beginner, and I have to believe that these things will give the gift of art to more than a couple of people who would not have had it otherwise.

In other news, the sequel to Shubian's Rift has begun shooting. Oh yes.
Did you know I'm in the Internet Movie Database? Oh yes I am. And in Amazon, where I am top billed.
The sequel, the title of which I am yet unaware, will be webcast in three episodes. I will not spoil it for you by revealing the dread secret of Sid Shubian and Tuka D'Nuul. Not to mention Dr. Ploo.

Today a box arrived from Cottage Garden, and it sorely puzzled me. I had not ordered anything, yet it was addressed to me. When I opened it, it was seven little plants, cunningly packed, a gift from Marc and Mary Frances Honea. They're a little flowering shrub, Cuphea ilavea, and they're in memory of our little dog Winnie, who passed away last month. This variety is called "Tiny Winnie," which is why the Honeas gave them to us.
Here's what they will look like:
For the moment I will plant them in planters, but eventually they'll go in the planting area beside our "dance floor" patio overlooking the labyrinth.
I have a lot to get done between now and the gathering of the Lichtenbergians by the labyrinth on Saturday, and the amount of rain we've been having has not helped. Still, this afternoon I was able to drag some stuff together and start creating a new look for one of the lighting fixtures: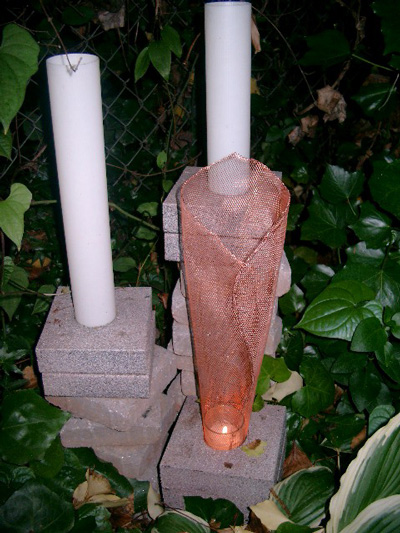 This is on the advice of my trusted shamanic advisor, who said that these lights, situated as they are by the southpoint of the labyrinth, needed metal, preferably copper. You can sort of see what it looks like in this photo. My puny camera cannot capture the glow and interplay of light in the night. You'll just have to drop by and see it for yourself.
What else do I want to get done before Saturday? I have to finish the new lighting look at the southpoint. I need to plant the remaining ferns (Japanese painted) where the daffodils have finally died down, digging up the bulbs and transferring them, eventually, to the dance patio planting area. I have to clean off my work tables, no easy task. I'd love to get the stone circle made for the westpoint. I have to clean all the votives and replace the candles. I want to trim and sweep the stones. Etc., etc. I wonder how much I'll get done.