The weather was glorious and I was out in it most of the day. I built a fire very early this morning and kept warm as I wrote the previous post. Then before lunch I headed out and bought some accoutrements for the yard: ferns of various dispositions to begin placing around the periphery, and some Irish moss, which I don't think is a moss at all but still is a pretty ground cover. That's going onto the little mound in the middle of the labyrinth. I will keep it watered and let you know how it survives.
Then I did a lot of small things, none of which need concern us here but one: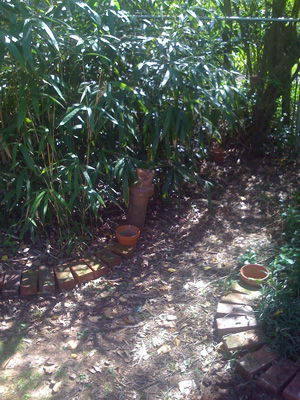 I went over to my brick pile and began extending the brick edging from the lower part of the yard.
What you see here is where the bricks define the entrance to the "men's room." It's an intriguing gateway; this photo doesn't do it justice. It just leads into a quiet area next to the bamboo, and all it is, is a corner of chainlink fence.
But the impact of the brick edging is very nice indeed. The two clay pots hold candles, to help light the unsteady their way. (There are other clay pots hung from the fence within the grotto itself.) You will also notice the terracotta pipe, the lingam, guarding the entrance.
I will have to set the bricks into the ground at some point. Spring break is coming up.