I went to Amazon Stone over on the bypass today to see if they could trim my pavers to make the central circle. Yes, they could. But I also asked about getting a piece of granite cut for the center, and it turns out that it's within in my price range, i.e., another month's payment on the credit card.
So next Saturday morning I will go pick up the black granite quarter-circles to install around the compass-point bricks in the center. I think this is better in many ways. The stones which I would have had trimmed would never have been very stable to walk on, so we'd always be dealing with people slipping right at the center of the path. That cannot be good juju.
Also, the granite will be gorgeous. I'll have to rethink the color of the bowl I plan on making next summer in the ceramics studio. I was going to make it black, but now I don't know.
In other news, I got some new votive candle holders today: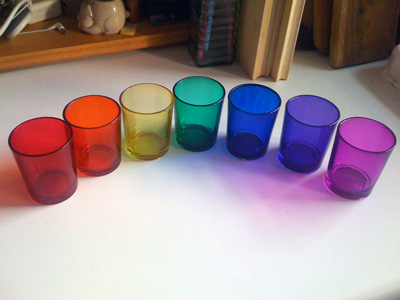 Someone will have to explain to me how to use the rainbow/chakra configuration as part of the labyrinth. I just like the connection: 7 circuits of the labyrinth, 7 colors of the rainbow.
UPDATE:
Here's what it looks like. Iffy picture of course, but it's quite striking in real life:
SECOND UPDATE:
Here they are in the daytime: