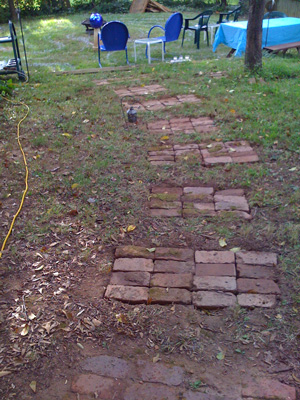 On Sunday, I got inspired to uncover the walkway I had created right after we added on to the house. The bricks came from an old coal furnace chimney on the back of the house. I've edged my herb garden and all of my plantings with this brick, and I probably ought to go in and dig out the rest of it from under the bamboo and use it in the labyrinth itself.
Anyway, over the last 15 years the walkway had gotten grown over with moss and dirt, so I decided on the spur of the moment to try to recover it. It was a lot easier than I thought: all I had to do was pry up each brick, get the moss off of it, put a little dirt back in the base, and reset the bricks. Presto! New walkway.
Today's big news is that I went to Home Depot and ordered a pallet of the small square pavers to be delivered on Thursday. That's nearly 700 pieces, over 3,000 pounds. Cost? Who's counting?
How far will one pallet go? I have no idea. Using my superior math skills, I'm thinking the four-foot circle at the center is about 12-1/2 sq. ft., which means it will take approximately 50 pavers to cover it.
Let 's see. Follow this closely:
Using my trusty flexible ruler, I discover that the path of my blueprint is app. 138 inches long.
With 10 squares to the inch (who uses decimal graph paper??), that's .33 inches per foot on the blueprint.
That means that the 138 inches length on the blueprint is a 418-foot path.
It take six pavers for every foot, so that's 2,509 pavers that I'll need in the long run.
With 672 pieces to the pallet, that's a little under 4 pallets.
Yep, that's an expensive proposition. But if I spread it out over a year and a half, let's say, it's not too unaffordable. Maybe I need to go online to the Home Depot and do their opinion poll and win the $5,000 gift card.