I propose for the betterment of our SELVES, if not of ALL MANKIND, that we should form THE LICHTENBERGIAN SOCIETY.
We already have the stationery, the seal, and a motto, so now all we have to do is write our bylaws.
The motto, by the way, was developed in consultation with Drew Lasater, the GHP Latin Teacher Extraordinaire.
It is:
Cras melior est.
This means: Tomorrow is better.
Here it is in our seal: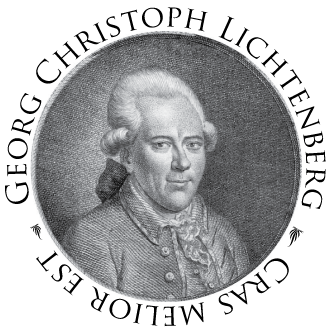 Now, as for our BYLAWS, I have secured a sample nonprofit bylaws which we can use as a model. You may download the PDF file yourself to peruse it.
I'll begin with ARTICLE I.
ARTICLE I
Section 1 , The Name of the SOCIETY shall be THE LICHTENBERGIAN SOCIETY.
Section 2 , The Purpose of this SOCIETY shall be the promulgation and promotion of Lichtenbergianism, to wit:
WHEREAS the German philosopher and scientist, GEORG CHRISTOPH LICHTENBERG, was renowned in his day for incorrigible procrastination, such that his further renown was hampered, and
WHEREAS the CHARTER MEMBERS of this SOCIETY are desirous of supporting each other's efforts at procastinating in their own endeavors which might in fact result in further renown, insofar as is possible,
THEREFORE, we the undersigned do pledge and swear to further the renown of GEORG CHRISTOPH LICHTENBERG by putting off whatever we can in such a way as to be in solidarity with our fellow Lichtebergians.
Section 3 , The Motto of this SOCIETY shall be Cras melior est, which is to say, Tomorrow is better.
Section 4 , From time to time, as it shall seem necessary and appropriate to the Membership, and particularly in the period preceding the Annual Meeting, the Society shall make charitable donations such that, if not for themselves then perhaps for some few others of Mankind, Tomorrow should be Better.

Discuss. Add. Edit. Make it more mellifluous.

ARTICLE I proposed 12/12/07, CM Dale Lyles
Section 4 added 12/13/ 07, CM Dale Lyles